How to Make New Stuff From Your Piles of Obsolete Tech
A new book shows you how to make usable items from old PCs, cell phones, scanners, printers, and other dead tech gear.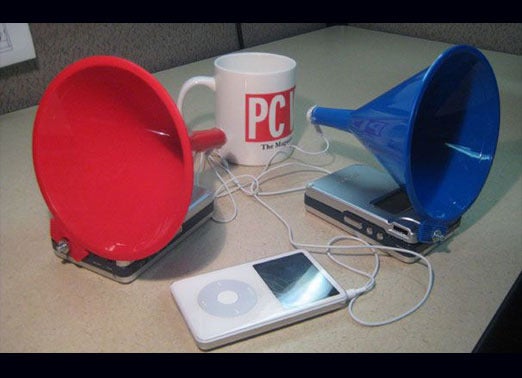 Earbud Speakers
If you're like us, you have an attic, closet, or garage stuffed with unused, outdated tech junk. A new book called 62 Projects to Make With a Dead Computer (and Other Discarded Electronics) gives you some good and some goofy ideas for DIY projects. For instance, we whipped together this Earbud Speaker system in about an hour from parts from our discarded tech drawer--plus some new odds and ends that cost less than $10 total. The speakers work pretty well, and--more importantly--doing this project put those two defunct 2002-vintage Creative Nomad Jukebox Zen MP3 players back to work doing something other than filling a drawer. (History detour on the Nomad Jukebox Zen: Great software, 20GB of storage, and a street price of about $350 at the time! RIP.)
Skill level for project: Novice
Note: Material in this slideshow is excerpted from 62 Projects to Make With a Dead Computer (and Other Discarded Electronics) | Copyright 2010 by Randy Sarafan | Used by permission of Workman Publishing Co., Inc. New York | All rights reserved.
(Slide photo above by Nick Mediati: All other photos are from 62 Projects to Make With a Dead Computer)
Phone Safe
Finally a use for the many candy-bar phones from 2000 that we still have in our desk drawer. And it's a nice twist on the old Rock keyholder.
Just open and gut the phone, pretty up the inside, and glue magnets to hold the two pieces together when you're finished. (Randy Sarafan's book has full instructions on this and all other projects pictured in this slideshow.)
Don't forget to put something heavy inside the case, too, so it will feel heavy enough to burglars to persuade them that it's simply a piece of dead tech and not a hiding-in-plain-sight mobile safe for stashing your spare $100 bills or diamond earrings in. One caveat: Make your spouse promise not to stage any impromptu yard sales without consulting you first, or some nostalgic buyer may get an unexpectedly great bargain.
Skill level for project: Intermediate
PDA Doodler
If you played with a Wooly Willy as a child, you've experienced the small pleasure of dragging iron filings with a magnet to give a bald-headed man a hairdo, beard, mustache, and/or fuzzy eye patch.
But even if you didn't, you can experience it now--and finally find a use for your old Palm Pilot. This ingenious device will enable you to amuse yourself in staff meetings without tweeting! Talk about old school!
Skill level for project: Intermediate
Have an unused printer in the house? Make it tell time by reassembling parts of it into this Gear Clock. You'll find the gears in your printer's drive mechanism; the printer motor becomes the finished clock's base.
Bonus points: Since you don't need the printer's case for this item, you may pound it with a hammer or slice it with a hacksaw.
Skill level for project: Novice
Scanner Table
Doesn't everyone have an retired scanner somewhere in the house? Here's a way to transform it from useless to useful--after you open and discard all of its inside parts.
if you collect anything small, colorful, and dust-attracting, this table makes a great place to put the items on display--under the glass.
Skill level for project: Intermediate
Mouse for Cat
Ingesting vegetation may or may not be good for them, but most cats like to do it. And if your kitty holds court in your house or apartment while you're at work, arranging for it to chomp on foliage other than your houseplants is better for all parties concerned.
Just whip out an old computer mouse, remove its innards, anchor it to a base, and plant some grass in it. Cat and mouse!
Skill level for project: Novice
8-Bit Belt Buckle (NES Game Controller)
The Nintendo Entertainment System sold more than 61 million units during its mid-1980s heyday, but the controller has proved to be much more substantial and resilient than the console itself.
Commemorate the good times by making that solid piece of tech into a blinged-out belt buckle. For maximum retro-cool effect, you'll want to spray-paint the face to give it a sexy shine.
Skill level for project: Intermediate
Portable Amplifier
Here's a robust mobile sound system composed of circuit boards from old PC speakers and a PC power supply.
This project has five pages of instructions, including timely advice on how not to electrocute yourself while assembling it. We won't go into all the details, but power drills, glue, batteries, and soldering irons are involved. But it will all be worthwhile when you're looking good at the party, no?
Skill level for project: Geek squad
USB Desktop Fan
You've put up with fan noise for a lot of your computer-owning career, right? So turn about is fair play. Extract one of those internal PC fans from a superannuated system, and rig it up to sit on your desk and cool you, not the overheated processors inside your computer, for a change.
Skill level for project: Intermediate
About the Book
62 Projects to Make With a Dead Computer, from Workman Publishing is available now. (Workman; $14.95; February 2010; ISBN 978-0-7611-5243-9)
The author, Randy Sarafan, is a new-media artist currently serving as a Virtual Fellow with the cutting-edge F.A.T. (Free Art and Technology) Lab, as well being as a top project contributor and community manager at Instructables.com, a popular user-generated how-to Web site. He also has contributed to Make magazine.
Among his other creations are a breathalyzer microphone, a water-gun alarm clock, and USB-enabled fruit. Sarafan graduated with honors in the Design Technology program at Parsons School of Design and now lives in San Francisco. See more of his work at randysarafan.com.
Copyright © 2010 IDG Communications, Inc.
Next Up: Check out these related slideshows