Six High-Tech Ways to Enjoy the 2010 Olympics
Faster, higher, techier: Geeky ways to enjoy the Winter Olympic games.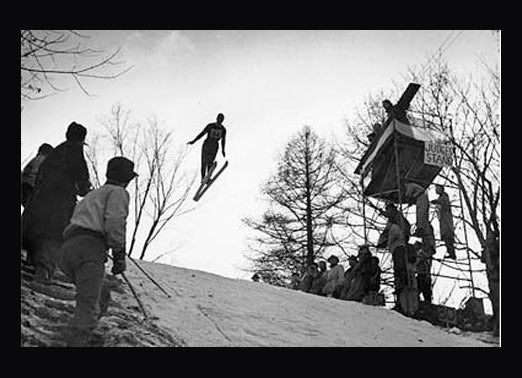 Back in the day — in 1950, say, when the above photo was taken — all you needed to have a really keen winter sports competition were snow, skis, and a rickety judging stand. But the Winter Olympics starting this Friday in Vancouver are a very different kettle of fish, with thousands of competitors straining the city's infrastructure. And because these Olympics take place in the Mysterious Future year of 2010, they'll be tech-savvy in ways the skaters and lugers of yesteryear couldn't have imagined. Join us on a tour of geeky ways to enjoy the games.
Photo courtesy of the
Google offerings: It's like you're there (sort of)
If like most people you haven't managed to acquire tickets to or lodging in Vancouver for the games, you can still get a sense of the city through Google's omnipresent mapping offerings. The Google Earth and Map team have put up blog posts explaining their remote viewing fun or showcasing their 3-D modeling of sites for the games. Sure, you'll be haunting freeze-framed images like some kind of virtual ghost, but you'll at least be able to get a bit of the flavor of the places you'll be reading and hearing about. Plus, you'll get some ideas on where to go in a great city if you want to visit later.
Social networking: Like partying with the athletes (kind of)
Since the Olympics are taking place in 2010, they are required by iron-clad law to involve Twitter in some way. NBC has set up a page called "Olympic Pulse" as a sort of social networking hub, complete with Twitter feeds from athletes, who apparently have a spare moment to type out their thoughts while not training rigorously.
"We saw more blogging and such in Beijing, but Twitter and Facebook as sources of information have really taken off since those Games," says Jeremy Littau, assistant professor of journalism at Lehigh University. "The direct access to athlete voices (as well as the potential for livetweeting) is tremendous and adds another layer of live coverage and access that we normally would just get with television. A fanatic of the Games probably will get a richer experience than they've ever had if they choose to tap into it."
Vancouver on your iPhone screen
2010 isn't just about Twitter, of course; it's also about iPhones! And there are a slew of Olympic-themed iPhone apps. Elliot Hales, an intern for the Avantar app development team, has put together a handy list of some of the better ones. Probably the most exhaustive and useful is the one that, as Hales points out, also has the most terribly clunky name: "2010Guide -- Vancouver 2010 Olympic Winter Games: The Official Mobile Spectator Guide," which is pictured above.
Another app that you might find helpful is iTriage, which promises to help non-Canadians navigate their way through the intricacies of the Canadian health system. So hopefully you'll keep your iPhone close to hand in case you become desperately ill or terribly injured while attempting to get tickets to the speed-skating final.
GPS is your co-pilot
If you're flying into Vancouver and renting a car from Hertz, you can get your hands on their souped up GPS. Dubbed "Neverlost," it gives you advice on places to eat and provides advanced trip planning. Even if you're renting from someone else, you can check out the Neverlost Website to get some of this information in boring, non-GPS form.
If you visit that site, of course, you'll notice a warning in large letters: "There is no parking at any of the Winter Game venues. They are listed for informational purposes only." Whoops! If that makes you rethink renting a car and you decide to head for public transit instead, have no fear: Google Maps can provide you with transit directions.
Picture courtesy of Jimmy_Joe
Stay connected to the Internet at all times
Many of the events at the Olympics won't even be happening in Vancouver; they take place in Whistler, nearly 80 miles away. Snowbus provides transport from the city to the resort; but during that hour and a half when you're sitting on the bus, will you be forced offline? What if Apollo Ohno updates his Twitter feed — will you only learn of it 90 minutes later? Fear not! In Motion Technology and Bell Canada are working together to make sure that sweet, sweet Wi-Fi flows into your computer.
Picture courtesy dan paluska
Track everyone and everything involved with eerie accuracy
OK, this is probably something you're only going to be able to do if you actually work for security firm US Fleet Tracking; but if you do work for them, you will be able to follow the games James Bond style. US Fleet Tracking uses GPS and a command center filled with enormous monitors to follow the movements of vehicles, equipment, participants, and dignitaries — with locations accurate to a few inches and updated every eight seconds. An information junkie's dream!
And who knows — the London games are only two years away. Just as folks back in the benighted year 2008 wouldn't be able to imagine the raw Twitter stream of athlete insights available this time around, so too might ordinary mortals be able to have this panopticon level of insight into athlete locations come 2012.
See also:

Set Up Your HDTV for Watching Sports

Olympic tech's winners and losers
Read more about offbeat in ITworld's Offbeat section
Copyright © 2010 IDG Communications, Inc.
Next Up: Check out these related slideshows