The Biggest Bummers of CES 2010
From the lack of recycling bins to news announcements that weren't really news, here's what missed the mark at this year's show.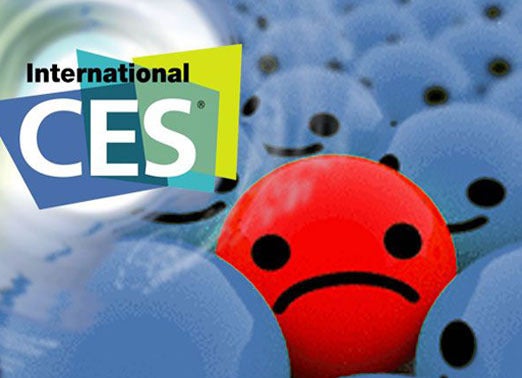 CES 2010: PC World's Pans
Every year, we head to Las Vegas for the Consumer Electronics Show, looking for the gadget that's going to be the next big thing. And, every year, we come home amazed and amused. Sure, there are great products at CES--and then there are the products on this list. Read on to find out what made our list of the biggest bummers from the show.
To see more, read "CES 2010: Picks and Pans." And while you're at it, peruse the Best of CES.
For more blogs, stories, photos, and video from the nation's largest consumer electronics show, check out PCWorld's complete coverage of CES 2010.
What's Wrong With 3D? The Glasses
Some 3D glasses are futuristic, others are plain-Jane. All are necessary for watching the new 3D HDTV models that are the talk of CES. But never mind how your coolness stock goes down wearing these things; the glasses on the whole did not seem solidly designed. And very few that I tried fit over my own glasses. --Melissa J. Perenson
C'mon, Palm, We Wanted More
My beef isn't so much with a product as it is with a company. Palm announced here at CES that its Pre and Pixi devices will double as mobile Wi-Fi hotspots, serving up to five devices with Internet connectivity from the phone (though it will need a special tethering plan). Palm needed a much larger announcement here at CES to keep its offerings competitive with the spate of cool Android phones that are (seemingly) being unveiled every day. Palm needs new phones with larger screens, better keyboards, better apps, and faster processors. Until that happens, Palm smartphones will continue to be outdone, and outsold, by Android phones and iPhones. --Mark Sullivan
Nexus One, Changing Travel Plans Everywhere
The Google Nexus One is a game-changing phone, so why am I panning it? The problem isn't the phone itself, but the timing of the launch. Why did Google schedule a press event the week of the biggest tech show in the United States, but not schedule it at the show? Disgruntled editors had to change their flight arrangements to cover this poorly timed announcement. It's just a phone, right? --Ginny Mies
Slideshow: Google Nexus One vs Apple iPhone 3GS
Maybe They Should Have Just Called It 'Overpriced'
I'm not sure how you pronounce the word Zomm, but I can say that $80 is too much to pay for one. Due this summer, Zomm is a small disc that vibrates and flashes if you stray too far from a Bluetooth phone that you paired it with. Zomm's creators bill it as the first "wireless leash" for cell phones, designed to keep you from losing your handset. But at that price you might be better off simply buying cheaper phones and letting them stay lost. --Yardena Arar
Arresting Scuba Gear
I can't personally testify to its effectiveness, but the maker of this scuba mask, Liquid Image, says that its Scuba Series HD dive mask is safe at depths of 130 feet and can shoot 720p HD video. I'm just a bit concerned that the guy in this picture might get arrested for violating looking-way-too-goofy laws if he decides to walk down a public street. --Peggy Watt
Skip This Presentation
All over the CES show floor, mobile projectors were shining bright. Unlike most of those cool pico projectors (some of which attach to mobile phones), however, the BlackBerry Presenter has no built-in projector at all. Instead, this $199 box acts as a wireless bridge between your BlackBerry phone and a standard projector. We're hard-pressed to believe that this 3.4-by-2.4-by-0.9-inch device will appeal to people who need to give presentations from their phone, especially considering the selection of cool pico projectors entering the marketplace. -- Robert Strohmeyer
CD Press Kits, Still?
C'mon guys, we're out of the Noughties. CD-ROM press kits may be cheap to produce, but considering the volume of laptops--netbooks, all-day computing notebooks, and otherwise--that don't come with CD burners, it's fairly ludicrous for so many vendors to still hand out CDs, as opposed to USB flash memory drives. --Melissa J. Perenson
Is a Recycling Bin Too Much to Ask For?
No wonder Greenpeace is ticked off. With all of the events and booths dedicated to green technologies, why couldn't the CEA provide more recycling stations? Garbage cans on the show floor were overflowing with Red Bull cans, soda bottles, and lots of paper plates that once held greasy convention food. --Ginny Mies
Moxi Deserves a Better Mate
Moxi's newly unveiled Moxi Mate is a small HD home media player that can work alone or in concert with the larger Moxi HD DVR. The Moxi Mate can connect directly to the Internet (via ethernet) and access Web video from a number of providers (including Hulu, Netflix, and YouTube) through the PlayOn software that's baked into the device. For what it is, the Moxi Mate seems a bit on the pricey side at $299--especially since the user interface isn't much to write home about, and the device has no video storage space. Also, the fact that the device requires a wired connection to connect with the Internet or to the HD DVR seems to be somewhat backward. --Mark Sullivan
Your Ears Will Revolt
Technocel's $20 Ear Vibe works as advertised, physically jolting along with the kick drum in rap and rock songs--but that's not a good thing. Even after removing the headphones, my ears were still twitching. --Jared Newman
This Would Have Been Better as a Stress Ball
Jelfin says that, according to a recent survey, 74 percent of Americans want a more comfortable computer mouse. But the company's spherical, gel-covered anomaly isn't the answer. As comfy as it is to hold, you have to press your palm forward with every mouse click to prevent the Jelfin mouse from sliding backward. --Jared Newman
Copyright © 2010 IDG Communications, Inc.
Next Up: Check out these related slideshows