Cool Home Office Gear
Deck out your home office with some cool home office furniture and technology.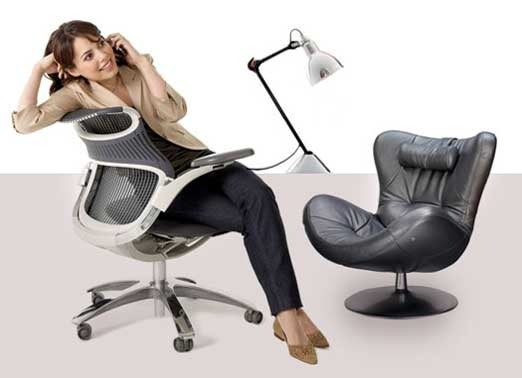 Haven't we heard enough about un-showered teleworkers who work in their pajamas? Plenty of home-based workers care a lot about aesthetics—personal and spatial. Here's a look at cool office furniture and IT gear, including new releases and celebrated classics that I'm saving space for in my dream home office.
Related stories:
Do you know where your employees are working?
Mmmm, shiny
Since we're talking looks, these brand new LaCie drives steal the show. LaCie teamed with French designer Philippe Starck (whose iconic citrus juicer was one of my first post-college splurges many years ago) for these sleek external hard drives. They're encased in aluminum with a mirrored surface that lets you launch applications using different touch commands. Choose from the LaCie Starck Desktop Drive (1TB and 2TB options starting at $130) or the LaCie Starck Mobile Drive (320GB and 500GB options starting at $100).
Command central
The new Sapper collection of monitor arms from Knoll is all about slender forms and clean lines. You can install up to three monitors on a single mast, and Knoll offers seven mounting options (including table clamps and wall mounts) and five mast heights. Once installed, a monitor can tilt up and down 165 degrees, swivel left and right 180 degrees, and rotate 360 degrees if you want to switch from portrait to landscape viewing.
Write on the walls
Chalkboard paint is cool, but it's more suited to a playroom than a home office. With IdeaPaint you can turn any smooth surface into a dry-erase board with a single coat ($175 for 50 square feet of coverage). Walls, sloped ceilings, doors, desktops — wherever you want a whiteboard you can paint one. And if you're not into white, it's also available in nine other colors, including gray, orange, beige and green.
A chair that moves with you
The desk chair is arguably the most important element in any office. If your chair isn't comfortable, forget it. The new Generation by Knoll collection was designed around the idea that people don't always sit upright, facing forward. This flexible chair (starting around $775) adjusts to the sitter. You can sit sideways, stretch, lean, recline — whatever — and the chair moves right along with you.
Capture the cords
Sick of fishing around for unplugged cables that have fallen into the abyss behind your desk? BlueLounge's CableDrop clips ($10 for a pack of six) can be mounted on a desk or wall and they'll keep your unused power cords or other peripheral cords in place until you need them. Much better looking than duct tape.
Break time
When it's time to step away from the computer, Natuzzi's sound chair could be the ideal respite. It features a built-in audio system so you can attach an mp3 player and listen to music in the comfort of a luscious leather chair. Speakers are located on the side headrests and in the back pillow headrest. The chair retails for about $3,095 depending on your fabric choice.
Squeaky clean
Every home office needs a bit of whimsy. To keep things simple and clean, there's Elecom's Soap mouse. The three-button optical mouse has a scroll wheel, USB interface and 800 dpi optical resolution. The Soap mouse is due to begin shipping this month, but there's no word yet on pricing.
Thin is in
A slim keyboard is key to an uncluttered desk. Microsoft unveiled its thinnest keyboard last month, the Bluetooth Mobile Keyboard 6000. It measures just a few millimeters thicker than a AAA battery at the back and tapers toward the front. It's curved for more ergonomic use, and it includes a standalone number pad that can be used with the keyboard or solo. The keyboard retails for $90 and the number pad for $45.
Hide the cords
There's nothing that ruins a good deskscape like a tangle of cords cascading down the back. To tame the mess, I like Belkin's Clamp-On Surge Protector (about $40) for its low profile and easy access. You can clamp it on to the side of a desk or table, which puts the cords within reach when you need them.
Make room for concrete
To keep things grounded, the Nixie Concrete Clock makes a great desk anchor. Designer Daniel Kurth encased shiny orange Nixie tubes — which were used in Germany in the mid-20th century as numeric displays — in a concrete body. The numbers don't look like traditional clock displays, "since being constantly reminded of the time can be stressful," Kurth writes on his Web site (the time in the picture reads 10:23:54). It's just a prototype so far, but Kurth is seeking production possibilities.
Shiny and old
To complement the shiny LaCie hard drives, here's a cool chair that takes a familiar form and wraps it in a new coat. At its core, this Hudson Task Chair ($1,725) is a recreation of Emeco's classic 1944 naval desk chair. Philippe Starck (the same designer behind the LaCie gear) gave it a contemporary makeover with a highly polished aluminum coating.
Architecture 101
Lampe Gras is said to be the original architect's light, designed in 1921 by Bernard-Albin Gras for use in offices and industrial environments. It quickly became a favorite of renowned architects like Le Corbusier and Eileen Grey for its elegant merging of form and function. Now Brook Farm General Store is selling a reproduction of this vintage desk lamp, made in France. Clearly it's a splurge at more than $600 — but wish lists are for dreaming, right?
Related stories:
Do you know where your employees are working?
Copyright © 2009 IDG Communications, Inc.
Next Up: Check out these related slideshows