The relationship isn't working. It's making you miserable but it's familiar so you hang in there. It's scary to walk away after all these years but it's killing your career. We're talking about on-premise ERP and the recurring cycle of software upgrades, patches, bugs, and the umpteen different versions that are running across your business.
This is the right time to let go of fixing disconnected ERP and transform your role into a value-added, forward thinking IT strategist. You've heard the saying, "Every business is a technology business." If that's true, then let's look at how your colleagues are using ERP technology to drive operational value and enhance their worth to the organization.
CIO Success is in the Connected Manufacturing Cloud
Successful CIOs are switching to the connected manufacturing cloud. And no, not all clouds are connected. Many ERP providers have cobbled together a solution and sell it as a integrated source of information. C'mon. You know from your own experience that these workarounds don't really work. Reporting happens after the fact, when it's too late to head off problems. And it's painful to get information out of a disconnected system because there is no single source of aligned, relational real-time data, leading to inaccuracies.
The Connected Manufacturing Cloud Maps Connected Relationships
ERP in the connected manufacturing cloud does something unique. It maps relationships. Every person, place and thing that moves on the plant floor is identified, the activity captured and is then connected as information in the manufacturing cloud.
By tracking every action in the production process, small transactional data connected properly adds up to strategic insight and proactive intervention that leads to higher quality processes and products and lower costs. It's the cumulative transactional data happening on the plant floor that drives operational rigor and quality throughput.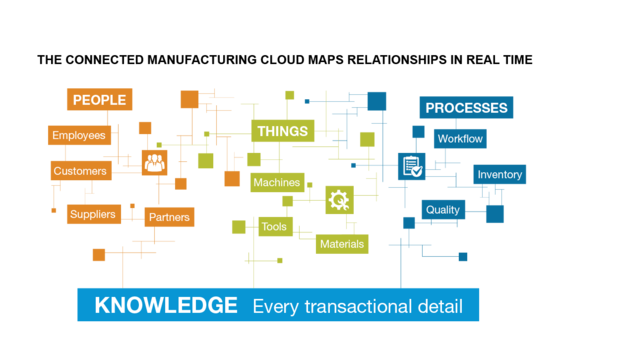 Modern IT Leaders Choose the Connected Manufacturing Cloud
Do you find yourself constantly kicking the can down the road by putting Band-Aids and workarounds on bigger issues? If you're tired of disconnected ERP and don't want to waste another moment fixing what's broken, learn why modern IT leaders like Mike Gerber with Fluid Routing Solutions are connected in the manufacturing cloud.