The latest crop of Windows 10 PCs is somewhat disappointing because so few of them take advantage of core features built into the new OS. Lenovo, however, managed to do just that with a cool and useful app built on top of Cortana, the Windows 10 virtual assistant.
Lenovo's REACHit is in essence a powerful search app that can query across multiple devices — PCs, phones, and tablets — as well as cloud-based services such as Dropbox and Gmail. It's still in testing but is expected to be ready to go before the end of the year, according to Jon Heim, Lenovo's director of its contextual computing group. REACHit will be free and only available to Lenovo PC users who run Windows 10.
Hands on with REACHit
I spent a little time with REACHit this week, and I'm impressed. The application is a huge improvement over Cortana. You can activate REACHit using voice — a quality microphone really improves the experience — or by typing search commands in plain English.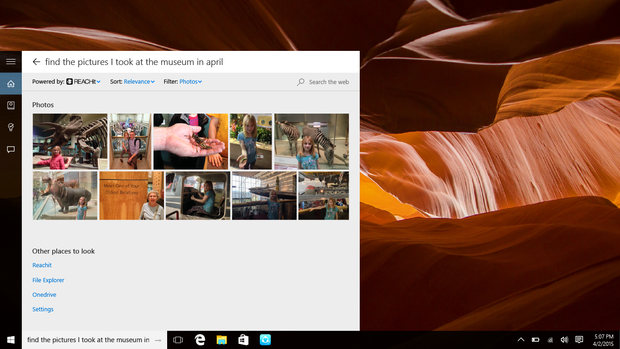 The service is the product of a collaboration between Microsoft and Lenovo, and it works by building what Heim calls a personal data store in Lenovo's cloud. The more you use it, the more information it collects, and the more likely it is to deliver the results you want.
Heim, for example, asked REACHit to show him photos he took at the Washington D.C. zoo a few weeks ago. In just a second or two, it pulled up photos he stored in a Dropbox account. The photos were not tagged. REACHit first looked for photos taken on the approximate dates. It looked at the geolocation information (latitude and longitude) embedded in the photos. And it did a reverse business lookup to match the location with an actual place, Heim says. And there it was: the zoo.
REACHit cannot recognize actual images, at least not yet. If Heim asked it for photos he took at the zoo that include a monkey, it would fail to find them unless the simian was tagged in the images.
Heim also asked REACHit to find email messages he sent to his wife about a home remodeling project. It knows his wife's name, so it searched his Gmail account for email to and from her that mentioned the upgraded bathroom.
REACHit indexes the content of documents, photos, music files, and email on any Windows 10 device, including future Windows 10 smartphones.
(If you're interested, you can join REACHit's beta test program here.)
REACHit cloud concerns
What about security? REACHit will live on a password-protected site in Lenovo's cloud, something you may not be completely comfortable with. You will, however, be able to exclude certain data from the index. You might, for example, want to keep your location private. Or perhaps you don't want certain types of files to be indexed. You will be able to pick and choose among a list of options that allow you to include or exclude content from REACHit, according to Heim.
Lenovo's ultra-slim Yoga 900 Windows 10 PC
The REACHit demo I saw was on the company's Yoga 900 PC, an attractive new machine. Its main distinguishing feature is a watchband-like hinge that lets you position the screen in a number of ways. You could, for example, "tent" the screen and keyboard backwards so the Yoga 900 stands up on an airline tray table to watch a movie, and then twist it back to a laptop configuration when you're ready to get back to work. The Windows 10 Continuum feature lets the PC shift easily between laptop and tablet modes.
The Yoga 900 weighs just 2.8 pounds and is just over 0.5 inches thick. It has a comfortable keyboard, a bright responsive touchscreen, and it's powered by Intel's latest processor, Skylake. It's also fairly expensive, at $1,199 for the base configuration.