Seemingly every month, Microsoft makes its OneNote note-taking app more compelling.
Most recently, Microsoft updated its free Office Lens Android app, a document scanning app that connects to OneNote. The update gives Office Lens the ability to scan business cards using the camera on a Android smartphone or tablet. Once captured, cards can be saved to OneNote, as well as to your Google contacts.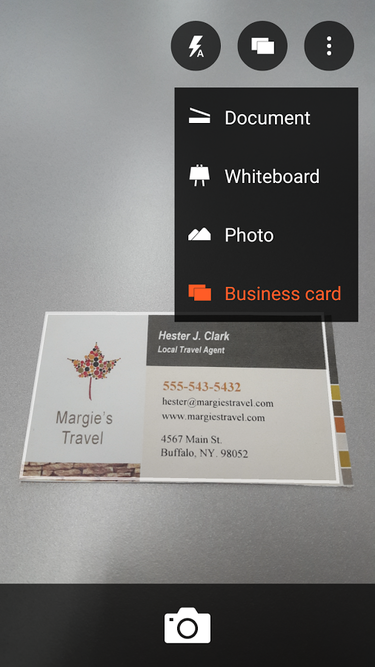 The feature works fairly well, in my experience, but in a few cases it took 15 minutes or more for scans to be converted into .vcf contact files, for importing into my address book. And the more "artsy" the business card, the more difficult it is to get a good scan and optical character recognition (OCR) from it.
[Related: 7 things Microsoft OneNote does that Evernote can't]
Office Lens is playing catch up with Android, because a similar business card feature has been available in its iOS and Windows Mobile apps for some time. Lack of feature parity is a consistent gripe I have with Microsoft, Google, and other software developers. It's all part of the competitive games they play, but it can unfortunately create confusion and frustration for consumers.
OneNote and the stylus
Meanwhile, Microsoft continues to be savvy about supporting stylus input for drawing and annotating in OneNote notes. The company recently announced that OneNote for iOS is now compatible with FiftyThree's Pencil stylus ($50 to $60) for freeform drawing or annotating OneNote documents, or for sending documents created in FiftyThree's Paper app to OneNote.
[Related: 6 things Evernote does that Microsoft OneNote can't]
In my experience, OneNote notes are easier than Evernote files to annotate with a stylus on mobile devices. OneNote notes are designed to be "freeform canvases," compared to Evernote's more rigid format. I find annotating OneNotes on a Microsoft Surface tablet with a Surface Pen to be especially useful and convenient. It will also be interesting to see how well OneNote works on the iPad Pro when it's paired with Apple's new Pencil stylus. (Microsoft says OneNote and other Office apps will support the Apple Pencil.)
Evernote has plenty of strengths over OneNote, including its wealth of third-party apps that expand its overall value. Evernote has an iOS scanning app too, Scannable, which I use frequently and recommend. But Microsoft's note-taking app continues to grow stronger, and it's an increasingly worthy Evernote alternative.