Top Tech Rollercoasters
These rip-roaring rides use the latest sensors, computers and networks to thrill and secure riders.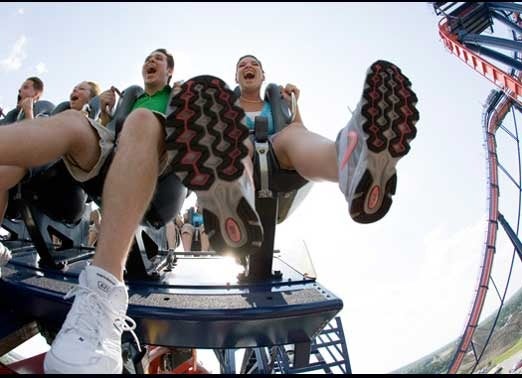 Behind the vertical dives and loop de loops of today's top tech rollercoasters are cutting-edge computer systems that thrill riders and keep them safe. The newest rides use sensors, Ethernet control systems, wired and wireless networks as well as digital audio and video. Here's our list of the nation's top tech rollercoasters and rides.
Also: Disney Finds "A Whole New World" in WiFi-Powered Rides
Where: Universal Orlando Resort
Top speed: 65 mph
High-tech features: Digital audio and video that allows you to customize your ride and take home a souvenir DVD. You choose your songs using a touchpad on the lap bar.
Where: Sea World Orlando
Top speed: 56 mph
High-tech features: Sensors along 3,359-foot track and on the trains communicate with Programmable Logic Controllers. Computerized special effects simulate the coaster hitting water.
Where: Disney's California Adventure and Hollywood Studios Park
Length of ride: 5 minutes
High-tech features: Computer-generated 3-D images are rendered 60 times per second. Onboard vehicle gaming systems calculate the position and activity of riders' shooter devices. Patents are pending on the spring-action shooters and vehicle's adjustable seats.
Where: Busch Gardens Tampa Bay
Top speed: 70 mph
High-tech features: Five trains on the track. Sensors line 2,950-foot track, trains and seats and communicate via an Ethernet network to Programmable Logic Controllers.
Where: Cedar Point Amusement Park
Top speed: 120 mph
High-tech features: Sensors line 2,800-foot track and send real-time data to a ControlNet network. Separate control and safety Programmable Logic Controllers.
Where: Hersheypark
Top speed: 72 mph
High-tech features: Hydraulic launching system propels riders from 0 to 72 mph in less than 2 seconds. Nitrogen-powered propulsion system cut electricity usage in half to 2.5 megawatts.
Which ride is missing from our list? Tell us about your favorite tech rollercoaster or amusement park ride and why you like it so much.
Copyright © 2009 IDG Communications, Inc.
Next Up: Check out these related slideshows