Inside the Posh Pads of Tech's Elite
Super-wired, super-plush and, of course, super-expensive: Check out the homes of Steve Jobs, Larry Ellison, Marc Benioff and their tech titan peers. Bernie Madoff's now-seized cribs had little on these palaces on land and sea when it comes to luxury.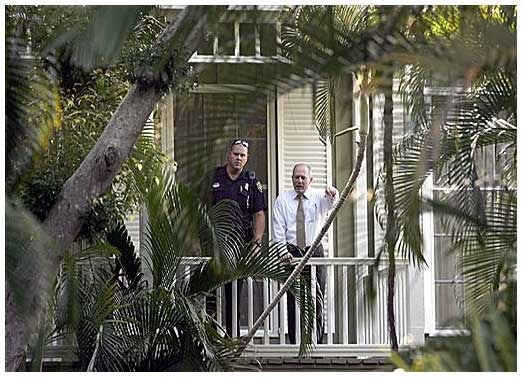 Tale of the Tech Cribs
As Bernie Madoff shuffles off to prison for eternity, the government has busily been seizing the places he called home: a $7.5 million Manhattan penthouse apartment, a $7 million oceanfront house, another house in Palm Beach (pictured here). All of this got us thinking about the kinds of dwellings that technology's rich and famous call home — and what those places say about their owners. So take our tour of some of the glitziest geek cribs.
Gates: A House Built on Windows
Microsoft Chairman Bill Gates' sprawling mansion on the shores of Lake Washington is an architectural wonder built in the Pacific lodge-style. But don't let the classic look fool you — this mansion has all the high-tech amenities. Sure, bathrooms suddenly stop working and lights take 10 minutes to turn on — but just look at all the Windows!
Jobs' Teardown Candidate
Apple CEO Steve Jobs has come home to his old desk in Cupertino. Welcome back! His love for Apple, as well as his fiery temper, are well known. So is his dislike for his old home in nearby Woodside. Jobs wants to take a wrecking ball to his 1926 mansion, but historical preservationists have been stymieing his efforts for years. Is there really any value in this creepy game room?
Ellison: The Last Samurai in Woodside
Oracle CEO Larry Ellison, spent more than $200 million to build a 16th century Japanese emperor's countryside home in Woodside. Yet such a home suffers from "significant functional obsolescence," according to an Ellison filing — that is, not too many rich folks would buy it — and so Ellison was granted a $3 million tax break. The local school district will reportedly lose some $330,000 in tax revenue. Whack! Take that kiddies.
There Is Another Skywalker...
On this list Master George Lucas should be, for bringing technology to the big screen. (Wave hand in front of face.) The famous filmmaker bought a parcel of land north of San Francisco in 1978, which he named Skywalker Ranch, and has been adding to it ever since. Today, Skywalker Ranch is creative headquarters for Lucas — and probably strong in the Force. There's even a lake on the 4,700-acre property, called Lake Ewok.
Allen's Floating Wonder
It's not a stretch that you must think pretty highly of yourself to buy one of the world's largest privately owned yachts. Microsoft's Paul Allen, who is also chairman of Vulcan, spent $200 million for the 416-foot mega yacht Octopus, which carries two helicopters, a submarine, seven boats, a swimming pool, and a crew of 60 (including former Navy Seals for, we're guessing, anti-piracy reasons?) Allen also owns the Seattle Seahawks and Portland Trailblazers professional sports teams.
Benioff: Aloha Means "Get Outta Here!"
A few years ago, a Wall Street Journal reporter decided to check out Salesforce.com CEO Marc Benioff's big compound that he was building on the Big Island, Hawaii. Rumor has it Benioff — who portrays himself as a media-adoring, Dalai Lama-loving exec — called the cops and had the reporter booted from the premises. The compound remains shrouded in secrecy. How do you say "get lost" in Hawaiian?
The Social Networking President Goes to Washington
Copyright © 2009 IDG Communications, Inc.
Next Up: Check out these related slideshows