LinkedIn today released a revamped version of its flagship mobile app. The company has pursued an unbundled mobile-app strategy for the past couple of years, and it resulted in the release of more than 10 standalone apps.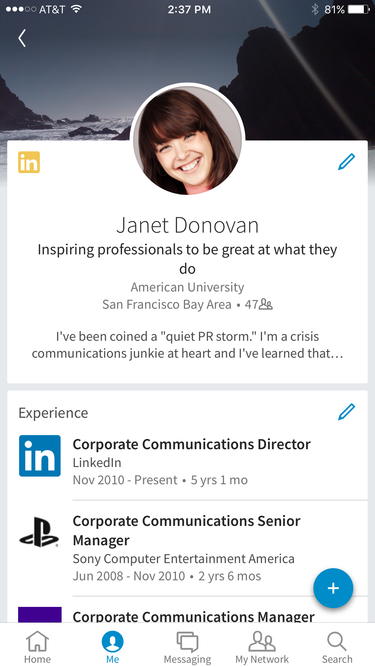 The core LinkedIn app was updated regularly since its last major overhaul in early 2014. However, many of LinkedIn past core features slowly shifted into single-use apps, and the company ultimately decided to develop a new app that aims to provide a more intuitive and streamlined experience around what it now sees as its core attributes.
[Related News Analysis: An inside look at LinkedIn's unbundling mobile strategy]
Joff Redfern, vice president of product at LinkedIn, says the company redesigned the software to raise the app's profile among the other LinkedIn apps, as well as to integrate an app launcher feature that makes it easier to open those other apps, including LinkedIn Pulse, LinkedIn Groups and LinkedIn SlideShare. The redesign has been in the works for almost a year, he says.
A stripped-down, streamlined experience for LinkedIn app
The new LinkedIn mobile app, available for Android and iOS, is designed to provide an improved experience in five key areas, called "Your Feed," "Me," "My Network," "Messaging" and "Search."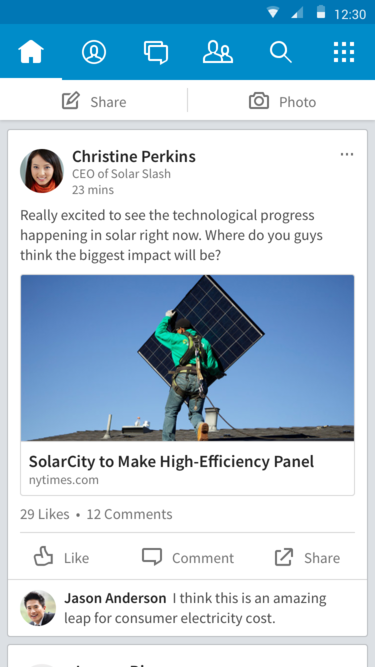 [Related News: LinkedIn Lookup app helps you connect with coworkers]
Your Feed is the default home screen, and it includes news and commentary from your network based on what LinkedIn algorithms determine to be the most relevant for your industry, function, skills and conversations. You're asked to select content of interest when you first launch the app, and you can also "un-follow" topics if things get too noisy.
Me, your profile page, surfaces all activity related to who views your profile and who comments on or shares your posts.
My Network serves up a "daily briefing" of what happened in your network on a given day, including new posts and suggestions to help keep you connected or congratulate other connections on new roles or work anniversaries.
LinkedIn also integrated its new Messaging format into the app, and it's designed to provide a more casual and lightweight communication method.
Finally, LinkedIn says it improved the speed of its Search by 300 percent. Search is also more contextually aware, according to the company, and it starts to display results before you finish typing.