The impact of technology on businesses and their strategies has never been stronger than it is today. All CIOs and IT executives have to answer the questions of what their organizations need to do in order to be continually relevant to the business and how to build the capabilities that drive its performance.
Whether you define the I in CIO as information, innovation, infrastructure, integration or any other term (and whether the role is internal to the business, customer-facing or both), there are three clear and straightforward groups of actions where leaders in information technology need to be constantly focused on increasing competencies – communicating, innovating and operating.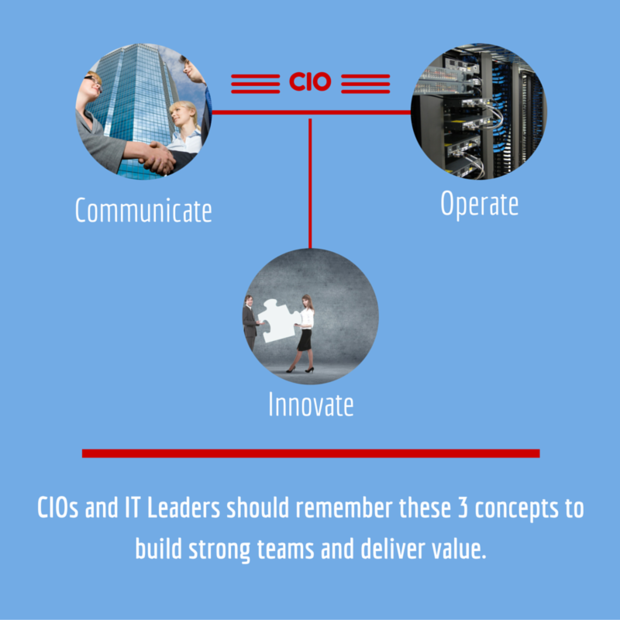 Communicate
Everyone talks about communication and there has been a tremendous amount of knowledge capital, executive coaching, courses and other guidance on how IT leaders can do so more effectively. Truly developing great communication skills certainly takes time and focus, but there are 4 important keys to being an effective communicator as a technology leader.
Engage: Reaching out is the first step in opening the door to open communication and dialog. The most effective IT leaders understand that interacting with their people and the business and asking them for input will often lead to insights and ideas that would have never otherwise come up.
Listen: After the door is open, hearing what people have to say not only through their words but also observing their actions is essential to effective communication. IT leaders who can hear and observe those around them are able to better understand the needs of people and how to satisfy them. This ability is essential in building both personal trust as well as trust in the IT organization itself.
Clarify: Technology, people and process are complex on their own but when you combine them together, it can be difficult for people to be able to see the "forest for the trees." Offering structure and clarity to complex challenges and situations is a valuable skill that is important for CIOs and IT executives as they work to build credibility with their stakeholders.
Collaborate: Information technology (and its internal functions) should not be operating in silos that are separate from the business or each other. To be relevant and drive business performance, CIOs should seek to make boundaries between business and IT capabilities less clear. Partnerships are essential to integrating with the business, truly understanding its needs and ultimately driving success. Too much focus is often drawn around organizational hierarchies and responsibilities where the question of capabilities required for the business to perform should be centric to the conversation.
Innovate
Innovation in IT is simply thinking about the capabilities that IT must deliver to drive business performance and taking action to develop those capabilities in a strategic way. CIO organizations oftentimes have the potential to be great centers of creativity because people in them have line of site across the business and the right skills to bring key players together from many parts of the company to understand "what's next." It is important to remember that technological innovation is driven by people yet people evolve more slowly than technology; thus, IT leaders must work to establish cultures that embrace change and challenge the conventional thinking in order to overcome this barrier. Innovation can be spurred by acting on the 4 following concepts:
Think: Taking the time to think about what is happening in a company's industry, geography and the broader marketplace is essential to strategically innovate in IT. Rapid changes in the demographics of a company's customers, characteristics of suppliers and broader technological trends can have lasting (positive or negative) impacts on the success of a business. While it is impossible to stay ahead of every change, thinking about the major trends and drivers will help IT position itself to drive business growth and performance.
Challenge: Having the courage to challenge conventional thinking or wisdom is vital to innovating. Failure to openly discuss the current "configurations" of IT processes, operations and people can often lead to an environment that is very static and focused simply on maintaining existing capabilities.
Build: Building teams that have the right mindset and skills to embrace new technologies and methodologies is critical because it will be those people that will be important to bringing the new capabilities to the business. High performance IT organizations manage their workforce, its culture, skills, and focus in very informed and strategic ways to ensure that the right people are in the right positions and doing the right things.
Disrupt: Business and IT organizations must intentionally evolve and transform themselves as a matter both of survival and performance. Disruption is making strategic choices to change people, technologies, processes and structures. IT leaders should recognize that the failure to take a action on the future may lead to their teams and organizations being left in the past.
Operate
Operating is delivering on information technology's commitment to the business and its stakeholders as efficiently, transparently and timely as possible.
Govern: Effective governance is extraordinary difficult given the complexity of many businesses and IT organizations; however, understanding the processes, financials, and alignments of the portfolio of projects and services to business needs is critical for the on-going mission of any high performance IT organization.
Execute: Executing the projects and support that the business needs to succeed requires disciple and determination yet is perhaps one of the most foundational pillars of building trust between an organization and its IT function. It can be very difficult to innovate without having a seat at the table due to IT not meeting its fundamental commitments to the business in a timely and consistent way.
Reduce: Every IT leader should be looking for ways to reduce and/or recycle spend and effort in order to focus more closely on the needs of the business. A fully integrated technology function should constantly improve efficiency and operate in a way that clearly drives improved performance and meeting business goals.