My Apple Pencil ($99) finally arrived on Thursday, three weeks after I ordered it on Nov. 11. I went right to work using the stylus, drawing annotations on documents, particularly PDFs and Web pages.
More specifically, I wanted to draw circles around, and arrows pointing, toward text and images within documents, to call them out for myself, colleagues and friends. In other words: I wanted to use old-school markup in a high-tech way.
Testing Apple Pencil on Evernote, OneNote, LiquidText, and Notability
On my iPad Pro ($799 and up), the only device that currently works with the Apple Pencil, I attempted to draw document annotations in Evernote (free), OneNote (free), LiquidText (free), and Notability ($6).
Unfortunately, Evernote doesn't let you freely draw annotations on text with Apple Pencil [ Find it on Amazon – *What's this?* ], as I had discovered earlier. Evernote has many strengths, but handwritten annotations isn't one of them, despite its Apple Pencil support.
OneNote 'freeform canvas' gets the job done
OneNote, with its "freeform canvas" structure, works with Apple Pencil for handwritten annotations, though I had to close and reopen the app for it to recognize the Pencil. I was also initially confused when Apple Pencil didn't show up under OneNote's Stylus menu, which appears after you tap the app's Draw tab. You don't need to connect the Pencil to OneNote (assuming you've already paired it with the iPad Pro via Bluetooth), however, so you don't need to select the Pencil from a OneNote menu. You just need to select the marker or pen from the visual menu at the top of the app and start drawing. (See the image below.)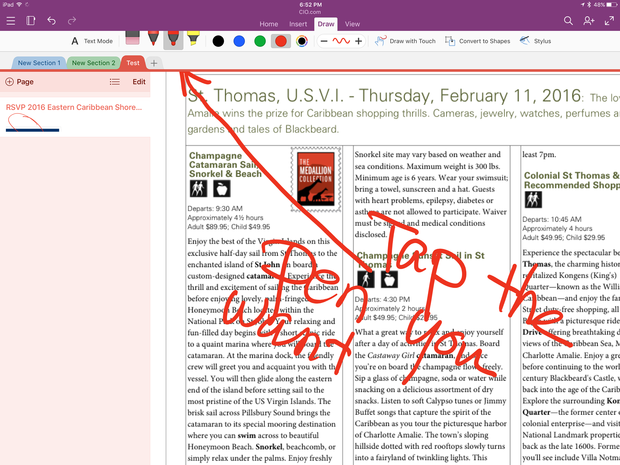 LiquidText is a simple, useful app for highlighting text, but like Evernote, it doesn't let you draw annotations using Apple Pencil.
Notability and Apple Pencil a killer combo
I'd never used Notability before my Pencil tests, but it quickly became my favorite tool for marking up and sharing documents.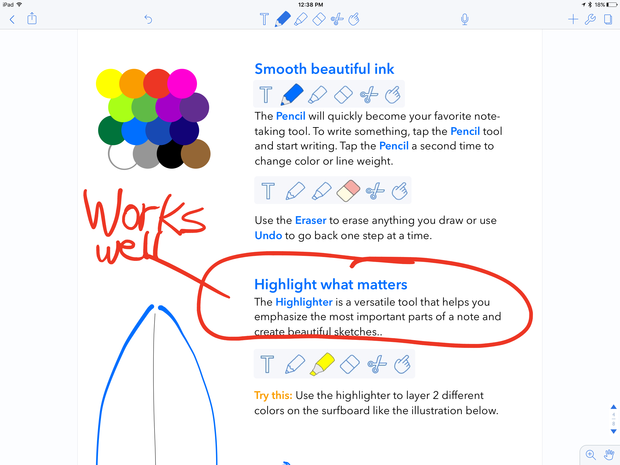 It's surprisingly easy to import documents and photos, and start drawing annotations in Notability. After you're done annotating, you can save documents as PDFs or in the proprietary Notability format. You can also save them as RTF documents, but you lose all your handwriting.
Notability integrates with Dropbox, Google Drive, Box, WebDAV servers, Evernote, and OneNote, and it retains all of your handwritten annotations when you upload files to the cloud. (I tested the app with Dropbox, Evernote, and OneNote, and it worked well.) Sharing via email is another option.
Additional Notability features worth a look
Like OneNote and Evernote, you can add audio annotations to files in Notability. However, audio recordings can make Notability documents difficult to share with other apps. For example, I imported a document with an attached voice recording into Evernote, and it saved as a Zip archive, which I couldn't open.
You can delete a portion of a document in Notability by tapping its scissors icon, and a text tool lets you add typewritten annotations.
You don't need an Apple Pencil to hand-annotate documents in Notability or these other apps, but the stylus lets you draw more precisely. If you're looking for an alternative stylus that works with the iPad Pro and other devices and is a bit more affordable, check out FiftyThree's Pencil ($50 to $60).