Facing mounting subscriber losses, Dish Network is banking on new technologies to lure brand partners and customers accustomed to ordering digital services online and from mobile devices. The satellite TV provider's new digital advertising platform relies on sophisticated analytics, as well as software that allows subscribers to track the whereabouts of service technicians en route to house calls, says John Swieringa, who last week was promoted from CIO to executive vice president of operations.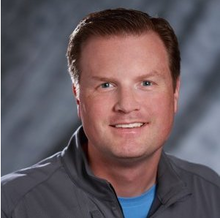 Dish and cable operators such as Comcast, Verizon and AT&T have long profited on consumers' TV consumption, serving up beefy channel packages. Now they're facing the proverbial innovator's dilemma, as consumers' viewing preferences are shifting to on-demand content accessible from smart TVs, PCs, smartphones and tablets. The trend has paved the way for alternative content providers such as Netflix, Amazon.com and Hulu, whose streaming services have lured new customers users and inspired them to eliminate their paid TV subscriptions.
Dish, which reported losing 23,000 subscribers in in the quarter ended Sept. 30, has been encouraged by the success of its Sling online streaming media service of late. But Swieringa's IT department, in collaboration with Dish's media sales and operations units, are building other technology services they hope will give them a competitive advantage in what he calls the "golden age" for pay TV. "The people leading IT [at Dish] should spend a little more time with business customers, and making sure we're sitting at the intersection of strategy and execution," says Swieringa, who was promoted to CIO in 2014 after serving in several IT and finance-related roles at the company.
Hope hinges on Hadoop
Dish's programmatic advertising platform allows brand partners to bid on and purchase commercial time during live and DVR-playback TV on an impression-by-impression basis, akin to how other digital media companies serve ads.
Advertisers create a profile in Dish's ecommerce portal and bid for ad spots they desire. The ads are highly targeted — down to the household level — thanks to Hadoop analytics software that captures viewer data. This personalization enables, for example, car companies to build ads that target males of certain ages.
[ Related: Data analytics are 'gold' for pharmaceutical distributor ]
The software also tracks the ad's performance, providing brand advertisers with crucial information they may use to refine their ads, says Swieringa, who worked closely with the media sales team to make sure the Hadoop system integrated with the ad platform. The "large Hadoop implementation," is powered by Cloudera, with whom Dish began working in 2012 to fine-tune its batch processing of customer data.
[ Related: Why one CIO hopes self-service analytics will make IT irrelevant ]
Hadoop-driven advertising has emerged as a force in digital advertising, allowing brands to analyze the massive amount of clickstream data. The goal is to enable brands to serve consumers more personalized and targeted ads for products and services. The thinking is that more personalized ads will engage consumers, rather than annoy them and risk turning them off to brands. Companies such as Dish are using Hadoop to analyze anything from ad placement and optimization, to click-through rates, conversion rates, and keyword effectiveness.
"We're now in the machine data business," Swieringa says. "We're learning a lot and finding new ways to put our data to work for our customers and our business."
Subscribers track technicians, Uber-style
As CIO, Swieringa spent about half of his time talking to Dish customers, making sure the technology and business were working together to meet consumers' needs. That has helped his IT team work with operations to develop new services such as MyTech, which allows subscribers to view the location of the technician coming to service Dish services and equipment online through mydish.com. Swieringa says knowing technicians' whereabouts, providers an Uber-like convenience, enabling subscribers to better plan their day.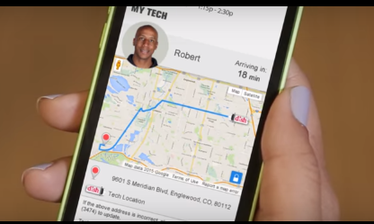 The software, which incorporates the Google Map API to display mapping data, shows the name and a picture of the technicians so subscribers know who they are expecting. "We give consumers the peace of mind to know exactly who is going to be knocking on their door," Swieringa says. Comcast is testing a similar technician tracking service.
Dish's 10,000 service technicians and subcontractors are also benefiting from Swieringa's technology infusions. Each technician gets an Android tablet from which they can access several applications, including appointment scheduling and customer management software, set-top box help apps, and even tools that help identify the best position with which to angle a satellite dish.
The IT department has played a crucial role in helping Dish's media sales and operations teams roll out these new services. To free up his staff to work on such innovation, Swieringa says he's tried to standardize on cloud services. Dish is using Microsoft Office 365 for email and productivity, ServiceNow for help desk calls and Okta for identity management, which allows technicians, contractors and office workers alike to access the Web applications they require via single sign-on, while protecting corporate assets.
He says the efforts are part of the corporate strategy to evolve from a pay-TV company to a commerce company. "We need to reinvent the playbook for IT to make sure we can handle the changing landscapes of the digital economy and the changing preferences of our customers," Swieringa says.
Rob Dravenstott, formerly Dish's vice president of application development and testing, has been promoted to become the company's new CIO.