At some point during the next couple of weeks, you'll very likely have had your fill of family, food, and festivities. It will then be time to curl up on a sofa, pop in your earbuds, and catch a movie on your smartphone or tablet.
But which moview should you watch? And where can you find them? Lots of apps exist that can help you search for and browse movies and TV programs, and guide you toward streaming options (such as Netflix) or paid sources (such as iTunes). Here are two of my personal favorites, both of which are perfect for holiday video binge sessions.
Yahoo Video Guide your go-to streaming search tool
Yahoo's Video Guide apps for Android and iOS let you browse and search more than 30 video sources, including Netflix, Hulu, HBO GO, Xfinity, YouTube, Comedy Central, Food Network, and Cinemax. The app's search tool works well, in my experience.
A "Mood Picker" feature lets you select your mood at a particular time by tapping an animated GIF button. It's a cute idea, but the animations, such as "Lighthearted," which is represented by a hand waving out a car window, aren't always clear. When you tap the buttons, you see moods spelled out below the icons, but you have to look quickly to see them.
The viewing options are also sometimes suspect. For example, "The Skeleton Twins," starring Bill Hader and Kristen Wiig, has amusing moments, but it's at best a "dramedy" and doesn't really fit the "Lighthearted" description.
I appreciate the app's ability to select only the services and apps I use, so I don't have to wade through options that I don't. The app includes Rotten Tomatoes scores, cast information and some credits, as well, along with suggestions for similar videos.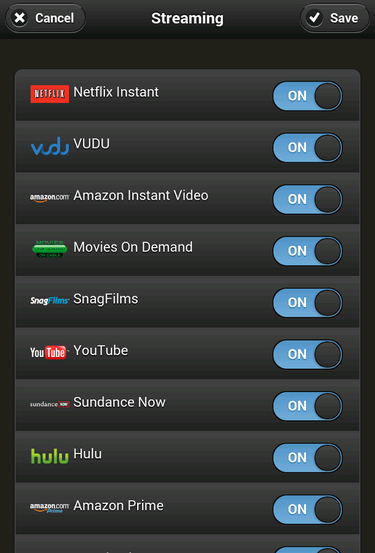 The Android app is optimized for tablets; however, the iOS software is not, which is disappointing if you want to catch a flick on your new iPad Pro.
GoWatchIt a must for streaming buffs
GoWatchIt is a handy resource for figuring out where to find the movies you want to watch, as well as how much they cost to rent or own. In addition to streaming, searches include DVD and Blu-ray options. The app includes current films, as well, and you can book tickets via Fandango and add titles to your wishlist in Google Play, Amazon and other services. It's also simple to select the specific services you want to show, including Netflix, VUDU, Amazon Prime, YouTube, and Sundance Now.
The GoWatchIt for Android and iOS apps haven't been updated in more than a year, but the content is current. GoWatchIt's website also looks good on mobile devices. Unfortunately, as is the case with Yahoo Video Guide, GoWatchIt's app is optimized for Android tablets but not for iPads.