Holiday parties, performance reviews and annual reports are just a few reminders that the year is coming to a close. Over the past several months, this blog series has followed the CIO's evolving role across 2015 into one of even greater responsibility, leadership and opportunity. 2016 will be no different. This year, the CIO will have even more opportunities to lead by conveying the value of investments. In Gartner's 2016 CIO Agenda Report, CIOs reported their top barriers to success in the new year. The top three barriers listed are skills/resources, funding/budgets and IT-business alignment.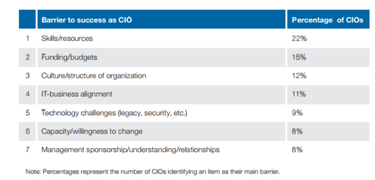 1. Skills/resources
Talent is the number one barrier in the eyes of CIOs in the coming year, with 22 percent of CIOs listing this as the highest concern. Gartner says that: "The biggest talent gaps are around information – big data, analytics and information management – followed by business knowledge/acumen. Worryingly, many of these gaps are the same ones CIOs cited four years ago."
Beyond the technical prowess of new talent, CIOs are looking for leaders with the ability to clearly understand business and IT value. Beth Stackpole, in her article titled "Forecast 2016," references Computerworld's Forecast 2016 survey of IT professionals. She writes that "37 percent of this year's respondents [to the Computerworld Forecast] said they're planning to increase IT head count, up from 24 percent last year. Tellingly, 42 percent of those with hiring plans are in search of people with combined tech and business backgrounds that will allow them to articulate the value of IT in meeting business goals."
With an emphasis on hiring, finding IT leaders who can effectively coordinate business value and IT becomes even more important.
2. Funding/budgets barrier
From the Gartner report, the second biggest barrier to success is funding—listed by 15% of CIOs as their top concern. Excellent networkers often have the ability to describe the importance of their work when they meet someone new—not just the literal tasks. Rather than saying, for example, that "I'm the CIO of ABC company," it is more powerful to say how your work in that role is changing lives or making the world a better place. In essence, you are showing the value of your work, rather than listing your responsibilities.
The ability to communicate the business value and purpose behind IT practices and investments is the same principle. How is that new cloud infrastructure contributing to the organization's success? By increasing productivity, supporting innovation, allowing greater collaboration? The more IT leaders can successfully tie these benefits to specific dollar value, the more IT will be able to justify the greater budgets it needs. We've seen this increase in 2015, and it will likely continue to do so in 2016.
3. Culture/structure of organization
The third barrier listed by CIOs was the organizational culture/structure. In a recent Harvard Business Review Analytic Services Report, "Driving Digital Transformation: New Skills for Leaders, New Role for the CIO," the report outlines how organizations are looking to IT leaders to lead education across the organization regarding digital trends.
The report states that "leaders across the business must learn about and stay abreast of digital trends, the implications of those trends for their business, and how to leverage the new technologies … CIOs can play a key role here—as evangelists, leaders and digital coaches."
As IT becomes more integrated with the organization, IT will empower innovation by providing a clear understanding of the business value of diverse digital trends. Are the proper avenues in place and cultural structures supportive of this type of collaboration and communication? Are marketing and IT empowered to take the information that each group needs and share it with each other?
The report also notes that it has "become a best practice to embed IT into the lines of business, breaking down walls wherever possible so learning and decision making happen in conversations, not lectures or quarterly meetings." First, we need to lay the groundwork for this collaboration with complementary cultural change.
Familiar challenges, new opportunities
The barriers listed in Gartner's report are not new. They are the same challenges CIOs have faced in the past. But while the challenges have not changed, the CIO's influence is rising. The report says:
"[S]ignificant numbers of CIOs are already their enterprise's digital leaders or innovation leaders (39 percent and 34 percent, respectively). Plus, compared to two years ago, the majority feel that their power and influence are increasing, and more believe they are trusted allies and partners of the CEO."
The CIO's challenges may be all too familiar, but the CIO's power and ability to lead are increasing. Along with increased leadership may come a greater opportunity for the CIO to effect change – with renewed influence, greater power, and essential perspective.