In 2008, I abandoned Microsoft Outlook for good, fed up with its bloated self. I also disavowed Windows in favor of the Mac OS.
Fast forward eight years, and I'm back in the Outlook camp, at least on my iPhone and iPad Pro. And I use a lot of Microsoft software across my other devices, including a Microsoft Surface 3 tablet. Remember that old phrase? The more things change, the more they stay the same?
Here's a quick look at what's new for Outlook on Android and iOS, along with shoutouts to four other noteworthy Microsoft apps that work well on non-Microsoft devices.
Microsoft Outlook for iOS, Android
Countless apps exist for email, calendar, and contacts, and some others combine all three things. However, Outlook is my current favorite, because it does a great job integrating these three functions. It also easily connects with Microsoft OneDrive, Box, Google Drive, and Dropbox, making it simple to email files as attachments or open them in the appropriate apps. (Spreadsheet files stored in Outlook can be opened in Excel, for example.)
Outlook on iOS and Android (both free) recently received a set of new features, including Microsoft's Skype integration. A new "Skype Call" option adds Skype call links to Outlook calendar appointments and invites. People who are invited to meetings see the Skype links in their calendar invites, and a tap of the link lets them join Skype calls. It's a nice touch, and it works for people who don't have a Skype account or mobile app, via Skype for Web.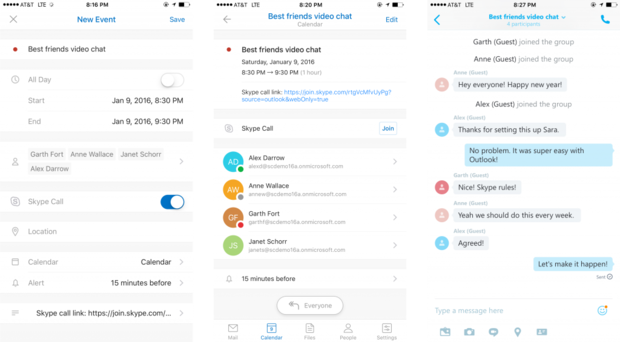 Outlook for iOS also has new calendar views, which make it easier to navigate appointments on small(ish) screens. The daily calendar view, for example, provides a two-week view, as well as a look at the current day, and it's easy to jump to another day's appointments with a quick tap. A downward swipe of the two-week view expands the calendar to five weeks. The app also has a new three-day view, butit doesn't provide the same glimpse of two or more weeks.
In the Android app, Microsoft tweaked Outlook's interface so the Mail, Calendar, Files and People icons are accessible from the bottom of the screen. Outlook on Android also now includes Skype integration, but it doesn't have the same new multi-week and three-day views as the iOS version.
If nothing else, the Outlook apps can help prioritize email. They sort messages into two groups: "Focused," which includes messages from frequent contacts; and "Others," which groups everything else together.
Microsoft Word, Excel for iOS, Android
I never stopped using Word or Excel, because they're still the best at what they do. And for me, using the same word processor and spreadsheet apps across multiple platforms — iOS, Android, Windows and Mac — is the way to go. However, the mobile versions of Word and Excel lack features available in their desktop counterparts, and there is a learning curve. For instance, I can add a hyperlink to text in Word on a Mac using the "Command-K" shortcut, but that same shortcut doesn't work in Word for iOS.
For people who regularly work in Word and Excel on desktop or laptop computers, these mobile apps are must-have software. (I rarely use PowerPoint, so I don't feel qualified to discuss its mobile version.) It's also worth mentioning that though the free mobile versions of Word and Excel offer many useful features, more advanced options, such as additional formatting choices, require a paid Office 365 subscription for business, or home and student users.
Microsoft OneNote, Office Lens for iOS, Android
I've covered Microsoft OneNote many times during the past years, with a frequent focus on how its free apps and service compare to its main rival, Evernote. And while the OneNote apps have their drawbacks, they're the best options for users who want to markup documents using a stylus on an Android or iOS device, or especially a Surface tablet.
The free OneNote companion app, Office Lens for Android and iOS, captures images of documents, whiteboards, and business cards and then transfers them to OneNote notebooks or other apps, and it works well. I just wish OneNote was better at clipping Web content and displaying it on mobile devices.