Going mobile often means tradeoffs, at least when it comes to productivity. Slowly, however, mobile collaboration apps are catching up to their desktop counterparts. During the past few days, for example, both Google and Microsoft added valuable new real-time collaboration tools to their document suites.
New comment tools for Google Docs, Sheets and Slides
Google's Docs, Sheets, and Slides apps for Android and iOS haven't exactly excelled in the past when it came to adding, viewing, and resolving comments made by document collaborators. As of this week, however, all three apps let you easily add and view comments; reply to comments; and mark comments as resolved.
The new mobile experience is similar to using Google's apps in a desktop browser … but still not quite the same. For example, Google also added a new comment bubble that appears when you select content, such as text, in a desktop Docs file. You can then click the bubble to create a new comment. The bubble doesn't show up in the mobile apps, but when you select text in a Docs file on mobile, a pop-up menu lists an "Add Comment" option.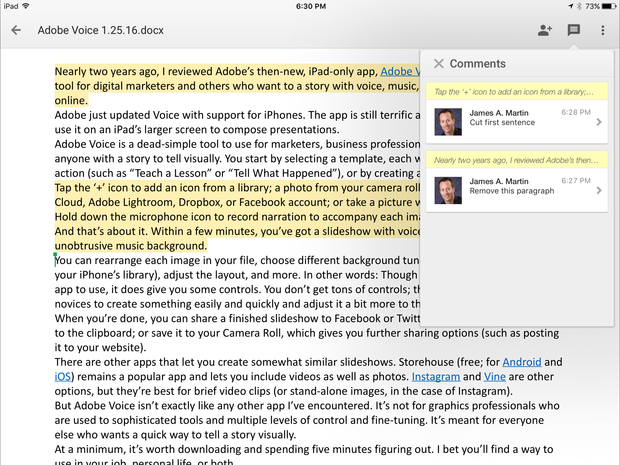 And Google mobile apps now let you easily add contacts in your address book as document collaborators. When you start typing their names in comments, you quickly see email addresses that can be used to distribute invites.
Microsoft Office and real-time coauthoring
When it comes to real-time document collaboration, Google has had the upper hand on Microsoft and its Office suite for years. Today, Microsoft is doing its best to tip the scales with new real-time collaboration capabilities it added this week to Office, which let you share files stored in Box, Dropbox, Citrix ShareFile, and Egnyte, in addition to Microsoft's own OneDrive cloud service. And now you can use Office Online (in a Web browser) to work simultaneously with collaborators on the same files.
However, the feature worked much better in my Mac's browser than in mobile Safari on my iPad. Google's implementation of real-time collaboration across multiple devices is also more straight-forward, and the Google app experience is much more consistent across platforms. Still, the enhancements represent a step in the right direction for Microsoft and Office.