Following on from my previous post about what's in store for ecommerce in 2016, here's the second part, which is focused on more trends that I believe we'll see this year.
Building in-house teams
Optimization strategies are only as strong as the insight and strategy that drives them. Digital marketing experience and expertise will be in high demand again this year, and not necessarily from agencies and third parties. Although a trend that has been building over the past few years, I expect to see a surge in in-house recruitment and the use of contractors and consultants.
While agencies will always offer invaluable fresh perspectives, many retailers are already investing in their internal teams hoping to respond quickly to market demand thanks to a team equipped with strong knowledge of their brand's capabilities. Growing strong well-connected teams with instant access to the rest of their business is a tempting prospect for many retailers, looking for new ways to improve output and efficiency.
The growth of in-house teams will undoubtedly have a knock-on effect for agencies and third-party suppliers. Significant investments in performance and site optimisation will be expected to return results, and quickly identify vendors failing to deliver. As more retailers bring skills in-house, it's a prime time for many to assess which of their providers are helping their growth, and which are holding them back.
Content and commerce continue to blend
There's no doubt that branded content will continue to attract marketing budget in 2016. The likes of Mr Porter's lifestyle articles, LUSH's product "kitchen" and various different publishers (including Condé Nast) moving into ecommerce show that retailers are placing far more focus on rich content. Publishing branded content to enhance, rather than interrupting, a customer's experience is difficult, but not impossible. I've already spoken with lots of merchants that are factoring this into their development and marketing budgets for 2016 and I expect it to be a big trend.
Companies like Olapic are also making it easier to add social proof across ecommerce stores, with many examples of customers using their plug and play solution to display instagram content on product pages. Companies like BazaarVoice are also pushing the boundaries around richer customer reviews.
REI, Barneys and Harrods are examples of retailers who have invested in publishing a huge amount of content around their core products. Sonic Electronix is another good example – investing heavily in UGC and publishing lots of informative content and guides to attract users further down the buying cycle.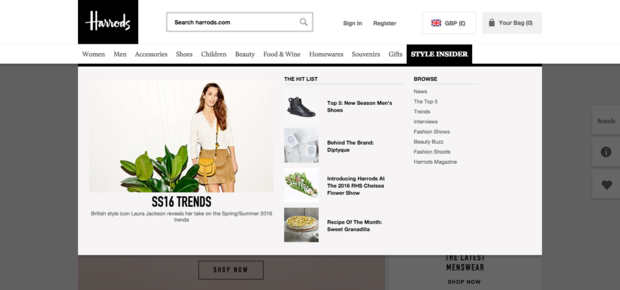 Lots of our retail clients have brought in editors, and even editorial teams in some cases, with business KPIs focused on higher engagement levels, customer acquisition (through SEO), and increased AOV and CR%.
Customer experience reigns
As ever, retailers need to deliver the information customers need when they need it. For some retailers, that may mean higher quality photography, improved product taxonomy, and better on-site search functionality. Whatever the changes, we expect to see more retailers employing A/B testing to accurately measure changes before rolling them out to their entire customer base. Personalisation is another big trend at the moment and lots of retailers are investing in serving more tailored products to their users. Several of our clients use NOSTO to manage this and have seen some really positive results. Companies like Klevu are also making huge progress around search technology lots of merchants are starting to look at services like this that are able to learn from user behavior.
Ultimately, all of these predictions come down to improving customer experience. Retailers are now far more aware of the fact that customers are savvy and connected and it almost seems absurd that many mainstream multi-channel merchants are still struggling to catch up.
Lots of highly successful traditional retailers continue to under-perform online, overlooking the opportunity around incremental online customer acquisition and using their store purely as an extension of their offline presence. I think there will be a shift in this area as well, as more of these retail brands see the opportunity and bring in more experienced and forward-thinking ecommerce leaders. I've seen a few brands doing this at the moment as they try to improve direct-to-consumer, or so-called D2C, performance.
It's not all doom and gloom
A lot of our predictions have focused on what would expect to see retailers improve, but it's evident the ecommerce industry is in better shape than this time last year (or even ever before). The continued growth of mobile and the immense success of holiday peaks with minimal site fatalities are testament to retailers' redoubled efforts to deliver a successful customer experience. Ultimately, growth will come to the merchants who prioritise the activities with the most customer value, and we'll be watching to see if last year's top merchants can sustain their success.