In October 2015, after a lengthy and public battle with the Ubuntu Community Council, Jonathan Riddell stepped down as release manager of Kubuntu, the project he founded.
Now, Riddell is back with a new project, KDE neon, which he will be announcing tomorrow at FOSDEM 2016.
I connected with Riddell to learn more about neon. Following is an edited version of that interview.
After stepping down from Kubuntu, what have you been up to?
Hanging around with my favorite people, of course, KDE and Kubuntu contributors. At Akademy I went to Finisterre, the end of the earth, on the most western short of Europe where we gazed across the ocean to plan the future.
Then, sipping Pina Coladas on Venice beach in LA, we brainstormed the best way to get KDE's beautiful software into the hands of our fans. Hacking in Munich, the home of large KDE deployments (or at least one of the few to publicly announce they use it), we planned meeting the needs of KDE contributors and users in a way which is not yet met.
On the Rio Noguera Palasera in sunny Catalunya I learned freestyle kayak by surfing against the current on a standing wave and realized we should go to the source. Upstream is where the beauty comes from so working upstream is where we should be.
What's KDE neon? Can you tell us more about it?
KDE neon is a project to give KDE users and contributors a way to get KDE's desktop software while it's still fresh. It'll be providing packages of the latest KDE software so users can install it and stay up to date on a stable base.
It's ideal for people who relish having the latest features today and get frustrated at the need to add extra archives or even compile from source just to try out what they read about in KDE's announcements. Unlike the rolling distributions it has a stable base so you can be confident a new Mesa version won't suddenly break your graphics.
Currently we have packages built directly from KDE's Git branches of KDE Frameworks, Plasma and Applications. This is perfect for contributors and testers who want to develop against the latest codebase. Coming soon we'll have the latest builds of KDE's released software, ideal for those who want the latest features on the day they're released.
We have a nice continuous integration system set up which grabs the latest sources and builds them pronto.
Images for live testing and installing should also be available in the coming weeks.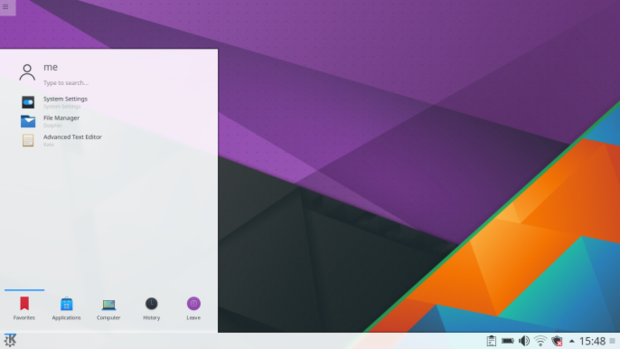 Is it a KDE distribution? If so, what is the base?
It's a KDE project just like hundreds of other projects are part of KDE. As KDE makes a lot of great software it makes sense to work as part of that team directly rather than be in some separate project.
We build binary packages akin to KDE on Windows and several other projects. It doesn't change KDE's relationship to the Linux distros that will always be the main way to get KDE's software. It uses Ubuntu LTS (actually 15.10 until the next LTS comes out) as its base as that is good technology which the team is familiar with.
Can openSUSE or Arch users use KDE neon?
Neon makes packages that work on the base of Ubuntu. It's not compatible with other distros. For now, to install neon you should start with a Kubuntu image and add the repository. We'll have installable images in the coming weeks.
What's the idea behind KDE neon?
Many KDE developers, and developers from other projects too, get frustrated that they release their software then have to wait weeks or months for users to be able to get their hands on it. Neon allows users to get the latest KDE software, either stable or bleeding edge, fast. Not everyone will want that; many people won't like new features appearing without warning. But for those who enjoy that we're there for them.
We were also keen to be a KDE project as KDE is a friendly community that respects software licensing, respects its users and respects its contributors.
And of course we'll work inside KDE itself, not alone. It's always puzzled me why KDE leaves some parts of its experience up to other projects such as the boot splash. We'll work with Plasma's team to get a Plasma boot splash into Plasma and use that.
There have been some naming issues at KDE. For example, the desktop is called Plasma and not KDE desktop anymore. So what exactly is KDE neon?
KDE has long since moved past being just a desktop project. We're now a community with hundreds of end-user focused projects. From educational games like GCompris to teaching tools like WikiToLearn to technical projects like Necessitas (now upstream happily making Qt work on Android) it's a great place to help on open source in a way that gets to the whole world and not just coders.
KDE neon is a new project that is providing packages of other software made by KDE.
What's the release cycle of neon?
Our continuousintegration server works tirelessly using buzzword compliant provisioned cloud containers to build software as soon as it exists; there's no need to wait for a release, just grab the latest today.
Having said that, it's useful for both the project and users to have a milestone so we expect to make versioned releases alongside releases of KDE's Plasma desktop, as that is the flagship project from KDE that forms the center of KDE neon.
When and where will it be announced?
I'm announcing it on Sunday at FOSDEM, the largest gathering of free and open source geeks in Europe. Do come to my talk in the Desktop Devroom at 12:45 if you're in Brussels.
Is it a one man project or is there any community behind it?
There's the whole KDE community! That's the beauty of KDE, anyone can contribute to any part without having to build up trust. We already trust each other. So the packages are in a Git repository that all KDE developers have access to. This means if you're a KDE developer and you've just committed a new feature that you'd like to test with Neon's unstable packages, but it needs some updates to the packaging before it can be used, you can just update the packaging. No more waiting around for weeks for someone else to take the changes and make them available.
The core team is me and KDE legend Harald Sitter, with lots of help from Plasma developers and KDE's visual design group. We welcome anyone else to come along and help out. You can find us in #kde-devel on Freenode IRC or on the neon mailing list.
Where is the project getting its funding from?
It's a KDE project. No need for funding. We just want to have some fun and make something people will enjoy using. Blue Systems sponsors some of my time and a nice company called Cloudsoft likes to show off their impressive open source credentials by sponsoring me a desk in their office in Edinburgh (just next to the castle, too, it's very beautiful). I'll probably put up a donate option once I work out a bank account for those wanting to sponsor hardware or travel but KDE takes care of a lot of that so I recommend donating to KDE directly for now.