The CIO works closely with the executive sponsor to ensure adequate attention is paid to integration with existing systems, data migration, and infrastructure upgrades. The CIO should also advise the executive sponsor about the challenges encountered by all major programs and should help the executive sponsor select a firm specializing in ERP implementations. Such a firm should bring specialized business process knowledge and experience with the ERP selected. An implementation firm executive should become an advisor to the executive sponsor.
The executive sponsor should be advised by an organization change management executive as well. An ERP implementation will result in new business processes, roles, user interfaces, and job responsibilities. Organization change management can help every person in the enterprise understand the impact ERP will have on both the organization and on the individuals. In most cases, an organization change management firm, rather than an internal executive, provides this support.
Reporting to the program's executive team should be a business project manager and an IT project manager. If the enterprise has engaged an ERP integration firm or an organization change management specialist, their project managers should be part of the core program management team.
The recommended implementation team structure is shown in the diagram below. The tan boxes include the minimum core team. A full implementation team is created by adding the positions in the blue boxes.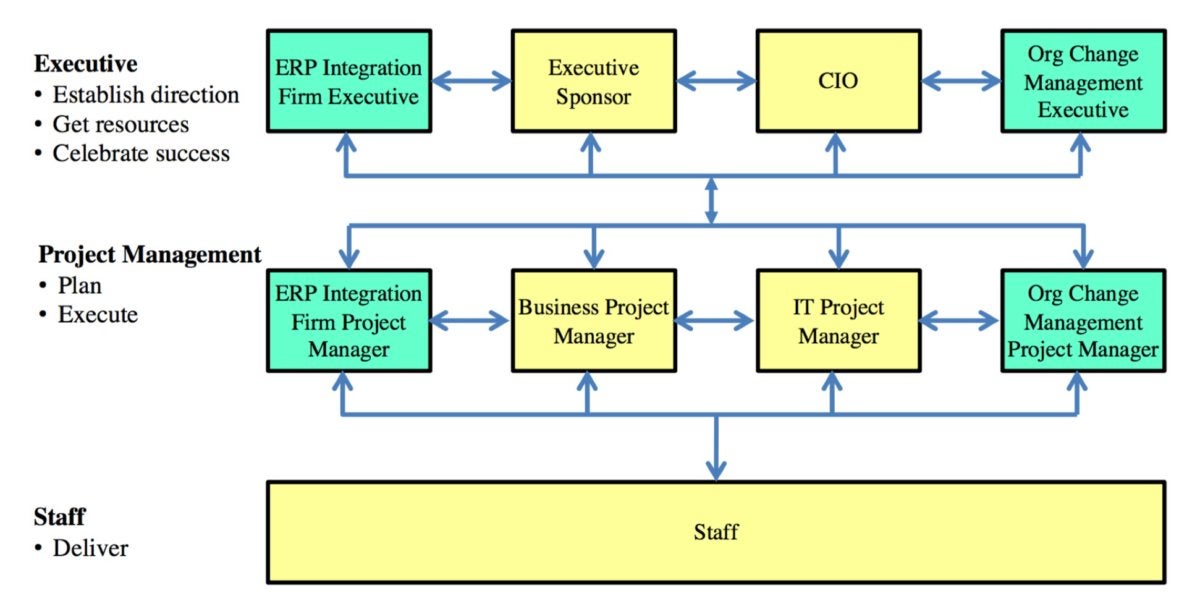 See also:
What are the major steps in an ERP implementation
Most ERP practitioners use some version of the steps below to structure their ERP implementation:
Gain approval. The first step is to get formal approval to spend money and direct staff to implement the ERP. The executive sponsor oversees the creation of any documentation required for approval. This document, usually called a business case, typically includes the following:

Problem definition
Description of the program's objectives and scope
Assumptions
Implementation costs
Implementation schedule
Development and operational risks
Projected benefits
Once the business case is complete, the appropriate group of senior executives should authorize ERP implementation to proceed.
Plan the program. The high-level time line created for the business case must be refined into a more complete work plan. The following steps need to be completed:

Finalize team members. Key internal individuals should be identified by name. Other required staff should be identified by role. External partners need to be selected. Typical partners include: ERP implementation specialists, organization change management specialists and technical specialists.
Complete contracts. Contracts for new software, technology, and services should be finalized
Plan infrastructure upgrades. On-premises ERP systems frequently require faster processors, additional storage, and improved communications. Some organizations can minimize infrastructure upgrades by using a cloud ERP. But even cloud ERPs can require infrastructure upgrades.
Create a work plan and timeline. Tasks, dependencies, resources, and timing need to be made as specific as possible.
Configure software. This is the largest and most difficult phase. The major steps include:

Analyze gaps. Understanding the gaps in current business processes and supporting applications helps the project team determine how to change business processes to conform to the software.
Configure parameters. Parameters in the ERP software are set to reflect the new business processes.
Complete required programming. Ideally, no changes are needed for the ERP software. However, some programming may be required for interfaces to other systems or for data migration.
Migrate data. The team standardizes data definitions and examines existing files for data completeness, quality, and redundancy. Finally, existing data is cleansed and migrated to the new ERP.
Test system. The system is tested to ensure it delivers the needed functionality and required responsiveness.
Document system. Required functional and technical documentation is created. Typically, the vendor has documentation that can be tailored to enterprise standards.
Upgrade infrastructure. Complete any required upgrades.
Deploy the system. Prior to the final cutover when the new system is in production, multiple activities have to be completed. These include:

Train staff. All staff need to be trained to operate the system and be given access rights.
Plan support. A support team will be needed to answer questions and resolve problems after the ERP is operational.
Test the system. The new system must be thoroughly tested to ensure it is secure, responsive, and delivers the functionality described in the business case.
Make the "Go live" decision. Once the executive sponsor is confident the new ERP is ready, the enterprise needs to switch from the old system to the new system.

Stabilize the system. Following ERP deployment, most organizations experience a dip in business performance as staff learn new roles, tools, business processes, and metrics. In addition, poorly cleansed data and infrastructure bottlenecks will cause disruption. All impose a workload bubble on the ERP deployment and support team.
See also:
How long will an ERP implementation take?
Implementation time is a function of business size, number of modules, scope of process change, amount of customization, number of sites, and organizational readiness for the tool. A full ERP implementation with all modules for a large enterprise can easily require multiple years.
Experience has shown that multi-year efforts without visible progress are rarely successful. Fortunately, virtually any major ERP program can be broken into phases with measurable results at the end of each phase. According to ERP specialists, a typical ERP phase for a large, private sector company takes 12-14 months. In the federal sector, the typical phase for a Cabinet agency requires two to three years. Smaller federal agencies and companies usually require nine to twelve months.
See also:
What are the hidden costs of ERP?
The four factors that are commonly underestimated during project planning include:
Business process change. Most people are content to work within the current environment unless they are a systems analyst or worked for a different enterprise with better systems. Once teams see the results of their improvements, most feel empowered and seek additional improvements. Success breeds success often consuming more time than originally budgeted.
Organization change management. Although process improvements make enterprises more efficient and effective, change creates uncertainty at all organization levels. A formal organization change management program reassures staff and helps them accept the changes. With many executives unfamiliar with the nuances of organization change management, the effort is easily underestimated.
Data migration. Prior to an ERP implementation, enterprises frequently have overlapping databases and weak editing rules. The tighter editing required with an ERP system increases data migration time. The time required is easy to underestimate, particularly if all data sources cannot be identified.
Custom code. Although enterprises have customized ERPs for years, it remains a bad practice. Customization increases implementation cost significantly as users demand additional features. It voids the warranty; problems reported to the vendor must be reproduced on unmodified software. It makes upgrades difficult; the custom code usually requires changes every time the vendor issues a new release. Finally, most enterprises underestimate the cost; even enterprises that estimate the initial cost rarely include the cost of migrating to new releases.
See also:
When will an enterprise see a return on its ERP investment?
It depends. Return on investment is a function of:
Quality of current business processes and supporting IT systems. Business processes that have not been examined in years offer more opportunity for improvement than recently examined business processes. Similarly, software that has not been refreshed for years offers more opportunity than recently updated software.
The organizational acceptance of new system. Some projects are technical successes and organizational failures. If the staff rejects the new system, it is virtually impossible for the system to produce benefits. Even if the staff is forced to use the new system, they will attempt to hang on to the old ways of operating and work around the new ones. Benefits will be minimal.
The quality of the implementation team. Good teams usually have better results than poor teams and are more likely to deliver projects on time, on budget, and with high quality. Increases in delivery time or decreases in planned quality raise the final cost. Assuming planned benefits stay the same, cost increases reduce the internal rate of return.
The organization's willingness to realize benefits. Most ERP investments are partially justified by cost savings from fewer staff. Unfortunately, benefits don't materialize but have to be harvested. Even executives who support the ERP implementation and agreed to headcount reductions in the business case, often avoid reducing their staff. These executives assert that staff that were targeted for layoffs have been redeployed and are currently performing "additional analysis."
If your organization hasn't updated its processes or software in years, thoroughly embraces change, has a great team implementation team, and is willing to capture the benefits, then the return will be quick and large. When fewer of these things are true, the return will take longer and be smaller.
Systems integration firms that specialize in private-sector ERP assert that most enterprises that successfully complete the installation see a return in two and half to three and a half years. Government systems integrators say that it is impossible to measure the return from an ERP implementation since few governments measure financial performance. In fact, most government agencies worry that if money is saved, their budget will be reduced the following year.
Why do ERP projects fail?
ERP projects fail for many of the same reasons that other projects fail. The most common cause is an ineffective executive sponsor who cannot command respect throughout the organization, is not interested in the project, or is distracted by other responsibilities. Other ways to fail include poorly defined program goals, weak project management, inadequate resources, and poor data cleanup.
There are several causes of failure that are closely tied to ERPs. Specifically:
Inappropriate package selection. ERPs, particularly Tier I ERPs, are very complex with many options. Many enterprises believe a Tier I ERP is by definition "best" for every enterprise. In reality, only very large, global enterprises will ever use more than a small percentage of the functionality available in a Tier I ERP. Enterprises that are not complex enough to justify Tier I, may find implementation delayed by feature overload. Conversely, large, global enterprises may find that Tier II or Tier III ERPs lack sufficient features for complex, global operations.
Internal resistance. While any new program can generate resistance, this is more common with ERPs. Remote business units frequently view the financial or other standardization imposed by an ERP as an effort by headquarters to increase control over the field. Even with an active campaign to explain the benefits of the new system, it is not uncommon to find people in the field slowing implementation as much as possible.
Even groups who support the ERP can become disenchanted if the implementation team provides poor support or is perceived to be rude or unresponsive. Disenchanted supporters can become vicious critics when they feel they have been taken for granted and not offered appropriate support.
See also:
What is cloud ERP?
Cloud ERP is becoming increasingly popular. Over the past few years, ERP vendors have created new systems designed specifically for the cloud. At the same time many longtime ERP vendors have created cloud versions of their software.
But all cloud ERPs do not operate in the same fashion. There are two major types:
ERP as a service. With these ERPs, all customers operate on the same code base and have no access to the source code. Users can configure but not customize the code.
ERP in an IaaS cloud. Enterprises that rely on custom code in their ERP cannot use ERP as a service. If they wish to operate in the cloud, the only option is to move to an IaaS provider, which shifts their servers to a different location.
For most enterprises, ERP as a service offers three advantages: The initial cost is lower; upgrades to new releases are easier; reluctant executives cannot pressure the organization to write custom code for their organization.
See also:
What does the future hold for ERP systems?
In addition to cloud offerings, ERP vendors have been advancing their systems in recent years. In particular, they have been adding machine learning features to their software.