Identifying which IT operations are candidates for cloud deployment is just the first step; organizations also have to decide whether they want their applications hosted in a public, private or hybrid cloud environment. Each model offers its own advantages and comes with its own set of challenges, and many organizations end up adopting a combination of the three approaches.
IDG's annual cloud survey, which polled more than 1,600 IT managers, found that 39 percent or organizations are using a mix of cloud models. About 60 percent have at least some enterprise applications hosted in a public cloud environment while nearly the same proportion (57 percent) said they were using a private cloud. About one in five are using a hybrid cloud.
Despite differing safety, control and cost considerations between public and private cloud models, the growth in adoption of the two models is almost identical, according to the IDG survey.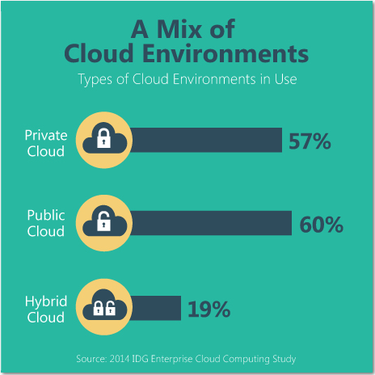 IT managers need to consider several factors, including performance, availability, security and interoperability, when deciding among the three options.
A Public Debate
A public cloud is a great option if you are looking to offload some of the costs and management involved in running standardized applications and workloads such as email, collaboration and communications, CRM and web applications. In some cases, it is also a good option for application development and testing purposes. Many companies have also begun moving big data workloads to the public cloud because of the enormous scalability benefits.
But there are some major caveats when using a public cloud. Your applications are hosted on an infrastructure that is shared by many other organizations. The IDG survey showed that many organizations are hesitant to move sensitive applications such as product lifecycle management and supply chain management to the cloud because of security concerns. More than 63 percent of the respondents said they had no plans to move compliance management to the cloud in the next three years while 66 percent said the same thing with respect to SCM.
The Private Cloud
A private cloud model addresses many of these concerns. Because your applications and workloads are hosted on a dedicated infrastructure you have much more control over it. In many cases, a private cloud is enabled on existing enterprise hardware and software using virtualization technologies.
Many companies use a private cloud model for proprietary workloads such as ERP, business analytics and HR applications, because it allows them to tap some of the benefits of cloud computing without ceding too much control to a third-party provider. A private cloud is also the right way to go if you are in a regulated industry or need to comply with mandates like HIPAA, PCI or Sarbanes-Oxley.
The downside is a trade-off in some scalability and cost benefits compared to the public cloud.
Best of Both Worlds
A hybrid approach combines the best of both cloud worlds by allowing organizations to tap the scalability and cost efficiencies of a public cloud while keeping core applications or data center components under enterprise control.
Hybrid offers several attractive scenarios for extending parts of your IT infrastructure to the cloud. For example, on-premise architecture remains viable for providing local access to large files or retaining control over sensitive data. The cloud, meanwhile, is proving its worth for data backup, storage and disaster recovery along with secured, distributed access to mobile applications.
Hybrid cloud models offer an increasingly sound alternative to traditional in-house IT approaches. The key to leveraging the benefits of the cloud lies in finding the right balance for different workloads, applications and infrastructure components.