One of the best things about the Apple Watch is how easy it makes it to stay in contact with friends. You can quickly use your Apple Watch to send your friends text or voice messages, digital touches and animated emojis.
But before you can do all that, you'll need to add friends to your friend circle on the Apple Watch. In this tip I'll show you how to quickly and easily add your friends, and I'll also show you how you can block your enemies.
How to add friends to the Apple Watch
To add friends to your Apple Watch, just follow these simple steps:
1. Open the Apple Watch app on your iPhone.
2. Tap on My Watch.
3. Tap on Friends.
4. Tap on Add Friend to choose your friends from your Contacts list.
5. After you add your first friend, just tap on the + in the friends circle to add more people.
Note that in watchOS 1, you can only add up to twelve friends. watchOS 2 – which is in beta as I write this – will let you add multiple groups of friends. So it's a good idea to choose the twelve friends that you contact the most until watchOS 2 becomes available in September.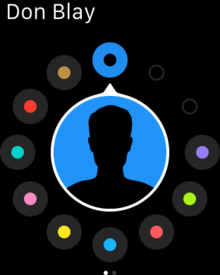 How to select friends on the Apple Watch
Once you've added your friends, it's very easy to select them on the Apple Watch.
1. Push the friends button on your Apple Watch.
2. Use the Digital Crown on the Apple Watch to move around your circle of friends.
3. Tap on the friend you want to contact.
4. Once you tap on a friend, you can then opt to call or send them a message.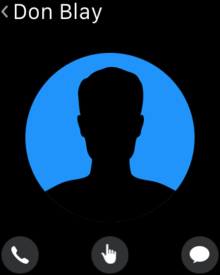 5. If the friend you've tapped has an Apple Watch, you'll also see a small hand icon appear on their screen. Tap that icon and then tap the small information button on the bottom right of the screen to see how to send a Sketch, Heartbeat or Tap to your friend.
How to block your enemies on the Apple Watch
If you prefer, you can also block enemies from your contacts list from contacting you on your Apple Watch.
1. Open the Apple Watch app on your iPhone.
2. Tap on My Watch.
3. Tap on Friends.
4. Tap on Blocked.
5. Tap on Block Contact.
6. A list of contacts will appear and you can tap on the one(s) you want to add to your blocked list.

Contacting friends is faster on the Apple Watch
I think Apple has done a very good job at making it easy to manage friends and enemies on the Apple Watch. Even if you're totally new to the Apple Watch, it takes just a few minutes to get your friends set up and to block your enemies from contacting you.
And I've found that staying in touch with friends via the Apple Watch is even easier and faster than doing it on my iPhone. These days when I want to text, call or otherwise contact a friend, I use my Apple Watch instead of my iPhone.
You just can't beat the convenience and comfort of having your friends right on your wrist. 

Did you miss a post? Check the Eye On Apple home page to get caught up with the latest news, discussions and rumors about Apple.