I've been running the beta of OS X El Capitan on my 5K iMac since it was released. And I have to admit that it has been a pleasant surprise, particularly for a first beta. Performance and stability have been very good, in some ways it seems to run better than its predecessor OS X Yosemite.
But there's a lot more to like about El Capitan than just how well it runs. Apple has added some great enhancements in this version of OS X, and I think it's going to be the best version of OS X yet.
Here's a quick list of my five favorite feature enhancements in OS X El Capitan:
1. Split View
2. Mission Control
3. Safari
4. Find your cursor
5. Notes
I'll have much more to say below about each one, but the bottom line here is that each of these enhancements adds real value to OS X. After using El Capitan for a while, I can't really imagine going back to Yosemite. Yes, the new stuff in El Capitan is that good and it makes a big difference when using your Mac.
1. Split View
I do quite a lot of copying and pasting of links and texts while working throughout the day. And one of the best things about OS X El Capitan is being able to easily use two application windows, side by side in full-screen mode via Split View. It makes it much easier and faster for me to get my work done.
To activate Split View in El Capitan, just hold down the green window button of one of the applications you want to use, then move the window to the right or left. You will then see all your other application windows, click on the one you want and then they will appear side by side. When you are done using Split View, just hit the escape key on your keyboard to go back to your regular desktop.
Something like Split View might not seem like all that big of a deal. After all OS X has had applications such as Better Snap Tool that have long performed similar functions. But sometimes those other apps are overkill for what I need, so it's much easier to have Split View built right into OS X. It saves me the trouble of installing an additional application to get the functionality I need.
You can even have two windows of the same application open via Split View. So if you want to run two Firefox windows side by side, you can do it in OS X El Capitan. And you can also adjust the size of the application windows by simply grabbing the side of one and then moving it. The other window resizes to fit your screen. So you can give one application window more screen space, and the other application less.
Trust me when I say that once you get used to Split View, you'll wonder how you lived without it in previous versions of OS X.

The only onion in the ointment with Split View is that when you hit escape to leave it, one of your application windows remains in full screen. And you then have to go back to it and click on the green window button to get it to leave full screen mode. I suspect that Apple will fix this in a future beta of El Capitan though, so I'm not going to get too worked up about it. But it would be better if both windows left full-screen mode when the user hits escape.
2. Mission Control
In the past Mission Control has been a bit of a mixed blessing since it didn't show all of your open application windows without stacking them. But in El Capitan, you can now see every open application window on your desktop. They are not grouped together like they were in previous versions of OS X. So it's easier to access the app window you want from within Mission Control.
And you can also drag an application window in Mission Control to the top of your screen to put it in a new desktop. I found this to be extremely useful when I wanted to quickly move a running application onto a new desktop. It saved me time since I didn't have to first create the desktop, then move the application window into it. It all got done with a quick drag and drop in Mission Control.
Mission Control feels more natural to use now than it did before. In El Capitan it works the way it should have worked all along, and that makes a significant difference in terms of its value and utility for users. I've found myself leaning on it a lot more in El Capitan than I did in Yosemite.
3. Safari
Safari can now pin sites so they are accessible immediately in your current window, and any others you open later on. This is a fantastic way to keep your most visited sites available in any Safari window. Once you've pinned your favorite sites, they're always there for you when you want to visit them.
And remember those annoying websites that auto-play videos so you are forced to hear sound when the page loads? In OS X El Capitan, Safari has a handy mute button that will immediately silence such pages so you aren't forced to sit there wondering where the annoying sound is and how you can turn it off.
While I love being able to pin sites in Safari, I have to admit that the mute button is really the killer Safari feature for me in El Capitan. I can't tell you how many times I have hit Web pages that blare some awful advertising video or some news sites that insist on playing a video by default. Now I just hit the mute button and kill the irritating sounds right when they begin.
4. Find your cursor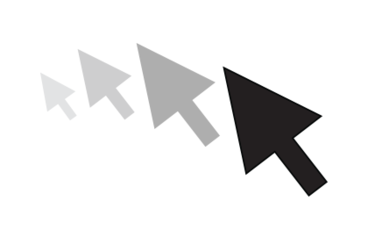 I don't know about you but my eyes aren't as good as they used to be, and sometimes it's hard to locate the cursor on my 27-inch iMac. But Apple has added a very useful cursor animation in OS X El Capitan. To activate it you just need to shake your finger on your trackpad or shake your mouse, and the cursor will get much bigger so it's easier to see and locate on your screen.
The cursor animation might not sound like an earth-shattering feature, but it's proven to be very useful for me. And it's a nice touch on Apple's part to improve the usability of OS X in a small but important way. I don't think I'll be alone in appreciating it when OS X El Capitan is released in the fall.
5. Notes
I've used Notes for years for various things, but I've always regarded it as a very basic tool. Functional and useful, but very basic in terms of the features it offers. But all that changes in OS X El Capitan as Apple has beefed up Notes so you can add photos, videos, URLs, and even map locations. And you can quickly create checklists that you can check off once they are completed.
Notes also comes with an Attachments Browser that you can use to see all your photos, videos, Web links, and map locations. Each item has its own tab on the Attachments Browser screen, and you can access the Attachments Browser by tapping on an icon at the top of the Notes app.
Trust me when I say that Notes in El Capitan is not the basic Notes app you remember from previous versions of OS X. It's much, much better and it's going to be a hugely valuable tool for many people when El Capitan becomes available to all Mac users in the fall.
And Notes in iOS 9 is getting the same treatment. So all of these new features will work on your iOS devices as well as on your Mac running El Capitan. I've already been using Notes in the iOS 9 beta and so far it's worked very well with the El Capitan beta on my Mac.
I can't wait for the final release of OS X El Capitan
As I noted in the first part of this post, El Capitan has been running great for me and it's only the first beta version. I had expected bad performance, tons of bugs and all the other stuff you usually get with betas (particularly a first beta). But instead I got a reasonably polished version of OS X that comes with some exceptionally useful feature enhancements.
I think those of you who are running OS X Yosemite are really going to enjoy El Capitan. And if you don't want to wait until September, you can use your Apple ID to sign up for Apple's Beta Software Program. There will be a public beta in July, and OS X El Capitan should be in even better shape by then.
Remember though that it's best not to install beta software on your main computer, just in case you do run into some bugs and problems. So bear that in mind if decide to try the public beta next month.
Did you miss a post? Check the Eye On Apple home page to get caught up with the latest news, discussions and rumors about Apple.