If you've dismissed Apple Maps as extraordinarily inept, it might be time to give the once-beleaguered navigation app another go.
Clearly, Google Maps is the navigation app to beat. In an informal, small survey I conducted in February, Google Maps emerged as the favorite GPS navigation app among users.
For the past few years, Google Maps has been my default app for getting around in unfamiliar cities as well as checking traffic where I live (San Francisco). But I've never warmed to Google Maps, though it's always seemed preferable to Apple Maps, its primary iOS competitor. Although Google Maps has sent me in circles in suburban Virginia and sometimes gives me odd directions in San Francisco, Apple Maps' directions have often been just as confounding, if not worse.
Truth is, no GPS app or device I've used has done a stellar job of always providing sensible, efficient directions — see "How (and Why GPS Directions Lead You Astray" for more on that. But recently, I've noticed Apple Maps getting more reliable in its directions, sometimes more so than Google Maps.
And when it comes to features, which is where GPS apps truly differentiate themselves — I've come to appreciate a few advantages Apple Maps has over Google Maps.
1. Night mode
For starters, Google Maps inexplicably lacks a night mode on iOS. So when I'm driving after dark using my iPhone 6 Plus and Google Maps for navigation, the screen is a huge, bright distraction — not just for me but for anyone in the front passenger seat. Apple Maps has an automatic night mode, which makes it easier to focus on the road ahead.
2. List steps
I also appreciate Apple Maps' List Steps feature, which displays all the steps in your route in one convenient, scrollable screen. Google Maps requires you to flick through the street names at the top of the app screen to see each step in your route ahead of time.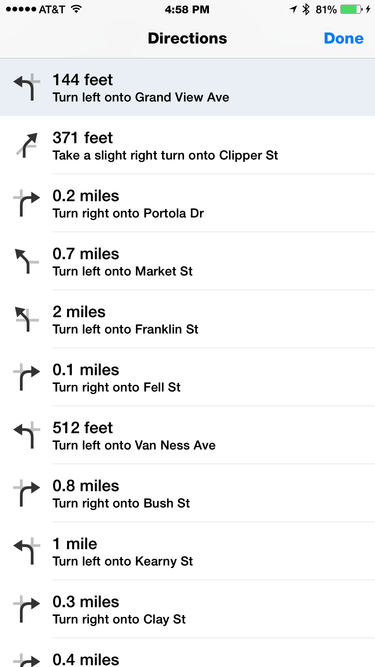 3. Apple Watch
And last, but not least, Apple Maps has (no surprise) an Apple Watch extension, while Google Maps (again, no surprise) does not. Of course, the reverse is also true: Google Maps is available on Android Wear smartwatches; Apple Maps, not so much.
The Apple Maps extension causes your watch to vibrate when it's time to make a turn, which can be helpful both when driving or walking. You'll feel 12 quick taps when it's time to turn right and six to tell you to hang a left. But why so many? Couldn't it simply be, say, three quick taps to turn left and five to turn right?
There's a lot at stake for both companies when it comes to maps (here's an interesting blog post on that topic). One day, for instance, Google Maps and Apple Maps could provide the navigation engine for self-driving vehicles from each company, respectively.
In the short term, we can expect more mapping features from both companies in a classic one-upmanship.
Just recently, Google Maps added a new Android feature that alerts you if you're about to navigate to a business that's currently closed.
Apple Maps will finally be providing transit directions in some cities with iOS 9's release (expected in September) — something Google Maps has offered for years.
And who knows? Apple Maps' directions could improve even more in the not-too-distant future, as Apple recently acquired Coherent Navigation, a startup GPS navigation service that is said to offer a high degree of accuracy.