The Apple Watch has proven to be a reliable and stable smartwatch. But there may come a time when you want or need to completely reset it back to its factory settings. I'll show you how to do that in this tip.
How to reset your Apple Watch to its factory settings
Follow these simple steps to reset your Apple Watch back to its factory settings:
1. Open the Settings app on your Apple Watch.
2. Go to General.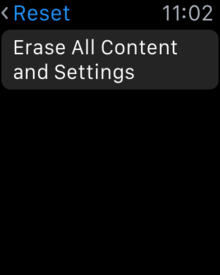 3. Go to Reset.
4. Tap on "Erase All Content and Settings."
5. You'll need to type in your passcode before the reset will begin.
Please note that after your Apple Watch reset finishes, you'll need to open the Apple Watch app on the iPhone to pair your phone and Apple Watch again. You'll also need to sync your apps onto the Apple Watch again.
I have the 42mm Stainless Steel with Classic Buckle model Apple Watch. I haven't had to do a factory reset yet with this watch. But I did need to do one when I switched from the 38mm model to the 42mm. I reset the 38mm so I could send it back to Apple.
I had no problems doing a factory reset on my 38mm Apple Watch. It took just a couple of minutes and then it was ready to be put back in its box to send back to Apple.
So don't worry if you need to do a reset on your Apple Watch, it's a painless process that will just take a few minutes of your time.
Did you miss a post? Check the Eye On Apple home page to get caught up with the latest news, discussions and rumors about Apple.