Every few months, I look back at the apps I recently reviewed and ask myself a few questions: Which of the apps have I used at least semi-regularly since my review? Which ones would I recommend to a friend? And which ones stand a good chance of being around for a while? (R.I.P., Circa News, one of my previous "best of" winners).
Here's a list of my five personal favorite apps that I reviewed since late March, in alphabetical order.
Primo visual presos with Adobe Slate
Adobe's beautiful (and free) Slate iPad app makes it extremely easy to create visually compelling, Flipboard-like online content, and no design skills are needed. Since I reviewed Slate in April, Adobe added some compelling new features, including integration with iCloud photos and the ability to embed email links in your presentations. It's a slick app that lets small businesses, creative types, and marketing professionals tell their stories via imagery.
Instagram Layout and creative collages
Instagram's Layout wasn't the first photo-collage app, and it doesn't have as many features as some other options, such as Diptic and Framestatic. However, Layout (free; iOS only) is a worthy tool for social media marketers and others because it makes it simple to quickly mash images together. It's also good for goofing off, thanks to a Photo Booth feature that lets you take multiple selfies in quick succession and save them as collages for sharing.
Microsoft Office Lens dutifuly digitizes docs
Microsoft's on a roll, pushing out (and buying up) terrific mobile apps right and left. A few months ago, the company released Office Lens, a free Android and iOS app that scans photos, documents, business cards and whiteboards, and then feeds them into Microsoft's OneNote or OneDrive. The app (mostly) does a good job detecting edges and cropping images automatically, and then digitizing printed (but not handwritten) text using optical character recognition (OCR) tech.
I HEART Polar Beat
I test a lot of exercise-tracking apps and devices, but Polar Beat (free; for Android and iOS) is by far the best in one very specific way: It provides visual feedback on how long you've been in your peak heart-rate zone while you're exercising. Others apps provide data after your exercise sessions end, but that's not helpful if your goal is to, say, make sure you're in the peak zone for at least 15 minutes.
Though the app is free, you need a Bluetooth-connected Polar chest strap to collect and feed it heart-rate data. I use the Polar H7 ($50 on Amazon), which is one of the most reliable consumer heart rate devices.
The wonderful Wunderlist
Wunderlist, a to-do list management app recently acquired by Microsoft, is among a select few apps that, after I tested it for review, I continue to use on a daily basis.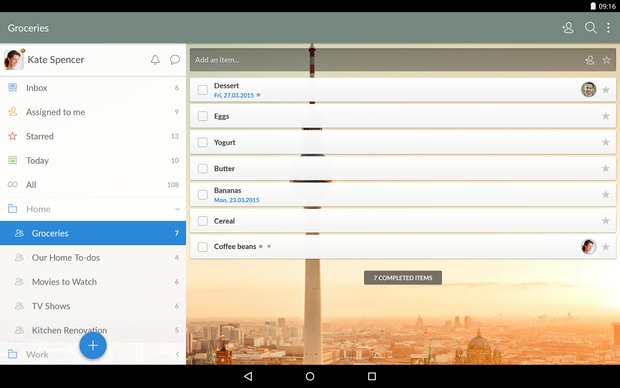 Wunderlist is everywhere: Android, iOS, Windows Phone, Windows 8, Mac, Chromebook and Amazon's Appstore. You can also access and add to your Wunderlists via the company's website or by installing browser plug-ins.
Sharing to-do lists is painless, and you can assign tasks to the people with whom you share. You can group lists into folders, too, by dragging one list onto another.
There are approximately 10 billion to-do list apps available today, and many of them work well. Apps such as Evernote and Trello let you create lists and do other things, too. However, Wunderlist is attractively designed and, unlike some to-do list and project management apps, the free version is more than suitable for the average user. (The $5-per-month paid version gives you an unlimited amount of to-dos per list and the ability to break lists into an unlimited number of subtasks, among other features.)