Yesterday was a big day in my house. I received two Linux-powered devices — and it's not even Christmas. In the interest of full disclosure, I paid for them myself, they were not gifts or review units. One was the ASUS Chromebook Flip, which I wrote up my first impressions of yesterday. The other is the Nest Cam, and now that I've had a chance to use it for a bit, here are my thoughts.
I ordered the Nest Cam as soon as it became available on Amazon.com as a replacement for my Tenvis camera. I already own the Nest thermostat and pre-ordered the next generation Nest alarm system, so I already have some trust in this Google-owned company.
What's in the box?
The News Cam comes with a USB cable for power, a magnetic wall mount and some instructions. Getting it connected is pretty easy, though. Just plug the camera to the USB power supply, wait for the light to turn green. Then install the app on your mobile phone, log into your Nest account and either scan the QR code printed at the back of the camera from your phone or manually enter the serial number and the keys printed next to the code. Then it will present you with the wireless networks available; choose the network, enter the password, and you are connected. It takes around a minute or so to connect.
And that's where the fun ends.
Privacy concern: all your video feeds belong to me
All wifi cameras that I have used so far support local network, which means I can use the camera without hooking it up to the Internet. Nest Cam is an exception. You must be connected to the Internet to use it; there is no local network support. It looks like it streams the video feed from the cam to their server and then streams it back to your mobile devices. There are many problems with this approach.
I don't want a video feed from a camera, which is installed in my bedroom, to ever leave the local network. I really don't want the government or any company to have access to my bedroom, and most especially not to video feeds of my kids. I want such feeds to stay local.
I don't want to waste valuable bandwidth when most ISPs here have data caps. Watching a 1080p video will devour data like a Netflix movie, and since I will be running this camera 24×7 – either for child care or for security around the house I don't see any reason to waste that much bandwidth.
All videos are stored on the company's servers by default. There is no way to opt-out of it. In addition I have to pay a fee to get access to videos stored on their servers.
My house is full of Linux-powered Google device that I love. But in the post-Snowden era I am not going to choose an 'Internet only' service that is dealing with some sensitive personal data.
That's not the only problem
While it's really extremely easy and quick to get the camera hooked to your network, that doesn't remain the case. The mobile app has the capability to turn the camera on/off remotely, which is nifty given that it devours bandwidth. However once you turn the camera off from the app, it can take up to one to two minutes to turn it on again. And during my testing it sometimes wouldn't connect at all.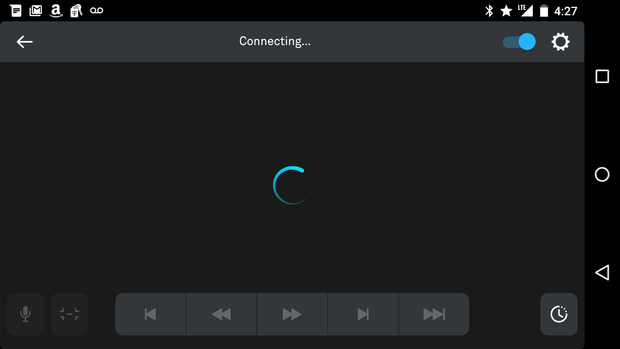 This delay is certainly a deal breaker for me. If you have installed a camera in the garage and you hear a voice, you would want to check immediately, not two minutes later. I need a security camera that turns on immediately. (By comparison, my $45 Tenvis camera kicks in the moment I open the app or the web interface.)
And if you switch the image resolution from the app then the camera takes almost the same amount of time to reconnect. Certainly not a good camera if you want to keep an eye on everything that's going on.
It's all about delay
The delay in the video feed will give you a constant feeling of deja vu. I watched my cat walk across the doorway, and about 30 seconds later the camera replayed the scene. The feed apparently takes its sweet time as it travels from the camera to the Nest servers and then to your phone.
I also noticed that the camera gets hot after regular use. It reminded me of the Nexus 4, which tends to get super hot after use and would reboot. I have spent only one night with the camera so I can't comment whether heating will be a problem.
Poor night vision
The night vision mode is not only tricky but also bad. It takes quite some time to fully 'illuminate' the room with IR lights before you could see anything. The software is buggy and in some cases didn't fully illuminate the room. Even when the night vision kicks in, the images are grainy and not as clear as you would see on cheaper cams.
Final words
Some issues such as taking forever to start the camera may be software bugs that can be fixed by firmware updates. But the delay seems here to stay. If you can't afford a minute delay, this camera is not for you. No support for local streaming is certainly a deal breaker for me.
If you are thinking of buying this camera, my recommendation is to wait for some software updates and see if things improve. I for sure won't be recommending one for my friends until it gets offline support and irons out the software bugs.