Summertime, and the living is easy … if you are on vacation. For those workers, however, who have to toil through the long, hot summer months, the season can be a drag. So how do you keep productivity from dragging between July 4th and Labor Day? Here are some tips from HR experts on how to keep workers engaged and motivated over the summer.
1. Conduct meetings outdoors. "It's a well-known fact that vitamin D has numerous health benefits when enjoyed safely and in moderation," says Dominique Jones, vice president of human resources, Halogen Software, the makers of employee performance management software. "So, rather than holding your meetings inside, wishing you were out enjoying some sun, [go] outside [to get] work done. The great thing about technology is that it supports working outside. Your devices – laptop, tablet and smartphone – can connect to Wi-Fi and keep everyone plugged in if need be."
"Unless you need a projector, it's easy to take meetings outdoors," says Neal McNamara, communication manager, TINY Pulse, which specializes in employee engagement. "Everyone here has one-on-one meetings each week with their supervisor, and we take walks during those rather than sit in a conference room."
2. Sponsor fun tournaments and team-building activities. "Re-energize your team by sponsoring tournaments during the workday, be it ping-pong or soccer [or something else]," says Deb LaMere, vice president, HR strategy & employee engagement, Ceridian, a global human capital management technology company. "Another option to mix things up during the workday is to host theme days. For instance, a 'Take Me Out to the Ballgame' day can include having a batting cage set up, foods you would find at the ballpark, like hot dogs and popcorn, lemonade and root beer, and employees wearing shirts with their favorite team's logo."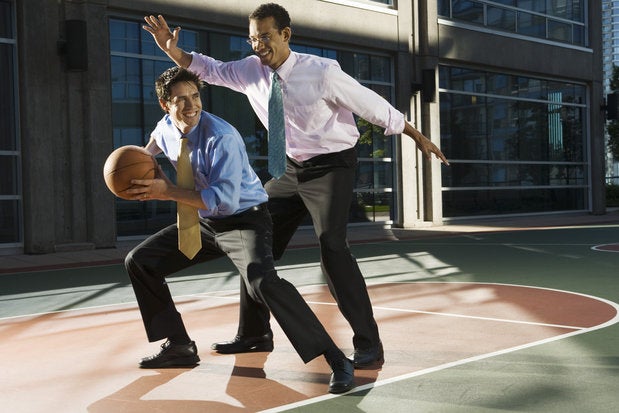 "During the summer, eVestment hosts fitness challenges, 3-on-3 basketball tournaments, golf matches, and softball and soccer teams," says Mitchell Johnson, CTO, eVestment, a big data and analytics company serving the global institutional investment industry. "We even have a flower and vegetable garden behind our office that employees maintain. These activities generally occur during work hours, so they help break up the day," he explains.
The bottom line: "Giving employees structured events so they can get outside, enjoy the nice weather and get a break makes them more focused and happy when they are back inside at work."
3. Plan fun department or company outings. "Company-planned summer outings, like mini golf, pool parties or bowling, are a great way to keep employees motivated, getting [them] out of the office and forming [or strengthening] personal relationships [with coworkers]," says Michelle Dinsmore, vice president, Overit, a creative agency. These types of outings invigorate and refresh workers and often lead to great new ideas.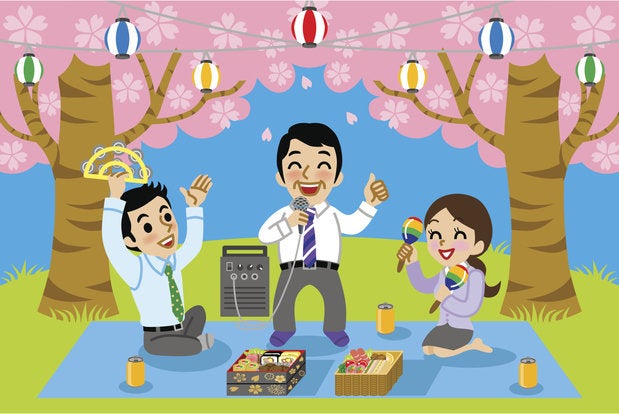 4. Sponsor picnics. The way to your employees' hearts may, in fact, be through their stomachs. "One day have an ice cream truck or a lunch truck appear [and] provide a time for employees to leave their desks and enjoy a little food and fellowship outside," says Ashley White, director of Human Resources for APQC, a proponent of business benchmarking, best practices and knowledge management research.
"We have a number of picnics planned throughout the summer, either brown-bag style lunches or where the company pays for food/refreshments," adds McNamara, which are always good for morale.
And at 911 Restoration, a nationwide company that repairs property after disasters, during the summer, lunch "turns into a buffet of food laid out nicely set up in the warehouse where everyone gets two hours to eat, speak and more," says Scott Kennard, a PR specialist at the company.
5. Hold an after-work happy hour. "We organize nonmandatory happy hours right after work," says Hajmil Carr, CEO, TrueLine Publishing, a B2B digital publishing and custom media-marketing firm. "In the summer, we send out emails inviting everyone to happy hours that take place on outside decks at watering holes walking distance to the office," he says. "Although it's not technically a work-sanctioned function, we usually have a manager pick up the first few rounds so that everyone has a good time. Sending sun-thirsty staff a picture of a piña colada or a margarita via email on a beautiful day keeps people focused until the bell rings. Then we all head out together to enjoy the weather."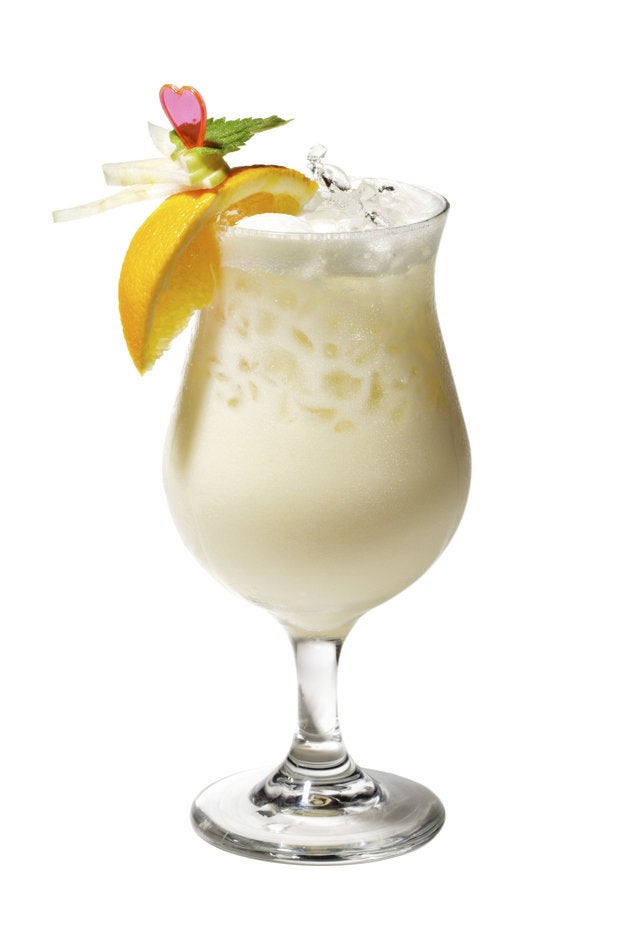 6. Allow employees to leave early or work from home on Fridays. "During the summer months, [we allow] employees [to] work from home on Fridays," says Christina Rae, president, Buzz Creators, a boutique PR and marketing firm. "This helps cut down on commute time and helps boost employee morale."
"We offer our employees summer Fridays, so that between Memorial Day and Labor Day they can leave at 3 p.m. at the end of the week, [if the] necessary work is completed by that time," says Dinsmore. "The team is more productive throughout the week because they want to take advantage of their Friday afternoons."
7. Allow workers to have more flexible schedules and work remotely (not just on Fridays). "Don't hesitate to allow employees to work from home (or their beach house) on occasion," says Jesse Lipson, general manager and vice president at Citrix, a provider of cloud, mobile, virtualization, collaboration and networking services. "With the technology available today, like videoconferencing solutions and remote desktop applications, employees working off-site can be just as productive and connected out of the office as they can be in the office."
"We offer incentives that allow people to leave early if they hit their sales quota," says Carr. "All we care about is the bottom line number. If an employee can turn on the after-burners and get more done in a day to earn an early departure, they feel more empowered and actually work harder in less time," he says. "If they produce the results and hit quotas, early releases are more profitable than forcing people to be somewhere they don't want to be. There is no loss because they only leave if they hit quota, which means they are still profitable."
8. Encourage workers to be creative. "With our '10% Projects,' our engineers are encouraged to spend company time on a regular basis developing prototypes in an effort to explore new technologies and new solutions for our clients," says Johnson. "The results and ROI have been tremendous, and we have a lot of fun with it. Summer is a great time to experiment and devote time to these projects given that it is an off-peak time for our clients. So we encourage our folks to get into our virtual laboratories and innovate."
9. Reward employees – with bonuses, days off, prizes or frequent flyer miles. "Money is a driving factor for any job, and during the summer, [it can pay to provide employees with] extra bonus opportunities," says Kennard. Knowing you will get a bonus for meeting (or exceeding) goals, or taking on additional work, "keeps us focused on our tasks and continuing to do better."
Getting an extra day off is also a powerful motivator.
"To keep everyone motivated in the summer months, I offer an 'extra' vacation day for those who meet or surpass their goals," says Nellie Akalp, CEO, CorpNet, which helps entrepreneurs start or grow a business. "I find that adding in that extra vacation day really amps up my team to hit those phones and make those sales."
You can also offer workers prizes for meeting summertime goals.
"Whether employees are looking for premium noise-canceling headphones or the latest products in sports equipment, offering an incentive with a desirable and useful reward keeps them engaged," says John Mangini, marketing manager, Rymax Marketing Services.
You can also reward hard-working employees with free tickets or hotel stays.
"Travel incentives are the ultimate enticement for an adventure-seeking employee," Mangini says. "Third-party loyalty providers give the option of redeeming points earned for frequent flyer miles. This helps employees plan and pay for their trip. It is a unique opportunity to retain and positively influence employees [with] wanderlust."