Last month, a week after I got my Apple Watch, I took a trip from Boston to San Francisco to cover a wearable technology conference. I purposely loaded up on travel-related Watch apps — or iPhone apps that have Apple Watch extensions — with the idea that I'd write a post about my experiences.
Within hours of leaving my home, I was surprised by how much smoother my travel was thanks to Apple's first smartwatch. I was surprised because until that travel day, I had been mostly disappointed with the pricey device. Like many smartwatch naysayers, I had harped on the fact that, "It can't do anything that my phone doesn't already do."
I quickly changed my tune, thanks largely to the travel experience.
Apple Watch is an extension of a smartphone, just like the majority of today's most popular smartwatches — and no, it doesn't do all that much that the phone can't. But that's beside the point. The real value of smartwatches isn't necessarily what they can do, but what they help you do: Quit removing your phone from your pocket or purse 5,026 times a day; reduce distractions; and use your hands more efficiently in busy environments.
Apple Watch and travel prep
My Apple Watch travel experience started the day before I left, when I received notifications from three different apps: Marriott International, JetBlue and TripIt, my favorite travel app. Marriott let me know that I could check-in to my room using my Watch and let the hotel staff know when to expect me. JetBlue also told me I could check-in for my flight and download a mobile boarding pass — though I had to use the iPhone app to do so. TripIt collected all the relevant information and let me know that it was available in the itinerary on my phone for reference.
[Related: Apple says 'Apple Watch,' the world says 'iWatch']
The following morning, I woke, showered and put on my Apple Watch. I made myself a fresh cup of coffee, and as I poured it, my Watch buzzed and showed me a calendar notification that informed me the taxi was set to arrive in 15 minutes. I wasn't fully awake, I was rushing to make sure everything was in order and I had my hands full with the pour over, so I might have missed the notification on my phone.
Apple Watch at the airport
As I arrived at Logan Airport, I quickly tapped my watch to check-in using the Swarm app, which was helpful because I had my hands full with my backpack and bulky travel bag. I then proceeded to the curbside baggage check, where I dropped off my luggage and headed to the TSA checkpoint. When I reached the front of the line, I scanned the JetBlue boarding pass I'd downloaded to my Watch the day before. (I also briefly contemplated correcting the agent, who referred to the device as my "iWatch," but eventually decided that would be unwise.)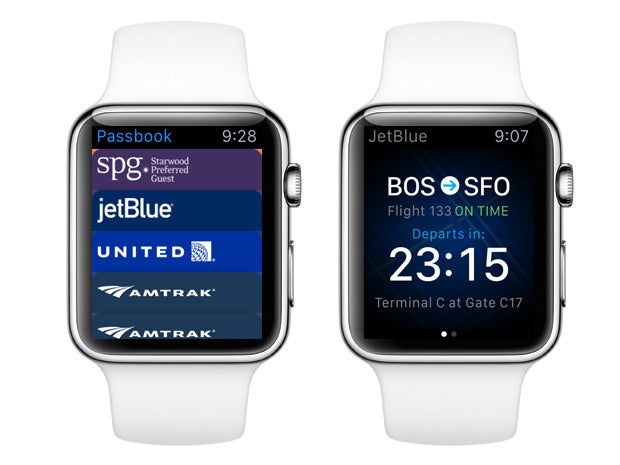 Roadwarriors know it's often a scramble to return your ID and other belongings to a purse or bag after you pass through the first TSA checkpoint and onto the security scanners. I'm always worried I'm going to drop something. It was nice to have one less thing — a phone or boarding pass — to worry about. And I didn't have to remove my aluminum Apple Watch Sport when I passed through the metal detector.
As my takeoff time neared, the JetBlue app on my Watch provided a countdown timer so I knew exactly when my flight would board, and both it and TripIt kept me abreast of flight status updates and delays — thankfully there were none.
[Related: How to take a screen shot on your Apple Watch]
That's when I experienced a few hiccups. At Starbucks, inside the terminal, I was able to pay with my Apple Watch via a Starbucks card I stored in the Passbook mobile wallet, but due to a scanner attached to the side of a payment terminal, I had to awkwardly reach and twist my wrist so the barcode faced the reader. It took a few attempts for the machine to read my card, and at that point, lots of sleepy travelers in need of caffeine had sent disgruntled stink eyes in my direction. It would have been easier to use a phone in this instance, and I faced a similar situation at the gate when I tried to board my flight.
I had my JetBlue boarding pass in Passbook ready on my wrist as I waited in line, but as I neared the tunnel, I noticed the gate attendant was holding customers' paper boarding and phones beneath another fixed, vertical-oriented scanner. It was impossible for me to fit my wrist in the small space, so I had to quickly reach for my phone. In this case, a boarding pass on my Watch would have been much more convenient because I already had my hands full with a bottle of water and a tablet. (I did use my Watch to board my return flight to Boston later in the week, because JetBlue had a different type of scanner at the gate at SFO.)
Onboard with Apple Watch
After I'd boarded but before takeoff, I started a music playlist using my phone, and then put it in the seatback pocket. I then controlled the music playback and skipped back and forth between tracks using an Apple Watch "Glance," or a screen that provides basic audio controls. And just before the plane took off, I used my Watch to enable airplane mode on both devices. However, I had to later grab my phone again to turn on Wi-Fi and Bluetooth. And I was disappointed to learn that you can't disable airplane mode on your iPhone using your Apple Watch; you have to turn the feature off on the phone itself.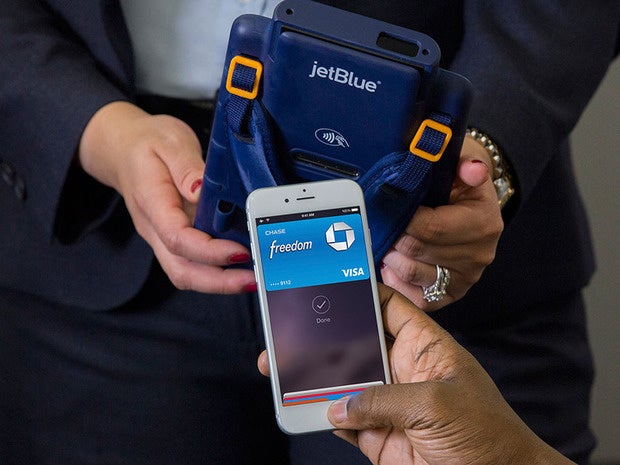 When we were airborne, I connected my iPhone to the free in-flight Wi-Fi (thanks JetBlue), stashed it again, bumped the volume down on my music via the Watch Glance, and then powered up my tablet and started reading. I previously set my Apple Watch to show only specific notifications (work mail and text messages), so it didn't distract me with random Twitter "retweet" alerts or Groupon deal notifications — the capability to show select notifications on the Watch is one of my favorite features. JetBlue also accepts Apple Pay on select flights, so I could have used my Watch to pay for overpriced crackers or a stale turkey sandwich, but I resisted temptation and didn't test the payment system.
Wheels down with Apple Watch
When I landed in San Francisco, I again used Swarm to check-in, and a TripIt notification on my wrist quickly informed me that my baggage would arrive at Baggage Claim A. The Marriott app also informed me via Apple Watch that my room at the Marriott Marquis was ready for me, even though it was a full four hours before the official check-in time. (I don't know how I ever lived without mobile check-in.)
I grabbed my bag and hopped into a cab that was equipped with an NFC payment terminal, though I couldn't use Apple Pay because it doesn't support Amex Corporate credit cards. (I've used Apple Pay in random New York City cabs, but I honestly don't know if it works in any San Francisco taxis.) Square, which many drivers use to process payments, also plans to release an Apple Pay reader in the fall.
And after a long day of travel and a lot of use, my Apple Watch still had more than 40 percent charge left on its battery. And though I did notice a difference in battery life on my iPhone due to all of the Bluetooth back and forth between it and the Watch, it wasn't a major issue.
Apple Watch as your travel companion: Conclusion
A couple of weeks ago, I had to leave my Watch at an Apple Store for some minor repairs. Shortly after I dropped it off, I realized that I check my phone an absolutely ridiculous amount of times each day, but only a dozen or so messages are actually important. I started getting frustrated having to repeatedly take my phone out of my pocket, even though I'd been doing just that for years without thinking about it.
[Related: Apple Watch 'Wrist Detect' feature key for IT ]
Smartwatches, including the Apple Watch, serve as a filter for the relevant information you need to see immediately, and they reduce unnecessary distraction until you have more time to deal with all the clutter that invades your phone each day. They also free up your hands, and that's important at a time when phones just keep getting larger and larger, and more awkward to hold. (I'm looking at you iPhone 6 Plus, Galaxy Note 4.) The ability to forget your phone but still monitor alerts is key when you're rushing to hop on a train or waiting to board a plane with all of your baggage.
I encountered a few bumps along the way during my trip to San Francisco, and it's clear that many modern scanners, such as the ones at Starbucks and the JetBlue gate in Logan Airport weren't built with wrist-worn devices in mind. However, scanning hardware will likely become more modular in the future, and they'll be designed to scan all types of different gadgets.
Today's high-end smartwatches are marketed mostly at consumers, and the focus is on fitness features, but the current crop may be better suited for businesspeople and frequently travelers who need the capability to strategically filter and monitor notifications. Smartwatches are also relatively expensive, and a $500 (or more) luxury that can't do anything that your phone doesn't is a tough sell for many individuals. However, that chunk of change is much less of an obstacle for organizations with flexible technology budgets.
AS