One of the fascinating things about technology change is the unanticipated consequences it has on us as people and professionals. Email sped up the pace of business. The Web made every buyer an informed shopper. Smartphones are changing the way we interact with the world around us. And the impact of the cloud is only beginning to be felt.
Although we are still in the early stages of this transformation, we can already see some trends emerging in the ways in which cloud will change the IT workforce. Here are five of the more likely scenarios.
Small business will be ascendant. Cloud services give small businesses the same tools that were previously available only to large and well-heeled enterprises. Supply chains, operations, business analytics and customer relationships will all be transformed as small companies tap into this power. The 2014 IDG Enterprise Cloud Survey revealed that small companies are still well behind big ones in cloud investment and adoption – but it's only a matter of time until small business owners realize the opportunity that awaits them.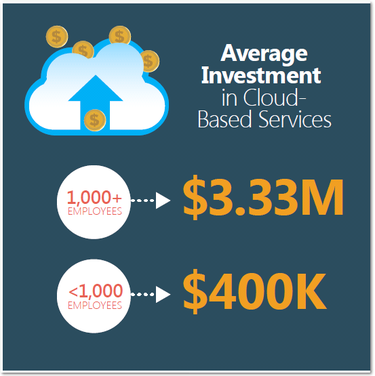 This will create unprecedented demand for IT professionals in small and midsize businesses who can manage multiple cloud services, integrate data and processes and administer databases, among other disciplines.
Business skills will command a premium. People have been saying this for decades, but the cloud may provide the largest push yet for IT professionals to take on more business skills. Over the next five years, massive amounts of on-premise data processing will move to service providers, along with the accompanying technical complexity. IT professionals who want to keep their jobs will need to contribute to the business in new ways, and that means becoming technology strategists. They will need to align their skills with business disciplines that will increasingly struggle with how to choose from huge palette of applications. IT professionals will be needed to help select, manage and integrate the choices the business makes.
Open source will be the norm. It wasn't long ago that skilled Oracle professionals could practically write their own tickets. The need for those skills won't evaporate, but IT infrastructure will increasingly demand the ability to find and integrate software from a vast library of open source alternatives. Instead of waiting for vendors to add features, developers will have to learn to engage with a community to find solutions and, if necessary, create their own. IT pros who can scout out, test and select the best open source options will be highly valued by cost-conscious managers. The ability to understand how the open source ecosystem works and to participate collaboratively and constructively will be table stakes for any developer.
Data management will become a core competency. There's no question that the amount of data that organizations need to manage is exploding. The Internet of things alone is expected to bring more new data-collecting devices online over the next five years and have been created in all of computing history. IT professionals who are skilled at collecting, organizing, processing, backing up and optimizing huge databases will have no problem finding work, but data management will also become part of nearly every IT job. That's because data will exist in so many forms and locations that anyone who works with data will need to understand how to organize and optimize it. Which means that…
Skills development will be constant and ongoing. Look at the database management field as an example. Five years ago, relational was practically the only game in town. Today the Hadoop file system, NoSQL databases, graph databases, key-value stores and time-series databases are all mainstream. The same pattern applies in the cloud, where new development platforms, management stacks and deployment options are emerging all the time. A year ago people were just hearing about Docker for the first time. Today, containers house a rapidly growing ecosystem. The quickening pace of technology will command that IT professionals be in constant training mode. Certifications may become all but obsolete. Classrooms will be too slow. Massive open online courses (MOOCs) will be the only approach that can keep up with the pace of change.
Those are only a few of the changes that will roll over IT organizations as the cloud becomes dominant. What do you predict will happen?