It's easy to despair about the cloud computing industry and its seemingly endless navel-gazing. It often seems that the cloud crowd is more interested in internecine warfare than actually helping customers realize the benefits of this emerging platform. The prime example of this tech narcissism is the ongoing industry slugfest regarding private/public/hybrid cloud and what the "right" solution is.
Out in the real world of enterprise IT, however, organizations are adopting cloud computing with enthusiasm, which was displayed in full force at London's Cloud World Forum in June. One of the strengths of this conference is how it's able to entice end users to present case studies of their actual experience; this is a refreshing change from other cloud events that seem to serve primarily as opportunities for vendor marketing departments to pitch their products.
[Related: The real cloud computing revolution]
At this year's conference, two presentations captured this zeitgeist particularly well: one by Anthony Headlam, CTO of Jaguar Land Rover (commonly referred to as JLR), and the other by Simon Parkes, architect at the UK Ordnance Survey. Both outlined IT organizations under considerable stress that responded by adopting new products and processes, resulting in significant improvement.
JLR: reorienting IT toward growth
JLR is, to a certain extent, proof that beloved brands can't be killed. Despite many changes of ownership, insufficient investment and, it must be said, the British automotive reputation for poor quality, both Jaguar and Land Rover have steadfast, dogged adherents. Jaguar and Land Rover were separate brands owned by Ford, which merged them to gain efficienc ies of scale, before abruptly auctioning the combined entity to Indian automaker Tata Motors during the worst of the financial crisis. However, JLR has had a stunning comeback, as indicated by this chart: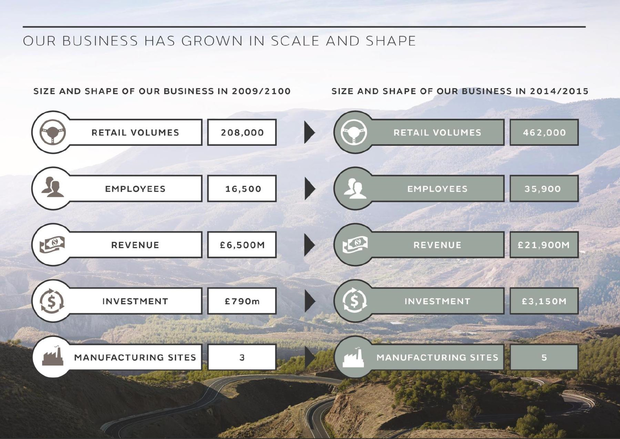 As you can see, JLR has blossomed under independent ownership, doubling the numbers of cars sold and its total workforce, and tripling its revenues and investment.
It wasn't all good news at JLR, though. As Headlam explained, JLR's IT reflected infrastructure and practices of the previous decade; moreover, it suffered from extremely long application development and deployment processes. Finally, 90 percent of IT employees were consumed with merely keeping the lights on, which is a terrible – if not fatal – shortcoming, as cars become the ultimate mobile platform, always-connected devices generating scads of data. (JLR's own research into reading driver's brainwaves is only one example of how forward-thinking the automobile industry can be.) Clearly something had to be done.
[Related: IT is not the bogeyman it used to be]
Today, JLR IT is significantly improved, although Headlam acknowledged it remains a work in progress. How did it make this improvement? Headlam pointed to the following:
A move to standardized infrastructure. Previously, JLR infrastructure and software packages were a jumble of one-of-everything. Now it's focusing on using external clouds to run applications where possible, thereby enabling JLR to focus on applications.
Greater adoption of agile practices to accelerate application development and deployment timeframes.
Widespread use of open source componentry to build new applications and IT tooling. One of the primary drivers for this adoption is the far lower cost of open source, critical in a small player in the highly competitive auto industry.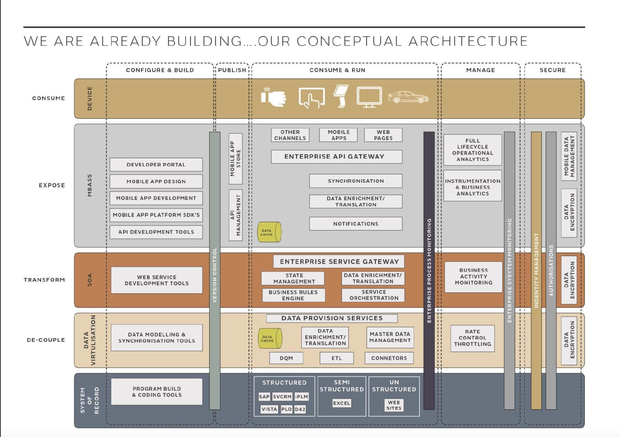 Headland presented JLR's conceptual architecture (see slide above), but noted that while the company had achieved great agility at the "Consume" layer, it still suffered from legacy capabilities lower down the stack. Nevertheless, JLR has realized significant benefits from moving toward its IT vision. Today, instead of the previous 90 percent, only 25 percent of IT personnel are devoted to maintaining the legacy environment. The rest can focus on transformation and next-generation applications.
Ordnance Survey: meeting the digital challenge
Ordnance Survey (OS) is well-known to U.K. hikers from its maps, which are extremely detailed and form the basis for tramping around the hundreds of miles of British footpaths.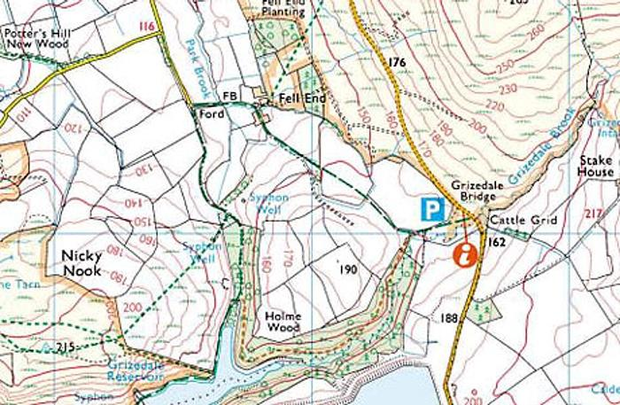 However, OS is responsible for far more than making it easy for hikers to find their way around the English countryside. Its work is involved with climate and weather, public works, satellite mapping information and more. In other words, just as JLR is transitioning from a physical to a physical-plus-digital products company, so too is OS. And, just like JLR, its IT processes were rooted in a time in which the digital component of its product offering was far smaller and less time-critical. The fact that its products are now digital means there are many more business opportunities based on repurposing the data, or combining its data with another entity's to create a new offering. The clear implication: OS needs to move faster and create applications more rapidly.
OS architect/consultant Simon Parkes' presentation focused a lot on the nuts-and-bolts of migrating from trouble ticket-driven manual processes to automated DevOps systems. Upon tracking the flow of work from developers through to production, Parkes' team identified all the places that work occurred and how long each step took. As you'd expect, this effort identified several bottlenecks.
The first bottleneck was that developers would often experience poor productivity because infrastructure (servers, etc.) took too long to provision. OS solved that by moving some infrastructure people into the development groups where they could focus their efforts on responding to requests more quickly.
The second bottleneck was that code took a long time to go from a developer's hands through to building, deploying, configuring and managing. So OS built an automated toolchain, which had the effect of compressing the time spent in the application development portion of a project, visualized on the following slide: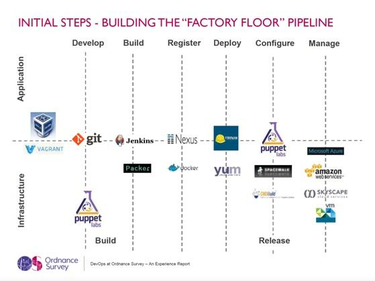 The OS DevOps effort is still evolving, as Parkes admitted. Accelerating final deployment by operations is still being addressed, which is a common challenge in DevOps efforts in that the highly controlled (typically manual) processes required to put code into production can be difficult to automate.
More interesting was another challenge Parkes highlighted, which is the need for business processes to become Agile. The Agile methodology recommends including a "business representative" in the daily standups; when application decisions have to be made with business implications, the representative can give immediate feedback, thereby allowing the project to continue moving forward.
But that's a bit too neat an answer to a challenging situation. Many business decisions cannot be made by snap judgments, because they require consultation within the business unit and potentially with other important groups like marketing, sales, end user support, legal, etc. Undoubtedly this challenge is only going to get larger as IT becomes a more important part of company offerings. Moreover, this latter factor requires business representatives to really understand technology in order to evaluate how an application decision can affect the resulting product and customer experience. Parkes didn't offer a solution for this – but assuming that having a business representative attend the daily standups solves it is too simplistic for where the industry is heading.
Transforming enterprise IT for its future
Both Headland and Parkes' presentations were excellent moment-in-time snapshots of IT organizations in the midst of significant change – transforming from slow-moving back-office support functions to front-line organizations whose output is a critical part of the organization's business offerings. A distillation of both their presentations reveals:
The digital revolution is real. Both Headland and Parkes described organizations caught up in the digital revolution. It's hard to recognize just how rapidly the very nature of automobiles and driving is changing, but the pace of change in the industry is mind-boggling. In 2004 DARPA held an autonomous vehicle challenge in a remote desert location; not a single vehicle could finish the course. Today, 11 years later, Google has self-driving cars on the streets of Mountain View, Calif. And, of course, cars themselves are rapidly turning into computing devices. One might say they're becoming the ultimate mobile device. OS is caught up in the mapping revolution, where geographic data is leveraged to improve crop yields, demographic insights, and business offerings. The fact is, every company is confronted with the digital revolution and the only question is how to respond.
[Related: 5 key questions Google needs to answer about its driverless cars]
IT is mired in old processes. Headland and Parkes both described the enormous challenge of meeting the digital revolution with organizations rooted in another time and reality. In the past, IT's glacial processes and siloed organizations were relatively unimportant, given that it grew up with a primary task of automating back office functions to reduce administrative headcount. Today, however, IT infuses every company's offerings, and the IT organization must provide innovation and agility. Moving IT from yesterday's reality to today's pressing needs is critical – and difficult.
Real progress is possible. Despite the undoubted struggle confronting legacy processes carries, there is hope. Both JLR and OS are on their way to faster, more responsive IT organizations that can support the needs of the overall business. Unfortunately, there's no magic answer. Both organizations are reengineering their existing processes, which inevitably requires organizational change and disruption. Naturally, this is difficult, as change is always uncomfortable; nevertheless, it's necessary to achieve the required results.
DevOps is the path forward. DevOps is a hot topic in enterprise IT circles and has almost become annoying in how frequently proffered it is as a solution for every IT ill. Predictably, there is a growing backlash against the term, with some claiming that it's oversold and others stating that they've always done it, but just called it something else. Nevertheless, no matter what it's called or where it came from, DevOps is necessary for IT to meet its true destiny: the centerpiece of all future business offerings. At its heart, DevOps is about streamlining internal IT processes, automating policy, and removing unnecessary manual intervention – all things fundamental to the agility crucial to today's turbulent economy.
It's fascinating to return to Cloud World Forum and get a snapshot of enterprise IT progress in an age of cloud. From this year's evidence, cloud computing has moved from an object of interest to a core part of today's IT strategy. It's pretty clear this progress will continue and even accelerate as more businesses come to recognize that the combination of technology, agility and scale are core to meeting the business challenges of tomorrow.