Marketing via "influencers" used to mostly mean professional athletes pitching expensive shoes or supermodels selling slick sports cars. Today, some brands put products in the hands of "Internet influencers," many of whom have even larger audiences and more reach than the brands.
Some of the most successful influencers are practically businesses themselves, with large followings and engaged users. Perhaps most importantly, the best social media influencers are genuine and authentic — or at least they appear to be — unlike many modern marketing ploys. Directly and through affiliate networks, these influencers help companies market their products in new ways, and the relationships usually benefit both sides of the equation.
What is an 'Internet influencer,' and why should companies care?
Anyone who has a significant, dedicated following online, including bloggers, YouTube personalities and Instagram stars, can be Internet influencers. Companies use influencers to reach target demographics in subtle ways. Unlike traditional ads, commercials or aggressive product pitches, partnerships with influencers can convince consumers that they are getting honest product recommendations from people they trust.
Companies can connect with influencers by identifying and eventually contacting the people who line up with their brands, products and target demographics. For example, a clothing company hoping to gain traction with female millennials for an upcoming collection could partner with a fashion blogger to get potential buyers interested in products. An effective influencer might be someone target customers already follow and admire.
Depending on the reach and status of the blogger or influencer, companies may send product samples, request reviews or profiles, or partner up for giveaways and contests. In some cases, influencers are sent on trips to particular hotels or destinations, supplied with cars, or invited to parties or events, with the understanding that they will promote the associated products or services.
Sucharita Mulpuru-Kodali, vice president and principal analyst at Forrester Research, says using Internet influencers for marketing generally isn't labor or resource intensive, so there's little risk for interested organizations. However, she says it's not always going to have significant impact. Rather, the value of such initiatives should be measured like other PR similar projects. "They count the number of mentions they get," Mulpuru-Kodali says. "It's not about sales."
The U.S. FTC has a set of guidelines for transparency around sponsored or paid posts that content creators are supposed to heed. But companies and individuals don't always follow the rules. For example, Lord & Taylor saw some backlash over a recent fashion campaign in which multiple bloggers posted pictures of themselves wearing the same dress, but failed to properly disclose that they had been paid to do so, according to AdWeek. As a result of the campaign, the dress sold out. (Following the blowback, some of the bloggers added a related disclosure.)
Partnerships between brands and influencers are often mutually beneficial, and they're particularly helpful for smaller brands looking to latch onto powerful influencers to turn their thousands, even millions, of followers into customers. Bloggers and influencers can also use such pacts to grow their audiences and offer perks to followers.
What are 'affiliate networks,' and why should marketers use them?
Brands can use "affiliate networks" to connect with powerful social-media and Internet influencers. The networks can also help influencers monetize their content. Popular affiliate networks include RewardStyle, ShopStyle Collective, eBay Enterprise Affiliate Network, Rakuten Affiliate Network and ShareASale.
Affiliate networks facilitate connections between brands and appropriate influencers, to save companies time searching for the right people, and then charge for the service. Fees vary by network, services provided and the size of the customer.
Jewelry company Kendra Scott has used the RewardStyle network to connect with bloggers who can help with brand and expansion awareness for about two-and-a-half years. (The company plans to open 14 new stores by the end of 2015.) Kendra Scott pays bloggers a certain percentage of sales of the products they promote on their blogs and social media accounts. The more the bloggers sell, the more money RewardStyle and the jewelry company make.
"We absolutely adore working with bloggers," says Lindsay Kaplan, affiliate marketing and CRM lead at Kendra Scott. "It's a very natural form of communication and advertisement, and it seems less pushy so we really try to build those relationships."
In some cases, bloggers and influencers must apply or be invited into affiliate networks, and they're accepted (or rejected) based on their followings and reach. Other networks are open to anyone. After being accepted into a network, bloggers tag items in their blog posts or social media entries using affiliate links, which are traceable. For example, traceable links to RewardStyle show the text "rstyle" in their shortened versions before displaying full URLs in a browser.
Social media, affiliate networks and Internet influencers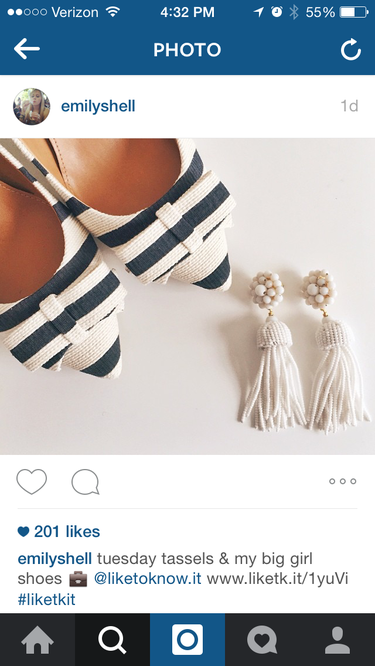 Some affiliate networks also extend to social media. RewardStyle and ShopStyle Collective both leverage Instagram so their bloggers and social media influencers can monetize images on the popular photo-sharing site. Each network offers widgets that let readers sign up for email alerts about products featured in Instagram posts.
Emily Geaman, a style blogger at Shell Chic'd uses the RewardStyle and LiketoKnow.It networks, and she makes a roughly 10 percent commission (depending on the brand) when readers purchase products she features. The affiliate links also include cookies that stick with readers for 30 days, according to Geaman, so she gets a cut if they make any purchase from that brand within 30 days of a visit.
"These are products I'm photographing and writing about on my blog anyway, so it's just a total added bonus if I earn a little commission by convincing readers to make a purchase," Geaman says. RewardStyle also lets her know when brands are having sales or promotions, so she can tell her readers. "It's about providing them with news and links so that they can take what they read and apply it to their own closets."
One potential downside of affiliate networks is that bloggers or influencers sometimes use their affiliate links as "click bait," to get "likes" and commission money. Such ploys reduce transparency and can tarnish the reputations of trusted bloggers or influencers.
"I see so many bloggers desperate to earn money that they create uninspired posts that are just drowning in [RewardStyle] links," Geaman says. "They don't read well and don't seem authentic."
Pinterest used to allow affiliate links on its site, but in February it banned all such links and even removed links from two specific affiliate networks, according to an email obtained by VentureBeat. "About 70 percent of the income that I was able to make through RewardStyle came from Pinterest so I've seen a very sharp decline in my ability to make money from the network," says Kate Bowler, lifestyle blogger at Domestikatedlife. "And most frustratingly, it has caused a fair number of my existing pins to serve up broken links."
Pros and cons of influencer marketing
Companies looking to reach demographics that spend a lot of time online, use ecommerce and regularly monitor social media can leverage affiliate networks and Internet influencers with relatively little effort. However, Forrester's Mulpuru-Kodali says affiliate networks still aren't as effective for marketing as paid search, email and display advertising.
Mulpuru-Kodali also says organizations shouldn't expect huge conversion rates. If a company such as J. Crew sells out of an item because a popular blogger features it on Instagram, it might see a minor uptick in sales but that won't translate to a significant revenue gain. A company would have to sell out of an item every day to see any sort of noticeable impact, she says.
"The reason to get involved is that it's really easy and cheap" Mulpuru-Kodali says. "The flip side is, don't expect much. You may not even be able to quantify what you get out of it."