In my look at the first iOS 9 beta, I was quite impressed with its stability and performance on my iPad Air 2. Apple has just released iOS 9 beta three and this version seems to be the best one yet. I tested it on my iPad Air 2 and iPhone 6 Plus, and it didn't disappoint.
iOS 9 beta 3 offers access to Apple Music, the new News app, folders for screenshots and selfies and even 4×4 icon arrangement in folders on the iPad. And it also contains an amusing pic of Tim Cook laughing as the Android topic image in the News app (more on that at the end of this post).
In short, this is the iOS 9 beta we've all been waiting for, and I'll take a closer look at each new feature below.
Apple Music comes to iOS 9 beta 3
The last few days have been quite trying for iOS 9 beta testers since Apple Music was not available. Fortunately, that has changed and you can now access all of Apple Music's features in iOS 9. Much has been written about Apple Music already, so I'll skip going over all of what it has to offer again.
Suffice to say though that if you are a music fan who's running the iOS 9 beta, you should absolutely take advantage of the free three month Apple Music trial offer. The service offers a huge range of music and it does a great job customizing it based your preferences and likes.
I've been using Apple Music on my other devices that are running iOS 8.4, and I've really enjoyed it so far. I'm glad I can finally use it via the third iOS 9 beta on my iPad Air 2 and iPhone 6 Plus.
Note that iOS 9 beta 3 now offers the ability to stream music from Apple Music at the highest quality over cellular connections. You can choose to do this in the Settings app under the Music section. Beware though as higher quality music will use more cellular data, and you might end up running up your bill.
The News app in iOS 9 beta 3
I've been quite curious about the News app ever since Apple announced it a while back. But it wasn't available in any of the earlier iOS betas. Thankfully, it has finally been released in iOS 9 beta 3 and here are some of my initial thoughts about the News app.
When you first launch the News app you'll need to select at least three content sources. I actually found myself scrolling down and tapping on quite a few different news sources. When I was finished I had a rather large list that ran quite a gamut in terms of news content. You may want to avoid doing this and just focus on some of your favorite sites if they are available in the list of news sites.
Once you've picked your news sources, you'll see the option to have news delivered to your inbox on the news screen. You can click the Sign Me Up link or click Not Now if you prefer to skip getting news emailed to you.
The first thing you'll see is the For You screen. If you've used Apple Music then you're already familiar with this since it is a screen of customized content based on your selections and preferences. You can scroll down and look through a list of stories from the sites that you picked when you first launched the News app.
At the bottom of the app, you'll see tabs for Favorites, Explore, Search and Saved (as well as For You). Favorites lists you're preferred news sources.
Explore provides suggested channels and topics, and also provides a list of news topics such as Technology, Science, Sports, etc. that you can browse through to read news from specific channels (note that the News app refers to sites as channels). When you see a channel you want to add, just tap the + button and a checkmark will appear to let you know that you're selection has been saved.
You can easily search for specific news content in the Search tab. And you can quickly refer back to saved articles or see your reading history in the Saved tab.
While read a news story, take note of the heart icon. It's the same one that appears next to songs in Apple Music. By tapping on it you tell News that you like the story and that will affect the content that News chooses to show you in the For You tab. Again, this is exactly how Apple Music works, and the heart icon fits in nicely into the News app interface.
So far I mostly like what I see in the News app, but I'll need more time with it to get a real handle on how useful it is going to be for news. The design is quite minimalistic and that can be a refreshing change for readers from the more raucous designs of individual web sites.
One thing I didn't like was that when I clicked on a news article from the Discovery Channel, I didn't see an entire story. I just saw what looked like an RSS feed excerpt with a link back to the Discovery site for the entire article. You can click them to load up the full story via the website from within the News app, but it doesn't feel like it should work that way. It's not seamless and it makes News feel like just another RSS reader.
I sure hope that Apple makes certain that only sites that show full articles show up in the News app. It will probably annoy readers when they can't see the entire article after tapping on it. I know that it irritated me and I will skip the Discovery Channel's content from now on if partial articles are all I get in the News app.
4×4 icon arrangement in folders on the iPad in iOS 9 beta 3
Sometimes you get unexpected bonus features when running beta versions of operating systems. And that seems to be the case with the 4×4 icon arrangement in folders on the iPad in iOS beta 3. Yes, you can now have four rows of four icons each in folders on the iPad.
I had not heard of this feature until today. It's possible that this feature was announced but perhaps I missed it when iOS 9 was first introduced? I'm not sure, but I'm glad that it's now possible to see four icons in a row on the iPad.
While this isn't exactly an earth-shattering new feature, it's still welcome since it means that you can fit more icons into a folder without having to have an additional page of them inside the folder. It helps make things a little easier for folks that have folders with a lot of icons. They can now see more icons at a glance on their iPads in iOS 9.
Selfie and screenshot albums in Photos in iOS 9 beta 3
Another feature that I already find myself appreciating is the new Selfie and Screenshot albums in iOS 9 in Photos. I tend to take a lot of screenshots, so it's very handy to have them isolated into their own albums. It makes it much faster and easier for me to get to them, and they aren't mixed in with my other photos.
I don't really take selfies, so that particularly album doesn't interest me much. But I have no doubt that there are quite a few people out there who will enjoy taking photos of themselves and then being able to keep them tucked away into a separate album.
Kudos to Apple for making it easier to manage two important categories of photos in iOS 9.
Siri suggestions in swipe down search in iOS 9 beta 3
Another interesting addition to iOS 9, is the display of Siri search suggestions if you swipe down to do a search. These suggestions previously only appeared if you swiped right to see the search screen to the right of the home screen.
I can't say that I really use the swipe down search feature much these days, but it's good to have Siri's suggestions available for the folks that do use it.
The public beta for iOS 9 is probably coming soon So far I'm finding iOS 9 beta 3 to be the best release yet. Given the new features, stability and polish in iOS 9 beta 3, the public beta can't be very far off. The third beta of iOS 9 almost feels like a final release.
I suspect that the folks out there who haven't yet used iOS 9 are going to be very pleased if they decide to give the public beta a try on their iPhone, iPad or iPod. Once you get used to everything that iOS 9 offers, it's pretty tough to use an iOS device running an earlier version.
Did Apple play a joke on Android in the News app?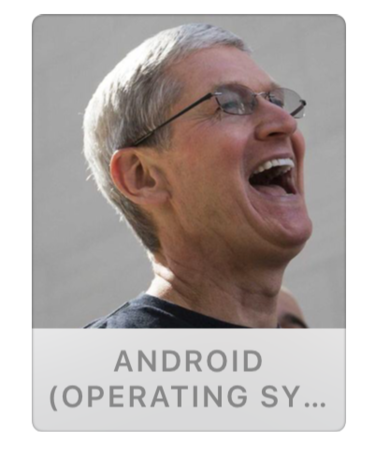 One last tidbit about the third iOS 9 beta concerns the News app. While I was scrolling through topics and channels, I noticed that the Android topic had a very interesting choice of image: Tim Cook laughing. Yes, Tim Cook laughing his head off was picked by the Apple News app to represent the Android category.
I wonder if the Apple developers or the editors who are curating content on the News app were having a little fun at Android's expense? I guess it's open to interpretation, but I found it rather amusing. I wonder if the folks at Google are laughing too?
Did you miss a post? Check the Eye On Apple home page to get caught up with the latest news, discussions and rumors about Apple.