A good measure of an app's popularity is when people start downloading it like crazy. For the Instamotor app, which helps people buy and sell used cars, there's a much better metric.
Since the company started in early 2015, there has been a steady rise in sales volume (known as Gross Merchandise Volume, or the value of the sold merchandise). People are moving their cars using the app. This month, the app will reach a milestone of $60M in GMV on an annualized basis (see chart). The company says about 1,000 people have sold cars in San Francisco just in the last three months. In a recent roll-out to LA, another 800 have listed their cars.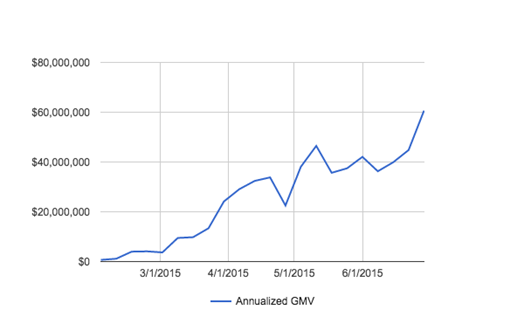 The secret to their success, says Sy Bohy, the Cofounder and CEO, is that they focused on both sides of the equation. They make it easy to search for a used car from your smartphone but people who want to sell a car can also use the app easily. It's a business model that uses a small device — a smartphone — for a major purchase that relies on ease-of-use for its success and popularity.
"Push-notifications allow us to instantly notify buyers when new listings come to market, and we leverage the phone's camera to quickly guide sellers through creating beautiful listings as opposed to taking pictures on your phone and having to upload them to your desktop," he says.
That dual business model — appealing to buyers and sellers — is one that presents many challenges. In fact, it is the classic business problem of razor and razor blade, or chicken and egg. Sellers only want to use the app if there are buyers. Buyers want inventory. To make it smoother, Instamotor decided early on to not charge any fees or commissions to use the app and instead rely on the back-end products such as loans, tags, and titles to monetize the transaction.
And, interestingly, given that the company is focused only on the mobile market, Instamotor has honed in on the development process as another key differentiator. Bohy says they have a technically astute team that approaches new problems by first asking if they can write code as the solution. (This as opposed to other small companies that try to solve issues with marketing or PR stunts.)
The app is also unique in that every car they list is pre-screened for fraud. Buyers can browse through the app without worrying whether someone is scamming them.
It's one of those hits that makes life easier, ala AirBnB or Uber, and it's riding the wave of peer-to-peer transactions. Instamotor says there are 30,000 private transactions for cars in the U.S. each day, but many of the existing models (aka, Craigslist) have not changed in many years. If Instamotor keeps making it this easy, you might be buying your next car there.
Editor's note: Traction Watch is a new column focused obsessively on growth, and is a companion to the DEMO Traction conference series, which brings together high-growth startups with high-potential customers. The next DEMO Traction will take place in Boston on September 16, 2015. Growth companies can apply to present, or those similarly obsessed can register here to attend.