Digital is a mandate for IT to shift its strategic approach, enterprise architecture and approach to integrating with the business. The profusion of cloud technology and startups are rendering traditional operating models of IT organizations less relevant than they were only a few years ago. Obviously, IT talent and organizational approaches need to transform in order to optimize the business value that IT organizations can deliver. However, talent shifts are not just about technology skills. It is critically important to consider how digital is altering the organizational landscape from top to bottom and right to left.
To identify where the shifts are or need to happen within IT organizations, it is useful to think of two spectrums. The first is the left to right process spectrum starting with planning and ending with doing. The second is the top to bottom people spectrum with sponsors at one end and actors at the other. When we put these two in a grid, this provides a good reference framework to start thinking about where digital is influencing our approach to IT talent. Looking at the graphic below, each quadrant represents the intersection of people and process with the most relevant shifts resulting from digital's influence on industry and IT.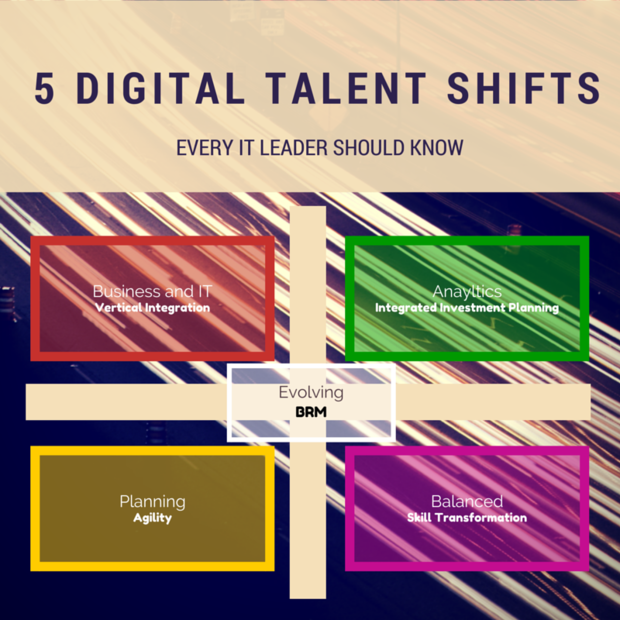 Business and IT Vertical Integration: Information technology organizations have traditionally been providers of technology to the organization; however, in the last few years other parts of the business have begun to exhibit increasing levels of influence over both internal and customer-facing technologies and platforms. This is the result of both an intention focus on the part of C-suite executives outside of IT to take advantage of the new possibilities that digital brings and, in some cases, information technology teams lack of agility and heavy focus on legacy frameworks and methodologies. From a talent perspective, there has certainly been a level of backwards vertical integration as business units are hiring technologists and the types of roles in business units are transforming to demand IT skills. For IT leaders, the key is not necessarily to combat this trend but instead to embrace it. Firstly, IT leaders should look to business leaders for partnerships and even to source people from the organization – hire non-IT people to lead IT functions. Secondly, strategically position IT's unique capabilities as a "cross-function" provider to help accelerate and optimize organization technology talent and guide other leaders on the right approaches to sourcing and engaging tech talent. Finally, IT must take a forward vertical integration approach in order for IT leaders to be seen as business leaders that have a unique and value-adding perspective to the organization.
Analytics and Integrated Investment Planning: At the intersection of sponsoring and doing is the need for improved analytics of digital initiatives and a more integrated approach to technology planning. This probably sounds counter-intuitive given that the idea of digital often conveys rapid change and deployment. While that's true, developing talent capabilities that enable robust approaches to analyzing and evaluating digital investments is critical for IT. In many cases, legacy technologies are not being replaced by digital. Digital may be used alongside or on top of existing platforms. This makes the need to understand the economics of change an imperative for IT organizations to thrive and serve as business partners in a digital world. This means both leaders and technologists have to work together to build skills and change paradigms to deliver this type of information in a relevant and sustainable way.
Planning Agility: Planning agility is thinking about an approach to projects that yields tangible results quickly and iteratively and seeks a higher level of interactions from business partners throughout the project lifecycle. It is not necessarily about finishing everything faster (although that's a great benefit) but instead about getting technologists and project managers out from behind desks to interacting with customers and partners in order to improve results and shift accountability for those results in a way that IT and the business can share in both the risk and reward of complex initiatives. Certainly agile project methodology and skills matter but an agile culture among actors is critical in order to plan and deliver the results the business needs to be successful with emerging digital platforms.
Balanced Skill Transformation: At the intersection of actors and doing, generally where the rubber meets the road in IT, the most significant challenge facing tech executives is the balance of transforming skill sets within IT to focus on emerging digital needs while also justifying the need for legacy skills. This is a challenging effort on two fronts. First, digital skills come in a wide array and directing investments in the workforce requires a very targeted, thoughtful and strategic approach. Additionally, knowing how many, how much and the appropriate level of skills and people is a critical aspect in skill management. Managing legacy is no less of an effort given that legacy skills can be costly, perceived as less valuable, yet nonetheless critical to the organization. The key to a balanced skill transformation is a robust integration between investment planning, business partnership and strategic thinking to optimize the results.
Evolving Business Relationship Management: Between sponsorship planning and executing work is the idea of the changing relationship of managing relationships with the business. Increasingly, this responsibility will rest with those actors (technologists) on the ground with the business regardless of whether they work within the traditional walls of IT or not. While the formal skills and approach of traditional BRMs remain relevant, digital really brings about the need for everyone in the IT organization to leverage BRM skills. This certainly means driving more business value but it also matters for technology executives. Having the ability to get close to the needs of the business in an active and transparent manner will be, perhaps, the make or break element of successful technology leadership in the future.
As IT leaders and executives, we cannot be satisfied with the status quo and but it is also risky to focus only on the shiny new digital initiatives without thinking about the people and structure needed to enable the digital enterprise. Digital is moving fast and, in some cases, IT is not keeping up – a good place to start is making sure we have the right people in the right place with the right skills to maximize the value that digital can deliver to our organizations.