Forbes declared 2015 "the year of the mobile beacon." A recent survey from beacon platform inMarket (verified by comScore) shows 38 percent of U.S. Millennial mothers can now be reached through beacons in retail locations.
On July 14, Google announced its open-source beacon format, Eddystone—a promising competitor to Apple's leading iBeacon platform. Even Facebook has kicked off a pilot program, Place Tips, that enables brick-and-mortar stores to transmit information to shoppers' FB News Feeds via beacons.
According to a Forrester survey, 4 percent of mobile marketing executives were using beacons for 'proximity marketing' purposes in 2014, with 30 percent planning to use them this year. And a fall 2014 Harris poll found that 57 percent of U.S. smartphone owners were aware of in-store beacons, and 20 percent had already used them, eMarketer reports.
In short, beacons have traction.
Many enterprises are busily installing Bluetooth Low Energy 4.0 beacons throughout their locations. Beacons communicate wirelessly with consumers' smartphones. The goal: To automatically send promotions, coupons, offers, and location-relevant information to opt-in consumers while they're at a physical site and are therefore more likely to appreciate and act upon those offers.
Some shining beacon examples:
* Retailers are using beacons as a way to bring online shoppers back into stores. Macy's has been among the pioneers, installing more than 4,000 beacons in nearly 800 stores before the 2014 holiday season and partnering with the Shopkick mobile app to deliver location-based offers. Shopkick is also partnering with Target, Old Navy and other retailers and was acquired last year by SK Planet, a division of South Korea's largest mobile carrier.
* Travelers at London's Gatwick Airport can opt to be identified by their smartphone via beacons, mobile app, geofencing and other technologies. In exchange, they receive turn-by-turn directions to their gate, with dining and shopping opportunities pointed out along the way, according to The Wall Street Journal.
The Journal also reports that San Francisco International Airport has installed 350 beacons in Terminal 2 and "is testing an app that can give visually impaired passengers audible directions," and that Miami International Airport is testing beacons to track how long passengers wait for baggage.
* Beacons are being tested in museums such as London's Victoria and Albert Museum and New York's Metropolitan Museum of Art to help visitors learn about exhibits and engage more with the museums.
* Festivals and special events, such as Austin's SXSW and the Coachella music festival, are increasingly deploying beacons on site to feed visitors location-relevant information and offers.
Beacons, in combination with enterprise branded mobile apps and other technologies (such as on-site Wi-Fi networks), are gaining traction because of the benefits they provide enterprises that deploy them.
For example, a Hillshire Brands promotion launched on the inMarket beacon platform fueled a 20 percent increase in purchase intent, according to the company. Macy's beacon strategy played no small role in helping the retailer grow its "brand value" by 383 percent from 2013 to 2014, according to an Interbrand report. Business Insider predicts beacons will directly influence $4 billion in sales among leading retailers this year and $44 billion in 2016. A November 2014 Swirl Networks, Inc. study show the impact of beacon-based marketing campaigns on consumers (see below).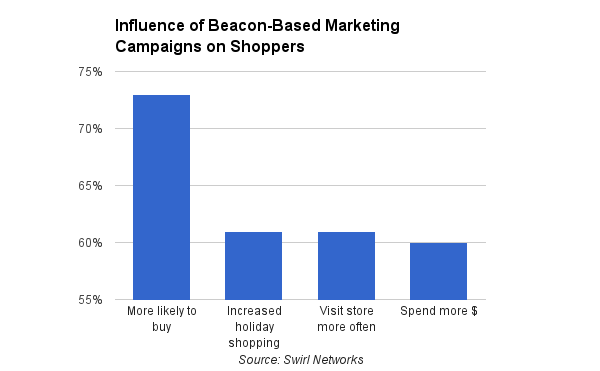 Aside from the potential in sales increases, beacons coupled with loyalty programs and mobile apps can help marketers better understand what customers do in their stores or locations; what interests them and what doesn't; and much more.
Needless to say, not all consumers love the idea of being tracked as they move through a store or other site. Brands are likely to abuse the privilege, too, overwhelming consumers with too many alerts and coming off as creepy instead of helpful. "Too many brands want to know who is in the store, but lack a strategy to act on that information," notes Forrester analyst Julie Ask.
Despite these potential setbacks, a number of startups in the mobile beacon/proximity marketing space are gaining traction, including Swirl Networks, Inc., which has reportedly received $32 million in series A through C funding; Gimbal, a Qualcomm-incubated startup that's now a standalone company; and Mobiquity, with $28 million from five funding rounds.
Editor's note: Traction Watch is a new column focused obsessively on growth, and is a companion to the DEMO Traction conference series, which brings together high-growth startups with high-potential customers. The next DEMO Traction will take place in Boston on September 16, 2015. Growth companies can apply to present, or those similarly obsessed can register here to attend.