Jet.com blasted off last week with much fanfare and bold ambitions to take on Amazon. Judging from my initial experience with the ecommerce contender's iOS app and website, Jeff Bezos shouldn't be too worried — at least for now.
Here's the idea: $50 a year buys you a Jet.com membership — similar to Costco or Sam's Club but half of what Amazon Prime charges. Membership is required to make a Jet.com purchase.
The site is doing its best to undercut Amazon and big box retailers on price, especially on household products. Ecommerce research firm Profitero found that Jet's prices were 9 percent lower on average than Amazon's and 6 percent less than Walmart.
In my spot check, Jet.com's did offer better prices than Amazon on a number of items, including dental floss, fabric softener and shampoo, as well as a few minor tech items, such as an Epson inkjet cartridge.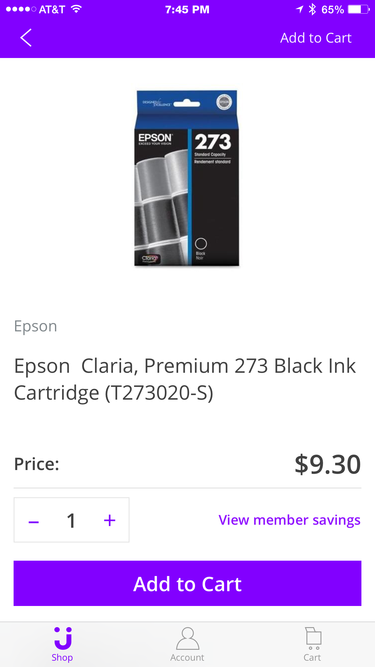 However, when it comes to computers and electronics, Jet.com's inventory couldn't compare to Amazon's. There were zero MacBook Airs for sale on Jet.com, for instance. If you want a 64GB iPad Air 2, you're out of luck on Jet.com, although the site did have a 16GB model for sale — for $40 more than Amazon. I couldn't find Bose QuietComfort noise cancelling headphones, either. And although Jet.com offered some good laptop deals compared to Amazon, many were Windows 7 systems.
I had difficulty registering my credit card with the iOS app (Jet.com has an Android app). I tried three different times using two different credit cards. Each time the response was the unhelpful "Oops…Something went wrong." You can scan your cards into the app or manually enter the info, and I tried both—but got the same result.
Ultimately, I went to the website and entered in my credit card. The website also provides more useful information than the app. Example: The website often supplies a "price-check" link to the same product on Amazon, so you can see that Jet.com is either matching Amazon's prices or undercutting them, a feature I didn't see in the app. (Update: While I didn't see this feature in the iOS app, it is available in the Android version.)
It's early days for Jet.com, of course. It's possible the site could eventually become a viable competitor to Amazon. For now, it's worth checking out, especially if you can get a good deal on membership (some sites offer 1-year for free for a limited time). But for a better experience, shop on Jet.com via a desktop browser rather than mobile app.