Microsoft's Sway, which was just released for Windows 10, lets enterprises, businesspeople, schools, and everyone else create unique presentations.
Sway is PowerPoint's artistic sibling, a freeform design tool for creating visually compelling content that looks great on any screen, from smartphone to desktop. "Sways" are ideal for online sharing, but unfortunately users don't get granular controls. As such, it's similar to Adobe Slate, a terrific iPad app for visual storytelling that requires little, if any, design acumen.
Put another way: With PowerPoint, think business suit; with Sway, think beret.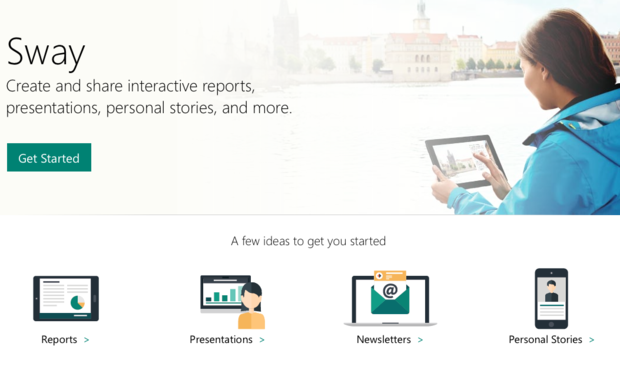 After being confined to "Preview" status for months, Sway was widely released on Wednesday, and it's rolling out to Office 365 business and education users worldwide. Sway is available as a free Windows 10 app, as well. And the iOS version was also updated with more sharing options, including the ability to easily share Sways on Facebook and Twitter.
If that isn't enough, there's a free Sway website. Android and Windows Phone users don't get their own apps yet, however. Microsoft said in a blog post that a Windows Phone version "will arrive in the coming months," but the company was mum on an Android app.
Unsurprisingly, the Sway Windows 10 app offers more features than the iOS software. For instance, the Windows 10 app has horizontal and vertical navigation menus that make creating and editing easy. Navigation within the iOS app is considerably limited by comparison.
Unlike PowerPoint, Apple Keynote, and other presentation software, Sway doesn't save files to your hard drive, which means you can only share via Facebook and Twitter; post to Microsoft's Docs.com; or embed Sways on a website.
Sway is worth a test drive, especially if you're a digital marketer, teacher or student. I started creating a presentation in just a few minutes, and there really aren't a lot of tools or features to figure out. That limits creativity but also lets you quickly express thoughts and ideas in visual terms. I prefer Slate's interface, but Sway is available on more platforms.