Samsung today showed the world its latest two "phablet" devices — the Galaxy Note5 and Galaxy S6 (GS6) edge+ — at a press event in New York City. The stylus-, nay, S-Pen-equipped Note5 is the newest member of the popular Note family of phablets, and it follows the Note 4, which first hit the U.S. market last October. The curvy, sleek GS6 edge+ is an upsized evolution of the company's GS6 edge, which was released in the United States last April.
The timing of Samsung's announcement not so coincidentally comes about a month before Apple's expected new iPhone unveil — which should take place on or around Sept. 9 — and the Korean electronics king is clearly hoping to draw attention away from Apple.
Last week, I spent some time with both of the new Galaxy devices during a media event at New York's Soho Grand hotel. Though I didn't put the two phablets through all the paces, I had enough hands-on time to form some solid first impressions. A number of things — both positive and negative — stood out to me about the new Note5.
What you'll like about the Galaxy Note5
In 2011, Samsung pioneered the modern phablet craze with the first Galaxy Note smartphone. Like the large siblings that came before it, the Note5's defining features are its massive, 5.7-inch screen and the S Pen stylus. While the Note5 didn't receive any significant screen enhancements over the Note 4, the S Pen sure did.
Samsung says it dramatically improved the on-screen writing experience with the Note5, and though I didn't spend much time scribbling on its display, it did seem more responsive in my tests. It's also much easier to remove the S Pen from the device than in earlier versions. You no longer have to wedge a fingernail beneath the S Pen to yank it out; instead, you just push it inward, and a spring mechanism pops the pen out. The top of new S Pen also clicks in and out like a traditional ballpoint pen when it's removed, and though the feature doesn't do anything, it makes the stylus feel more like a real pen, which is a nice touch.
The S pen itself is constructed of higher-end materials than past versions, and it feels better in hand — again, more like an actual pen. And with the Note5, you can "write" directly on PDF files, a valuable new feature that could eliminate the need to print, sign and scan documents that need signatures.
The Note5 features a new notebook function that lets you quickly jot notes on the screen as soon as you remove the S Pen — the screen automatically turns black when you eject the pen while the device is locked or asleep, and you can immediately start taking notes. (You can disable this feature if you'd rather not use it.)
Thanks to a new on-screen shortcut that's accessible via any app or screen when you're using the S Pen, you can quickly view your "Air Command" box, which provides shortcuts to frequently used apps. Air Command isn't new, but you used to have to hover over your display and then push a button on the pen to invoke it. The new shortcut makes it easy to access favorite features and functionality, and you can move it around the edges of your display to the position that works best for you. You can also remove the shortcut if you don't want or need it.
The S Pen's new "scroll capture" feature grabs screen shots of full Web pages, instead of individual screens. You just initiate scroll capture via the settings menu, scroll with the S Pen to bottom of the page and choose the appropriate option to complete the action. The vertical page capture is saved as a .JPG file in your image gallery. Scroll capture is easy to use and it could come in handy when trying to grab an image of a long list of directions, or steps in any process or recipe, for example.
The Note5, which runs Android 5.1 Lollipop, also has a brand new "Live Broadcast" feature built into its default camera. Instead of opening up your Meerkat or Periscope app to capture and broadcast video in real time, you can now just launch the Samsung camera app (front or back), enable the new mode and send live video to directly to your YouTube channel. I watched a live demo of the feature, but I didn't get to try it out for myself, so I can't say how well it works. It is, however, a unique addition to the Galaxy camera.
The display on the Note5 shines, as expected. Samsung established itself as the star of the smartphone-screen space during the past few years, and the Note5 screen doesn't disappoint. However, it also didn't get an upgrade over the Note 4. Both the Note 4 and Note5 have 2560 x 1440-pixel quad HD, Super AMOLED displays at 518ppi.
One of the most significant additions to the Note family is support for two wireless charging standards (Qi and PMA), which means you can use the majority of charging pads and wireless power accessories on the market today to power up the Note5. I've been using various wireless charging accessories with my GS6 edge since it launched last fall, and I'm a huge fan — plugging cords directly into mobile devices already feels like an inconvenience.
The new Note has a higher-quality, front-facing camera (5MP) than the Note 4 (3.7MP).
Samsung also (finally) provided U.S. release date details (sort of) for its much-anticipated mobile payment service, Samsung Pay, and you will be able to use the Note5 to make contactless mobile payments at the majority of U.S. retail locations, using magnetic secure transmission (MST) or NFC, if the retailers have compatible contactless point-of-sale terminals. (Samsung should have a distinct advantage over Apple Pay, thanks to the MST support.) The new mobile payment service will be officially released in the United States in September, according to Samsung.
The Note5 has a more powerful, Exynos 7420, 64-bit octa-core (2.1GHz quad + 1.5Ghz quad) processor than the Qualcomm Snapdragon 805, 2.7Ghz quad core processor in the U.S. version of the Note 4. And it also has 4GB of RAM, 1GB more than the last Note phablet.
A new Ultra High Quality Audio (UHQA) "upscaler" can be used to convert poor or average quality audio to higher bit rates. More specifically, Samsung says "any audio" MP3 files, or files from a CD, can be upscaled to a maximum of 24bit/192kHz, though not all audio players will be able to take advantage of the increase.
And finally, Samsung showed off a new case for the Note that consists of a protective shell and an add-on "physical" QWERTY keyboard, not unlike the keyboards found on traditional BlackBerry smartphones. The case snaps on and off, and when it's in use, the Note5 display adapts and shifts all of your apps into place above the keys. It's tough to say how well it will work in real-world scenarios, but I typed a few sentences and was impressed. Unfortunately, the company didn't share any price or availability details for the case.
These are the features and functionality that impressed during my hands-on time with the Galaxy Note5, but a number of the phablet's unfortunate shortcomings also caught my eye.
What you might not like about the Galaxy S6 edge+
I'm going to come right out and admit it: I don't like phablets. They're just too damn big. Of course, that's a matter of preference, and clearly lots of people love their gigantic phones. Obviously, if you're a fan of large phones, the Note5's size isn't a concern.
The new Note5's design is similar to the GS6. It's made entirely of metal and glass, and, frankly, it's a looker. In fact, I think the Note5's glass rear panel looks much better than the faux leather battery cover on the Note 4.
However, as soon as you grab the Note5 and hold it in your hand for a few minutes, something feels … off — it feels less durable than the GS6 and even the GS6 edge. It's almost a bit flimsy. I tried to determine the cause, and as far as I can tell, it's because the metal bezel that surrounds the phone doesn't run along the top of the phone's side, as it does with the GSG edge and GS6 edge+. The rear panel curves upward to the top edges, and your hand feels the curved, slick surface instead of the sturdy stainless steel when you hold it. This could be a nonissue, and a case would address the problem. But the device definitely feels odd in hand.
The GS6 phones marked a notable new focus on design from Samsung, and they are available in a variety of vivid colors, including a memorable and unique emerald green. Unfortunately, the Note5 comes in only two, boring colors in the United States: black and white.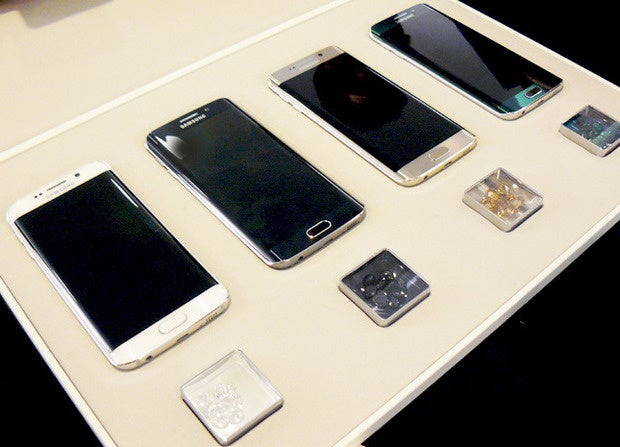 Like the Galaxy S6, GS6 edge and now the GS6 edge+, the Note5 does not have a removable battery or an expandable memory card slot. That's par for the course these days, but it is the first Note device without these features. And that's a shame. You can never have too much battery life, and the option of swapping out a dead battery for a full one is always better than scrambling to find a power outlet in an unfamiliar environment.
On the subject of batteries, the Note5's 3,000 mAh battery is 7 percent smaller than the 3,220 mAh pack in the Note 4, which might not bode well for the possibility of longer battery life.
The absence of a memory card slot is all the more notable because Samsung chose to offer the Note5 with only two storage options: 32GB and 64GB. The Note 4 only came with 32GB of storage, so the new Note actually has an additional storage configuration. But it still lacks the large, 128GB option that's common today.
Finally, the Note5 does not have an infrared (IR) blaster. For many folks, this won't be a deal breaker. In fact, I bet most people have never even used the IR blasters on their favorite mobile devices. However, if you've come to rely on a specific app that uses the feature (a remote control app for your Apple TV or other streaming box, for example) you may be disappointed to learn that it won't work on the new GS6 edge+.
To be clear, this isn't meant to be a Note5 review. It's impossible to accurately evaluate a new device after only an hour or two of hands-on time. Instead, I tried to spotlight the features, or lack thereof, that will stand out to people familiar with Samsung's current smartphone lineup.
The Note5 is expected to be released by all four major U.S. wireless carriers on August 21. You can learn more about the new Galaxy Note on Samsung's website.
AS
Al Sacco was a journalist, blogger and editor who covers the fast-paced mobile beat for CIO.com and IDG Enterprise, with a focus on wearable tech, smartphones and tablet PCs. Al managed CIO.com writers and contributors, covered news, and shared insightful expert analysis of key industry happenings. He also wrote a wide variety of tutorials and how-tos to help readers get the most out of their gadgets, and regularly offered up recommendations on software for a number of mobile platforms. Al resides in Boston and is a passionate reader, traveler, beer lover, film buff and Red Sox fan.