Robots get all the press, but what about Cyborgs?
No, this isn't science fiction and I'm not talking about some sinister dystopian dream where computers turn people into centrally controlled zombie armies. It's the very real world of humans and machines, connected and working together seamlessly. This intersection of humans and technology is poised to transform the way we make things.
It may sound strange, but technologically enhanced humans are all around us, every day. Hearing aids, pace makers, contact lenses, prosthetic limbs and even Bluetooth headsets are commonplace. And now we're poised to make another gigantic leap in the manufacturing sector thanks to new cybernetic approaches.
We have been on a continuous track to erase the separation between people and technology on the shop floor for more than two decades, starting with desktops and laptops, touch screens, smartphones, hand-scanners, tablets and wearables. These efforts start with a fairly fundamental question: how do we deliver the information people need to make decisions in real time? And then, how do we enable people to take immediate action and get work done?
Robots, Make Way for Cyborgs
There has been plenty of debate about whether robots will replace people entirely in manufacturing operations. But even the most sophisticated robot can't replicate the judgment, flexibility and problem-solving capabilities of a skilled professional.
Consumer devices like tablets and smartphones use interaction designs that require 100 percent attention from the user, which is impractical in many shop-floor applications. You have to hold the device with at least one hand, command it with the other, and potentially protect it from the work environment. Not only is that a hassle, it creates safety risks as well.
New display and interaction technologies like Google Glass, or similar products from Vuzix and Sony, make it possible to display real-time, location-aware information to workers while keeping their hands free. The information system becomes responsible for knowing where you are and what you're doing, then serving up information to support your work or alert you to issues with equipment nearby.
Virtual reality gloves and light-weight ring scanners offer new ways for operators and technicians to interact with both the information system and their environment seamlessly. Gestures allow users to navigate information and functionality wherever and whenever they need it. Alerts and updates are available anywhere and based on things like the worker's job and their location in the plant.
When the technology behind plant operations are built around the people using these devices— be it a forklift driver, machine operator or materials handler —the experience becomes natural, completing tasks is simpler and extra steps are eliminated.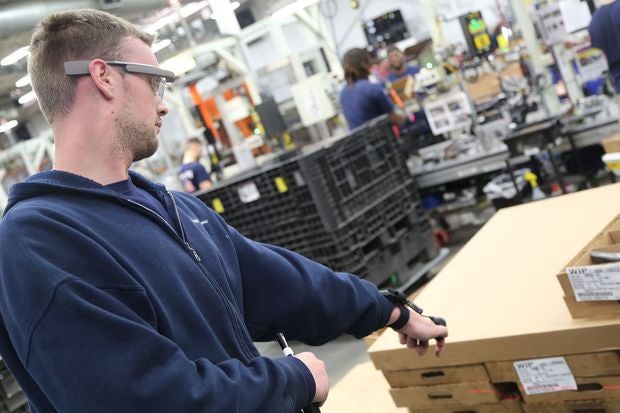 Alex Sigafoose, materials handler for Plex customer Fisher & Co., uses Google Glass and a wearable ring scanner to improve efficiency
Fisher Dynamics, a leading seating manufacturer, is pioneering the use of wearables to drive efficiency and productivity, and improve shop floor control. Fisher's IT leader, Scott Tollafield, was quick to raise his hand to participate in the Plex Google Glass pilot. In a matter of weeks, Google Glass became a natural part of how a materials handler and supervisor perform their daily tasks.
Instead of picking up and putting down a trigger scanner a thousand times per shift, Fisher's materials handler can easily scan material and immediately receive information at eye-level, allowing him to see and act on live data. Tollafield is now looking beyond replicating existing tasks to identify entirely new ways to put wearables to work.
The possibilities for wearables are powerful because they unite the most effective elements of technology and people. Computers and networks are terrific for capturing data everywhere, storing it, manipulating it and delivering it. People are skilled and agile problem solvers.
Cyborgs are both the ultimate human and technology, the intersection of accurate and relevant information with the ability to intelligently put that information to work. At this connection point, the future of manufacturing exists and the division between human and machine finally disappears.