American Driveline Systems has hired as CIO Chad Graham to upgrade IT for the automotive care company's 700 service centers in the U.S. and Canada. Graham's project list includes replacing antiquated point-of-sale software with a new shop management system to process orders more efficiently, and setting up new CRM system for franchisees. Eventually, he'll use software analyze data from these systems to bolster customer service, aligning with the company's key objective for growth.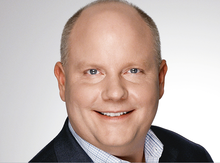 "The strategy [senior management] shared for the business was really exciting: How to improve the customer experience with technology," Graham, who joined the company in June from a senior IT role at Refac Optical Group, told CIO.com. "Driving up the efficiency in the shops and [digitally] connecting that overall customer experience is going to be key to the success of the business."
American Driveline is the parent company of AAMCO Transmissions, Cottman Transmissions Systems and Global Powertrain Systems. The company made its name 50 years ago as a leading repair source for transmissions, but CEO Brett Ponton is looking to refashion it as a total car care company to compete with chains such as Jiffy Lube, owned by Pennzoil-Quaker State. But to compete American Driveline must first revamp its IT, Graham says.
Swapping antiquated software for modern systems
Currently, scheduling work and ordering parts for transmission and brake replacement requires a lot of manual data entry at American Driveline. At a time when more consumers expect Amazon.com-like treatment, ostensibly conducting more business online and from mobile phones, the company is feeling a bit behind the curve. "It's a very paper-based and task-oriented process, so we have a huge opportunity to digitize," Graham says.
[ Related: How digital ecosystems are creating the 'we economy' ]
Graham says he's currently deciding between two shop management systems that will allow customers to book appointments and check the status of their vehicles from computers, smartphones and tablets. It will also include electronic interfaces to key vendors, enabling technicians to easily order auto-parts, which is currently still handled via phone calls. He declined to say which systems he is evaluating.
The company also plans to implement Salesforce.com software as the chief construct for a new "franchise relationship management system," where franchisees can connect with American Driveline's corporate office for help and information. This software will include a dashboard that aggregates key metrics and business results from the new shop management system, allowing franchisees to see how their service centers are performing. "This is going to optimize their visibility into their own businesses and provide us with a much better way to support them," Graham says. He expects both projects will roll out in early 2016.
Optimizing operational and customer service data is crucial
Graham says he will analyze the data generated in the shop management and franchisee management systems to provide a holistic view of the company's operations and customer service. This will allow American Driveline to fine tune its business processes. But, he says, the company hasn't settled on the right approach, let alone the technology, to build the analytics system.
[ Related: Top CIOs start the journey to the 'digital enterprise' ]
The road ahead is challenging. In addition to building the strategy and vision, he's got to get buy-in from American Driveline's 6,000 employees and franchisees, who will have to become acclimated to the software and business process changes.
But he expects it will be worth it. "It's a great opportunity to be on the ground floor of building the technology strategy, vision and execution plan and being part of the new AAMCO."
Correction: Jiffy Lube's parent company is Pennzoil-Quaker State. A previous version of this article incorrectly stated that Jiffy Lube's parent company was Heartland Automotive.