Last week, Samsung made itself the center of the mobile world when it announced its two latest "phablets," the Galaxy S6 edge+ and the Galaxy Note5. Amidst all the noise around the new Galaxys, the Korean company also quietly listed for sale an upgraded version of its Wireless Charging Pad.
The new, $70 Samsung Fast Charge Wireless Charging Pad looks exactly like the previous version, but the thin, circular disk packs an important internal enhancement: Support for faster wireless charging using the Qi (say: "chee") wireless standard. Earlier this summer, Qi announced a new, faster 15w wireless standard, which lets manufacturers build chargers that provide 3x the standard 5w available in the majority of wireless chargers on the market today.
However, Samsung's new Fast Charge Wireless Charging Pad does not appear to support the full 15w of the new standard. (I've reached out to Samsung for confirmation but haven't received a response.) From Samsung's product page:
"[T]he new wireless charging pad allows you to charge your Galaxy Note5 or Galaxy S6 edge+ device up to 1.4x faster than standard wireless charging pads, reducing total charging time from 0-100% by up to 50 minutes!"
That text suggests the new wireless pad offers around 7w of output (5w x 1.4 = 7w), and you should note that the smartphone you want to power up must also support faster Qi charging. That's why Samsung specifically named the two new Galaxys, which both support faster Qi power than any other Samsung smartphones, including the new-ish (and smaller) Galaxy S6 and GS6 edge.
How long does it take to wirelessly charge the new GS6 edge+, Note5?
I reviewed the last-generation Samsung Wireless Charge Pad in April, and because it's the same as the new Fast Charge version, except for the speedier Qi support, (and a larger price point) you can check out that review for details on design and functionality.
During my tests, I found that it took just under three hours to fully charge my dead GS6 edge with the older Samsung Charge Pad. The new Galaxy phones have 15 percent larger batteries (3,000mAh) than the GS6 edge (2,600mAh), and the new charger powers up phones 1.4x faster, according to Samsung. Based on my "expert arithmetic," it should take right around 2 hours and 20 minutes to charge the new Galaxys using the updated wireless charge pad.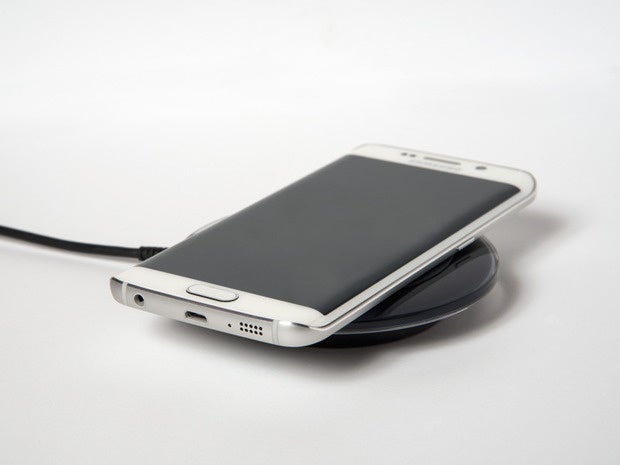 So, to sum up, Samsung's new wireless charging pad powers your phone up to 1.4 times faster than 5w chargers, if you own a Galaxy Note5, GS6 edge+ or other compatible phone, and you're willing to shell out the $70 Samsung charges for it, which is $20 more than the company's older charge pad. It's also backward compatible, so you can use the new pad to charge phones with 5w wireless support.
And though the new Samsung Fast Charge Wireless Charging Pad is listed for sale, it's currently backordered, and Samsung's site says it may take as long as four weeks to ship.
For more information on the charger, which is available in black and white color options, visit Samsung.com.
AS
via Engadget