LinkedIn's alternative to your outdated company directories has arrived in the form of a new service, called Lookup. The company first mentioned its plans to release Lookup in January, and during the past few months it assembled a team of 14 employees to work on the app for Apple's iOS devices and desktop computers. (LinkedIn says an Android version is coming soon.)
The company's goal with Lookup is to make it easier for professionals to find and connect with their coworkers. Lookup requires that users have LinkedIn profiles and that their current employers have properly maintained company pages on the site.
[Related News Analysis: LinkedIn makes enterprise inroads with new communication tools]
Similar to how LinkedIn users build their profiles, Lookup users can also tailor profiles on the new service and set preferred communication methods. Contact preferences and profile information users add to their Lookup profile are stored on separate servers from where standard LinkedIn profiles are stored, according to a company spokesperson. That means details are visible only to coworkers who use Lookup and do not appear on public LinkedIn profiles.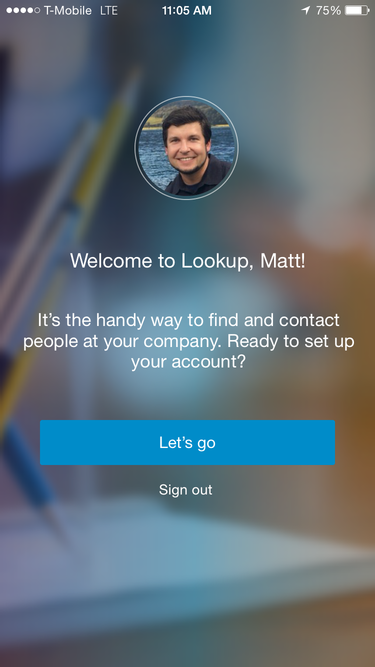 After users make contact with coworkers on Lookup they can also send email to their work addresses or short messages via the app. Users who haven't downloaded Lookup receive the messages in their LinkedIn inboxes. Lookup messages, however, don't count against a users' monthly allotments of LinkedIn InMail.
LinkedIn Lookup sounds great in theory, but …
People who want to use Lookup must verify their current status with a company via an associated work email address. As such, professionals who work for larger organizations that operate multiple domains for email accounts could run into some problems. For example, access to company directories in Lookup will be denied if employers don't associate their specific email domains with their company pages.
[Related Feature: Why you shouldn't accept every LinkedIn connection invite]
IT administrators will sometimes shoulder the blame for these breakdowns, at least if they're responsible for creating and maintaining company LinkedIn pages. Some IT professionals might also want to restrict coworker engagement to internal tools. If not, Lookup could be a useful tool that requires (in most cases) relatively little IT effort.
Lookup is latest enterprise inroad for LinkedIn
The Lookup team's product manager Ankit Gupta describes it as a "startup within LinkedIn," and he says it developed a new algorithm that lets you search for coworkers by name, title, skills, education, and current or past employers. Results are not limited to first- or second-degree connections, so professionals can view coworker profiles even if they're not connected on LinkedIn.
"We want to help make LinkedIn even more useful internally for employees and the companies they work for," Gupta says. "Right now, we're simply focused on making it easy for people to find, learn about and contact their coworkers, because their companies' employee directories aren't cutting it."
[Related Feature: An inside look at LinkedIn's unbundling mobile strategy]
Lookup falls in line with other recent LinkedIn initiatives, including its decision to unbundle and expand its footprint into a series of mobile apps for specific use cases and to motivate its users to use the platform as an enterprise tool. The new app could also result in some ancillary benefits for LinkedIn — it could encourage more professionals to sign up, increasing the overall time spent on the network and giving businesses a new reason to promote company-wide adoption of the service.
You can learn more about LinkedIn's Lookup app on the company's website.