Growth at five of the largest social networks has slowed or plateaued, but the use of messaging and ephemeral apps, such as WhatsApp and Snapchat, is rapidly increasing, according to a new survey from the Pew Research Center. The nonpartisan pollster's latest survey on social media, which breaks out the use of messaging apps as a separate mobile activity for the first time, is based on phone interviews with 1,907 U.S. adults, conducted during March and April 2015.
The results demonstrate the ongoing consumer shift away from full-fledged networks to simpler, more refined apps that let you immediately express social impulses on mobile devices.
These apps' significant penetration and usage rates suggest niche social sites are reaching an inflection point that could eventually upend the power structure of the social industry. According to Pew, 36 percent of all smartphone users and 49 percent of people ages 18 to 29 use messaging apps, such as Facebook's Messenger or Kik. The report also found that 17 percent of all smartphone users, and 41 percent of people between the ages of 18 and 29, use "disappearing post," or auto-delete apps, such as Snapchat and Wickr.
Facebook still king any way you slice it
Facebook continues to hold a commanding lead in social; 62 percent of all U.S. adults use the service, and 70 percent of them log in to the app at least once a day, according to Pew. While growth of its core user base in the United States has plateaued, Facebook also operates two of the most popular messaging apps: WhatsApp and Messenger have more than 800 million and 700 million monthly active users, respectively, according to the company.
[Related Research: Facebook and Google dominate time spent with mobile apps]
Pinterest and Instagram's user bases more than doubled since Pew began tracking social media platforms in 2012, though growth slowed for both companies during the past year. LinkedIn also experienced a decline, and Twitter was flat. None of the five platforms (Facebook, Instagram, LinkedIn, Pinterest and Twitter) experienced a "significant increase in usage" between September 2014 and April 2015, according to Pew.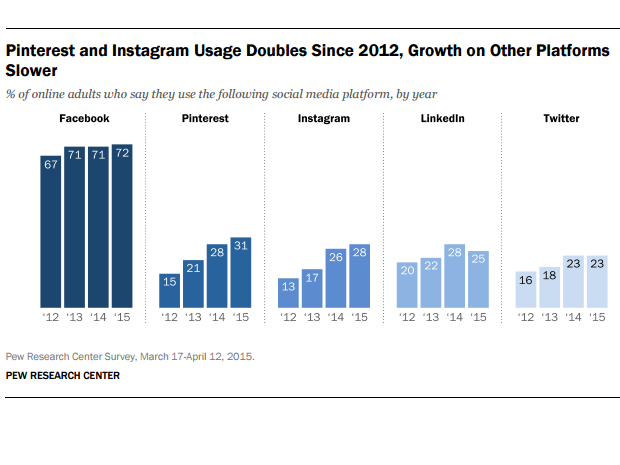 The report also found that 59 percent of Instagram users check the app daily, 27 percent of Pinterest's members use it every day, and LinkedIn gets daily checks from 22 percent of its users. While the total number of users on messaging apps still pales in comparison to Facebook, Pew determined roughly 30 percent of online adults already use the apps, which include WhatsApp, Kik and iMessage.
The popularity of ephemeral messaging apps is also on the rise, but they still primarily appeal to young adults. Usage rates drop considerably among people between the ages 30 of 49, according to Pew, coming in at just 11 percent, compared to 41 percent of all adults age 29 years or younger.