Long lines at the ski lift or gondola can quickly put a damper on an epic day of skiing or snowboarding. Vail Resorts, owner and operators of several popular winter sport locations, wants to alleviate the problem with a new feature in its EpicMix mobile app that helps people plan for, and avoid, lines at the lift.
"We're doing this because it allows guests to navigate the mountain more effectively with less friction," says Robert Urwiler, CIO of Vail Resorts.
Skip the line with Vail's EpicMix Time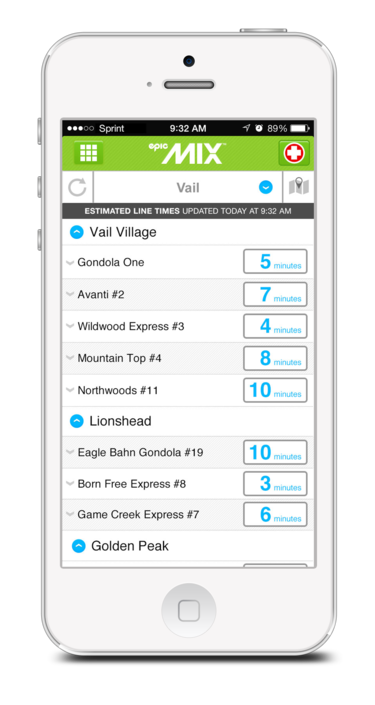 The EpicMix mobile app (free for iOS and Android) lets skiers and snowboarders track personal stats and share with friends. Its latest feature, EpicMix Time, crowdsources anonymous data and locations from skiers and snowboarders (even if they don't use the app) via cellular signals and their smartphones' MAC addresses. The system then calculates wait specific lifts or gondolas.
You can view wait times in a list or on a map. For example, tapping certain locations lets you see that the wait is 10 minutes long for your favorite trail, and you can then go to the next slope where the line is only two minutes long. The feature also shows the terrain of each trail, the status of the lift and the hours of operation.
Urwiler compares the feature to the Waze traffic app, and he says it's meant to shorten lines at popular lifts and get visitors to explore new slopes. "It helps to dissipate the concentration of guests," he says. "There is so much compelling terrain across the resorts, so it's giving people the opportunity to navigate through parts they wouldn't normally navigate through."
The company is currently testing the feature at Perisher Resort in Australia, where it is the middle of ski season. In America, the feature is expected to roll out to 55 lifts at the Vail, Beaver Creek, Breckenridge and Keystone resorts during the 2015/2016 winter ski season. Eventually, the company wants to expand the feature to monitor and display wait times at resort restaurants and shops. Urwiler says hundreds of thousands of people already use the EpicMix mobile app, and the eventual goal on the mountains is to provide transparency so skiers can get the most from their resort visits.