Today, Google introduced the latest member of its family of mobile applications for iOS devices, an Android Wear app that will eventually let iPhone users connect their phones to any future Android-powered smartwatches. Unfortunately, the new app doesn't work with older Android Wear watches, and some additional drawbacks to using Android Wear devices with iPhones also exist.
Pros and cons of Android Wear for iOS
Android Wear for iOS is available immediately for iPhones 5 and newer, running iOS 8.2 or higher. It lets you receive notifications on your Android watch from all of your iOS apps, and provides contextual updates via Google Now. You can also track fitness activities, using your Android Wear device and iPhone, thanks to integration with Google's Fit app. And it works with Google's voice assistant so you can ask basic questions and set verbal reminders.
Unfortunately, it does not appear to fully integrate with Apple's native apps or other third-party iOS software, so in some cases you won't be able to respond to or act on notifications from those apps. If you mostly use Google apps in place of Apple software, however, you should see a much more seamless experience.
Today, the iOS app currently works only with one available Android Wear smartwatch: The $350 LG Watch Urbane. However, Google says "[a]ll future Android Wear watches, including those from Huawei, Asus, and Motorola will also support iOS" at a later date.
The move isn't exactly surprising. Google offers a collection of iOS apps, and has for years, including software for email, messaging, cloud storage, maps, streaming via its Chromecast dongle, and an app for the Glass smartglasses, among others.
Android Wear for iOS gives iPhone users options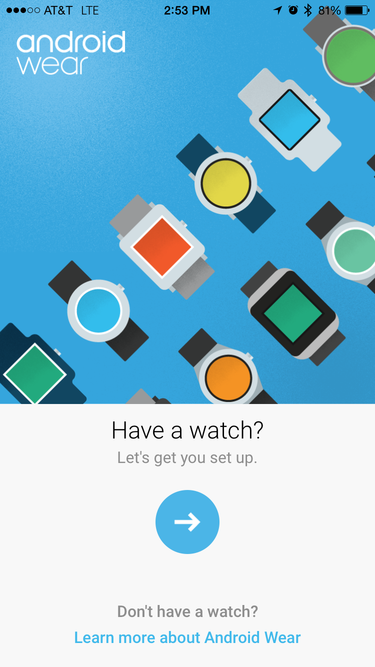 The new app is particularly relevant, because the world of smartwatches is mostly a two OS game, with Google and Apple emerging as the major players — not unlike the evolution of the mobile OS market. Android Wear for iOS gives Google and its partners an edge over Apple in the smartwatch game when it comes to variety, because iPhone users interested in smartwatches will now have significantly more options, instead of having to go with the Apple Watch or, say, a Pebble watch, which also has an iOS app.
The Android ecosystem is all about choice and options, while Apple users generally value the polished, integrated experience over variety of hardware. Today, the Apple Watch comes in only one design (though it's also available in aluminum, stainless steal and other exorbitantly priced precious metals, and with many watch bands).
The truth is, Apple Watch is not all that stylish. It is boxy, thick and clunky, and some of the latest Android Wear watches are decidedly better-looking. Of course, that's my opinion, but that's sort of the point — Android Wear gives iPhone users more options if, for whatever reason, they don't want an Apple Watch. (Full disclosure: I wear an Apple Watch, and it's kind of goofy-looking.)
It's also unlikely that Apple will ever release an official Watch app for Android, so even if you prefer Apple's Watch to the many Android Wear options, you'll have no choice but to also use an iPhone — no Android (or other) phone for you, Apple Watch owners.
You can learn more about Android Wear for iOS on the Official Google Blog.
AS