DEMO Traction will be in Boston on September 16, 2015. For more information and to register click here
You would expect a company that is all about driving up sales to do the same with their own organization. FiveStars is a loyalty app designed to bring retail customers back, by offering incentives and rewards. They practice what they preach. Since 2013, they've seen a quick rise in every part of their business including users (505 percent growth), the number of businesses (165 percent growth), and total transactions (651 percent growth). All told, it's a 200 percent increase across all metrics. In the past six months, they've also doubled their overall headcount. Yet, what really sticks out is how they have propelled this growth. Since 2014, they have tripled the size of their sales team and instituted a sales training program called The FiveStars Way.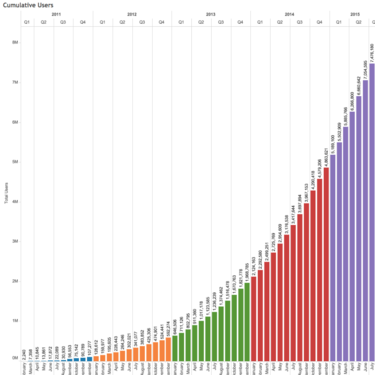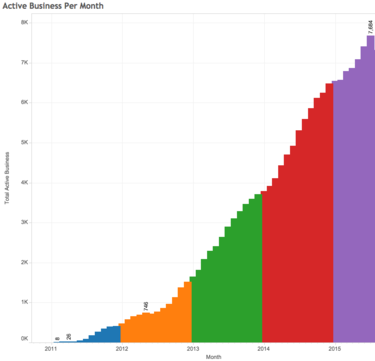 Apparently, the "FiveStars Way" is working. Even though about two thirds of the sales team is brand new within the past six months, the methodology — which involves setting expectations and growth trajectories for each team member — is a key to their success. It's essentially a playbook on what has worked including the sales documentation and process the "veterans" use. FiveStars now expects to hire another 150 sales reps in the short term.
The focus on employees plays out in other ways. Execs spend about four hours per new hire doing training and development to the tune of about 16 hours per month.
Even the titles they use in the company reveal an employee-driven mentality. There's a Head of People Operations, and a Head of Talent. They've promoted employees frequently, especially in the sales and operations department (which are also good signs of growth).
As with any new company, the employees need to support a product that actually works and is constantly improving. Victor Ho, the CEO and co-founder, told Demo.com the company has stayed attuned to customer needs. "This year we continued our outstanding product development pace as we launched major upgrades to our messaging platform, our point-of-sale software, and our in-store experience," he says. "We maintained focus on our customers and ensured that any product or feature that launched was directly a result of an existing customer pain-point."
As the charts attest, every area of the business is growing. That creates a snowball effect because employees then support the company vision even more. Ho says he is excited to see what the next six months will look like now that they are on such a hyper trajectory of their own.
Editor's note: Traction Watch is a new column focused obsessively on growth, and is a companion to the DEMO Traction conference series, which brings together high-growth startups with high-potential customers. The next DEMO Traction will take place in Boston on September 16, 2015. Growth companies can apply to present, or those similarly obsessed can register here to attend.