Virtual reality (VR), one of the technologies that always seems to be waiting in the wings, is finally ready for business prime time. Several new products are available for viewing content from Samsung, HTC, and even Google. Companies like WordViz and Giant Spoon helping generate content. While the initial uses might have more to do with a first-person shooter or a Hollywood movie, business uses are starting to emerge.
Edwin Rogers, a virtual reality expert who makes tours of apartment buildings, real estate showings and business events, says one possibility is for car dealerships to offer VR tours for new cars and for real-estate agents to offer home tours. He uses the Samsung Gear VR headset, which shows a 360-degree view of a location in a virtual world. When you turn your head, the scene changes in real-time. Look up at the ceiling and you can count ceiling tiles.
"VR technology is in its infancy and it has not gained mass adoption yet. This is an intelligent smart-phone solution for VR makes the most sense today," he says.
WorldViz, a company that makes VR software, says customers save about 90 percent of the costs involved in making real physical models. For example, a healthcare facility might create a new clinic in VR prior to construction to see the floorplan in a 360-degree viewer, which helps them tweak designs and reduce costs. An actual customer – Lockheed Martin – told CIO.com they save several million dollars in costs in the production floor by doing motion captures that simulate space vehicles and satellites, according to company reps.
[Related: Everything you need to know about virtual reality]
"VR technology allows users to naturally walk about a full scale surgery room and change designs at a button click," says Peter Schlueer, president of WorldViz. "Decision makers, stakeholders, designers, surgeons and nurses can collaboratively experience design alternatives and make decisions that will stick. In other words, information can be shared earlier and much more effectively, resulting in better decisions and faster processes."
4 VR products for business use
Several companies offer virtual reality headsets that can be used for business purposes. There are a few pieces of the VR puzzle involved. To create VR videos, you need to capture the footage using a camera that records in a 360-degree panorama. You need software that "stitches" together the content (video, text and audio) into a VR scene. And, the user needs a headset viewer.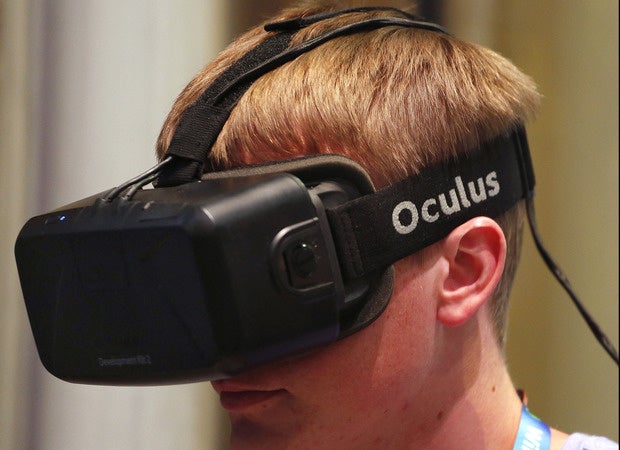 This leader and innovator in virtual reality tends to focus on gaming applications, but a company representative says they're actively exploring business use cases. The product, called Oculus Rift, shows a scene in a vivid 360-degree view. The product comes out next year, but businesses can use a dev kit to create software applications and content now.
"Imagine being in a product review with people from around the globe – your operations lead is at the manufacturing plant, your marketing head is visiting an ad agency, your product lead is at the R&D Lab and your CEO is at HQ. In VR you will be able to all be together and have the product in that virtual space," says Laird Malamed, the COO at Oculus.
Marc Simons, the co-founder of digital agency Giant Spoon that works in the VR space, says Oculus is powerful and advanced, but that can also mean you'll require more setup and staff people who can configure the system and make it work for business applications.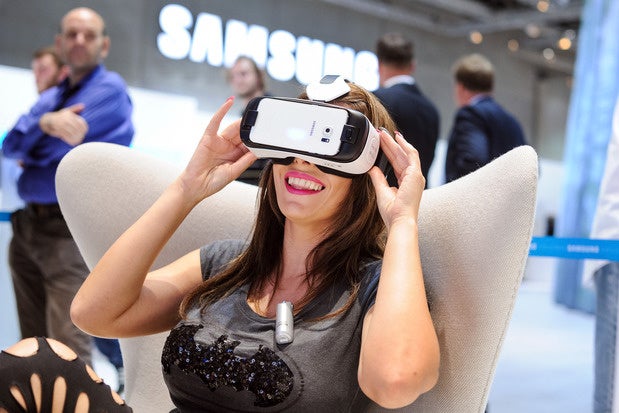 Samsung offers Gear VR as a consumer device for $199, and it works with several Samsung phones running Android such as the Note 4. The headset, developed in partnership with Oculus, shows a 96-degree field of view. You use touch controls on the headset to control the interface.
Simons says Samsung Gear VR is more consumer-oriented. Indeed, in a CIO.com test, the setup only took five minutes from initial install of the apps to using the headset. Rogers says Gear VR is lightweight, portable, wireless and low cost enough to attract more businesses.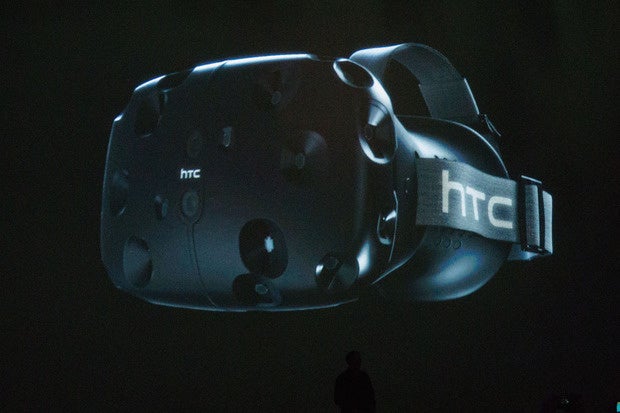 This competing headset to the Oculus Rift is still under development with Valve Software, the company behind the Half-Life video game series. Not as much is known about the price or exact specifications, but HTC says there are developer kits available now.
The key differentiator with Vive is that it works over a large area — about 15-feet by 15-feet. For business, that means you can move around more — for example if you are viewing a construction site or participating in a VR conference call. HTC will also offer hand controllers that are tracked even when you move your hands behind your back or over your head out of view.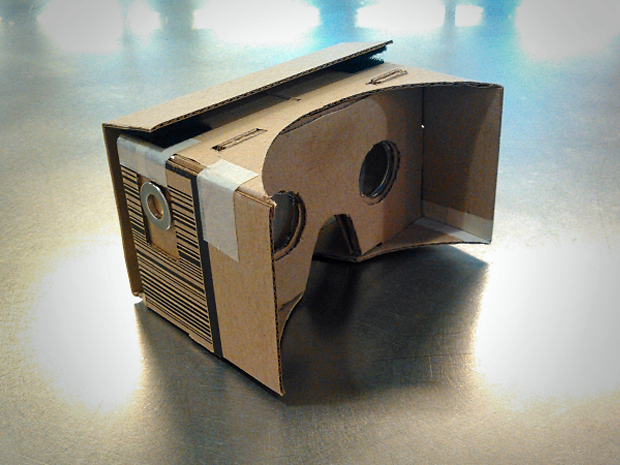 Google offers the lowest-cost virtual reality option. End-users can buy a VR head-mounted viewer made of cardboard for as little as $20-$25, or you can download the Google Cardboard plans for free [.zip file] and make your own. Once you have the viewer, you use your own Android phone or iPhone as the display as long as it has a built-in gyroscope. Google offers about 500 apps through the Google Play store that use Cardboard and you can watch YouTube 360 videos.
One key differentiator is that Cardboard viewers are extremely light, so you can wear them longer. Since they are so low-cost, large companies could easily hand them out at events or give them to employees and not worry about theft or loss. The viewer is also highly portable.
"Google Cardboard enables everyone with a smartphone to experience VR easily and at low cost. Companies use Cardboard to promote their products and brands, but it's also great for immersive educational content – especially shared group training. We've also seen examples where companies give a tour of their facilities to potential clients using Google Cardboard," says Mike Jazayeri, the director of Product Management for Google's VR efforts.
4 examples of real companies using VR
Virtual reality is not just a fledgling market for business that is coming in the future. It's already taking root with the follow companies who are using the technology to help customers understand a product, visualize an idea or project, and even to explore space.
1. Real estate virtual tour
For those thinking of buying a home, the search process can be grueling. It can require visits to dozens of homes, which is challenging for those moving to a different state. Many real estate companies are considering virtual tours to help buyers make a decision on a home.
[Related: What Facebook's bold vision for virtual reality means to you]
Sage Realty Corporation offers a VR tour currently for commercial real estate properties. According to a recent Wall Street Journal report, Sage Realty provides a demo for potential tenants to view how an office in New York will look once it is completed next year. They can even walk to the outdoor terrace and check out the wet bar.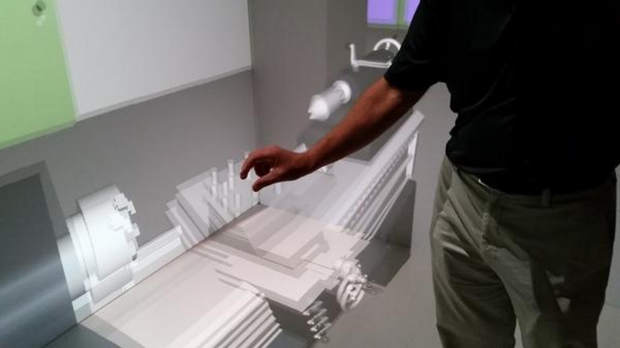 2. Construction project virtual visit
Another business use for VR has to do with showing a client how a building will look once it is completed. The traditional approach is to build a mock-up, which can be time-consuming and expensive but also doesn't show the interior or what it feels like to walk down a hallway.
Mike Oster, the vice president and CIO at McCarthy Building Companies, says they build VR replicas of construction projects to show clients. Some are hesitant at first and prefer a physical medium, but quickly see the value. They currently use the Oculus Rift development kit and Samsung Gear VR. They use VIMTrek to convert Revit architectural designs to 3D renders for use in the headsets.
"In this regard, we always bring a fully rendered model with texture, proper lighting that is adjustable, and detailed equipment into the head-mounted device so the client is able to tour the most realistic space," says Oster, adding that – as with any emerging tech – they always have to clearly define the goals and process for clients to set expectations on the final VR demo.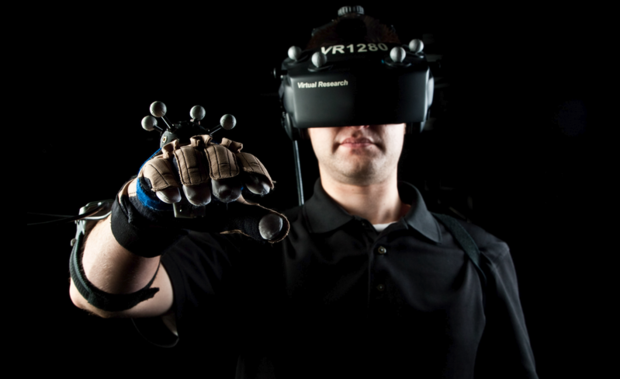 3. Space vehicle creation
VR is a perfect match for space – in a VR world, you can simulate the freedom to explore in any direction. At the Collaborative Human Immersive Laboratory (CHIL) facility, Lockheed Martin uses two VR platforms – one is an enclosed room that projects holographic displays; one is a motion-capture studio with engineers and technician decked out in Oculus Rift gear – to create virtual representations of space vehicles, satellites, tools and other instruments.
"When they see virtual prototypes in a 1-to-1 scale, the engineers or technicians get a much better perspective and are more readily identify any problems or area of improvement," says Darin Bolthouse, the manager of CHIL at Lockheed Martin. He explained that the lab is a step up from desktop prototype because multiple people can all experience what it is like to be inside the Orion vehicle or interact with a satellite long before the actual prototyping stage.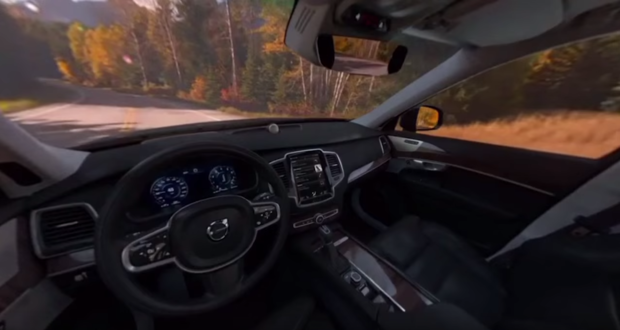 4. Car dealership demo
While it's a consumer application for experiencing the features of a new car, Volvo's demo of their new XC90 is an example of how dealerships could sell cars. Both Rogers and Simons noted how the use of VR in dealerships is one early use for business because it brings the test drive to potential buyers without having to physically get them into the seat of the car.
In a Volvo promotional video, the company explained how they wanted to give potential buyers a way to test drive the car before it even became available in showrooms. The car appears in front of you with the dashboard in your near field and the road beyond that. Volvo is the first auto company to create this kind of experience, in conjunction with Google Cardboard.