If I had a dollar for every clinician or healthcare business leader who tells me "but I'm not an IT person," I could fix a lot of healthcare problems. To support the crucial dialog between CIOs and physicians and healthcare business leaders, we created the CSC Hierarchy of Healthcare IT, mirroring many of the characteristics of the classic Maslow hierarchy.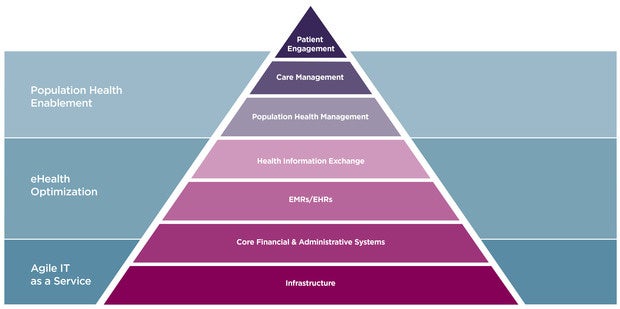 In healthcare, these technology services together serve as the crucial infrastructure that no one sees yet everyone relies on in order to do their jobs effectively.
The middle layers get into the core electronic health records (EHR) that physicians typically associate with how they perceive "IT." EHRs include all the clinical data, tests and orders, pathology, radiology and surgical and procedural notes and patient information. The technology here serves as the physician's core working system.
These middle layers are highly visible to physicians and nurses and clinical workforces, yet are not typically seen or accessible by patients.
Currently many U.S. healthcare providers are in the midst of billion-dollar investments to install EHRs on the promise of improved healthcare.
At the peak of the hierarchy, we finally reach the ultimate objective (for Maslow, this was self-fulfillment) where we focus on using digital technologies to support patient-centered care, care management and population health. This is the area of the hierarchy which directly engages and is visible to the patients.
The hierarchy can assist healthcare technologists and physicians to understand each other's frustrations and challenges.
For example, even after years of energy and effort to meet expectations, clinicians still cite frustrations with EHRs, which is discussed in detail in a study the RAND Corp. conducted in conjunction with the American Medical Association.
The reveal: It's difficult to expect optimal results when making investments in something significant like EHR without first fortifying the foundation. An investment in an expensive EHR is not always matched with sufficient investment in the core infrastructure required to support the entirely new models of care, increased data capture obligations and workflow changes embodied in an EHR. New smart device access needs, new Wi-Fi requirements, increased cybersecurity obligations from networked EHRs and increased storage requirements are all investments necessary to get the most out of an EHR investment.
It's like adding extensions onto your house – you must first ensure that your old foundations are improved to sustain the new loads.
Bottom line, healthcare organizations need to spend time optimizing investments across the hierarchy to suit the organization's objectives. For example, rather than continually spending money on the same infrastructure, it's time to embrace innovative, agile infrastructure arrangements like cloud technology and service models that shrink spending at the bottom of the pyramid to improve spending in the middle and the top. This allows healthcare providers to create an offering focused on changing patient needs.
These investments are important because the model of care is changing as medicine itself continues to evolve. People live much longer – often with serious but manageable conditions. And many of these conditions are best managed in outpatient settings with a range of care providers. Patient-tracked vitals, lifestyle management and physical fitness all play important roles in healthcare today. And education designed to keep people as healthy as possible reduces costs for the patient and the system.
When CIOs, clinicians and patients understand how inter-related their needs are in the hierarchy, this can ultimately help bring stakeholders together to customize, optimize and maximize investments. And this focus on the entire ecosystem may very well shed light on the challenging decisions CIOs make every day.