Apple's iOS 9 was released on Wednesday, and I wasted no time checking out the enhancements. The following three features in the new OS are among the most notable tools for business users.
iPad multitasking
You don't need the upcoming iPad Pro ($799 and up) to multitask on an Apple mobile device. In iOS 9 you can have two active app windows, side by side, on an iPad Air 2 or iPad mini 4, using the new Split View mode.
For example, you can open Microsoft Word and Excel files at the same time and easily cut and paste between them. Or you can run the Safari browser and Mail apps simultaneously.
Split View worked well on my iPad Air 2, and it's one of the iOS 9 features I suspect business users will appreciate most. I'm sure Split View will be even more useful on the bigger iPad Pro screen — and maybe not so beneficial on a small iPad mini 4 display.
Split View is an example of Apple playing catchup with competitors. Samsung's Galaxy Note 10.1, which was released in 2012, offered split-screen multitasking, so the functionality on a tablet is far from unique.
It's also worth mentioning that Split View is similar to, but different than, two other new iOS 9 features: Picture in Picture, in which FaceTime and video apps get scaled down to a corner of your display; and Slide Over, which shows two apps on the screen at once, but only the app in the forefront is active. These two features work on iPad Pro, iPad Air and newer, as well as iPad mini 2 and later.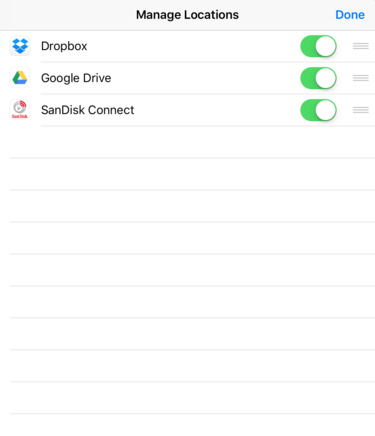 (For more specifics on these features, read "Hands-on with iOS 9's slick new multitasking features for iPad.")
Add more file types to iOS Mail messages
In the past, when you created a new email in the iOS Mail app, you could only attach photos and video stored on your device to messages. In iOS 9, you can add files from Apple apps (such as Pages), iCloud Drive, Dropbox, Google Drive, and more. The omission has long been a head-scratcher for Apple's mobile Mail program, and its inclusion (at last) makes the default email app significantly more business-friendly.
Unfortunately, the feature is a bit buried. To attach a file, you need to tap and hold within the body of the message. Then, from the pop-up menu, choose "Add Attachment." Initially, you need to tap "Locations" and "More," and then turn on the services (such as Dropbox) from which you want to attach the file.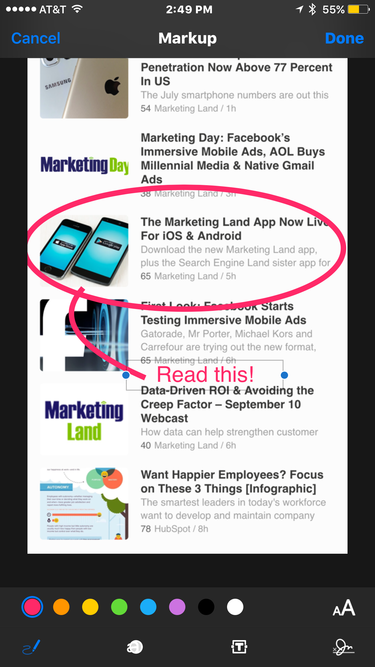 Markup Images
Sometimes photos and pictures alone don't convey the message you want to get across, and you need to point out something specific in an image. Did you see something cool at a trade show that you want to share with colleagues? A new feature in iOS can help.
Just snap a picture of it, and attach the image to an email by tapping and holding within the message body and selecting "Insert Photo or Video." Next, locate the image, select "Choose," then press and hold on it. From the pop-up menu, pick "Markup." You can then draw circles or lines and add a text box, or even append your signature to the image before emailing it. You don't get the most complete set of image markup tools in iOS 9, but they are useful for quickly annotating screen shots, photos, Web pages and other images.
A stylus, such as the new Jot Dash ($50) or Apple's upcoming Pencil ($99; for iPad Pro only), may come in handy if you plan to do a lot of image markup, especially on a smaller-screen device like an iPhone.
For more notable new iOS enhancements, read "25 new iOS 9 features that are rocking our world" and "iOS 9: How to use the Purify ad blocker."